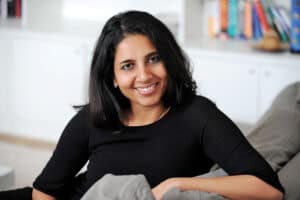 Belonging to a middle-class family, Suchi Mukherjee is the brains behind the online shopping platform, LimeRoad. Founded in 2012, LimeRoad is India's first women's social shopping website. It deals in clothing and accessories for women, men and kids.
Till now, she has received numerous accolades. One of her major accomplishments is that the Global Women's Forum voted her No. 1 among 15 "Rising Talent- Global Leaders Under 40" via the World Women's Forum in 2011.
Other achievements include getting the award of Coolest Startup of the Year by Business Today in 2015, INFOCOM Women of the Year in 2015, the Unicorn Startup Award from NDTV in 2016, and a nomination for the ET Startup Award by The Economic Times in 2017.
Suchi's background
Hailing from Haryana, Suchi has always been a meritorious student since her school days. After completing her degree at St. Stephen's College in Delhi, she went on for further studies at the University of Cambridge, where she received a Bachelor's degree in Economics with Maths. At the university, she was a Cambridge Commonwealth Trust Scholar & Fellow and a Chadburn Scholar. Soon after, she also pursued an MSc in Finance and Economics, where she was a British Chevening Scholar.
Till now she has worked at several places. Suchi was a Senior Associate of Corporate Finance at Lehman Brothers Incorporation, where she worked from July 1998 to June 2003. She was also at Virgin Media from June 2003 to May 2005, and assumed the role of the Director of Change & Business Development, part of the Consumer Division Management Team, with a revenue of $2.5 billion.
Suchi was also the Business Seller Programs and CS Head at eBay Inc. Soon after she was promoted to the role of Director & Member of Executive Management Team at Skype, a subsidiary of eBay (July 2007 to December 2008). She was also the Managing Director & GM at GumTree (an eBay Inc company, January 2009 to August 2011), leading the company to the No. 1 position.
Finding inspiration
While speaking about where she got her inspiration, Suchi said,
"Here is an industry which is our strength. All I wanted to do was to use technology so that manufacturers, designers and sellers could flourish and users could source beautiful products, which currently they were not able to."
One of the things that inspired her to get started was the lack of a platform where people can easily discover accessories and lifestyle products. She also said that there was an absence of a platform connecting people with accessories manufactured for sale outside India.
As a result, Suchi aimed to create a unique platform that offers beautiful and affordable accessories, leveraging India's status as a manufacturing hub for over 21% of global lifestyle products. LimeRoad has since become one of the leading female-founded fashion brands in India, bringing vendors in the lifestyle product category under a single roof. She further added, 
"With a passion for driving change and innovation, which is also the core element of Limeroad's culture, I got together with my co-founders to build something transformational."
Since 2012, the company has come a long way with over 50 million visitors. Today, LimeRoad is competing against companies like Amazon, Flipkart, Myntra, Snapdeal, etc.
Read more: Kiran Mazumdar-Shaw: Biocon Founder and India's Biopharmaceutical Pioneer