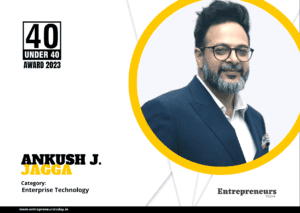 "I believe great businesses are built on story – it is the story you tell to your customer, your team, your shareholders and even yourself. It is the narrative on how big the business can be, clarity in the journey and your commitment to the goal."
Entrepreneurs Today connected with Ankush J. Jagga to learn more about his driving force and the impact he is creating in the market. A key person at Tenneo, Ankush's journey began way early.
Getting started
Looking back, Ankush shares that it was with 'Dhyan Chand Field Hockey Society,' a non-profit organization, that he began his entrepreneurial journey early in college. The first venture was aimed at promoting hockey among school-level sports enthusiasts.
Since then, he has come a long way, with a range of ventures under his belt. These include 'Smart School Smart Parents,' a digital K12 initiative, 'CatchaFilm.com,' an online movie ticketing platform, and 'Hush Lifestyle,' a food and entertainment aggregator, where he played a crucial role as part of the founding teams.
With Hush, he built an annual Gross Merchandise Value (GMV) of around US$10 million with a daily load of 6,000+ transactions.
Presently, Ankush is leading Tenneo, the products business of MRCC Group and a corporate learning platform specializing in Learning Management Systems (LMS). The startup's mission is to link learning with business performance and make it matter. Help organisations empower their people to be their most extraordinary — at work and in the world.
Some of his achievements include receiving the ET Young Business Leader Award in 2023, the Transformation Leader of the Year at the 2022 L&D Summit, and the Atal Achievers Award in 2022.
He is also an engaging speaker, having delivered talks at various events, including DevLearn Las Vegas, Brandon Hall Florida, SHRM, People Matter L&D Summits, and HR Summit & Expo Dubai. His expertise is further evidenced by his contributions as a published speaker in renowned journals and magazines like the Economic Times.
Inception of Tenneo – The Big Pivot
In terms of what inspired the founding and the big pivot of the company, he explains,
"We were growing just okay, but the market was busting with great opportunities. Rebuilding after years of existence, 300 active customers, 2 million plus users is not easy. Extensive market research revealed that the LMS market has a compelling opportunity. Talking about the numbers, the market size of 8.1 billion USD in 2022 is growing at a 21.1% CAGR and is projected to cross 21 billion USD by 2027.
Along with the growth opportunities, the LMS market also presented an opportunity to create a difference in the way organizations approach employee learning. And with Tenneo, we were always confident that we could make a difference."
After two decades of proud legacy, that was based on profound success stories and customer experience, G-Cube LMS (erstwhile name of the company) got rebranded to Tenneo around early 2023. A new name, new identity and new purpose was born, with a purpose to deliver seamless success.
About the company
Tenneo (formerly G-Cube LMS) is a leading employee learning products company. At Tenneo, they strive to bring about behavioural change in people and businesses. The real goal behind their work is to link training with performance, make learning matter, and create learning cultures that can thrive in today's ever-changing world.
Tenneo delivers tech-driven, innovative, scalable and secure learning solutions to help organizations enhance their workforce training process and build an engaged workforce.
Till today, Tenneo has helped over 300 customers with its LMS serving a growing user community of over 2 million. Tenneo offers two major learning solutions – Tenneo LMS and Tenneo LPP.
Making a difference
"We are completely focused on bridging the gap pertinent in the employee training landscape which is to make learning matter."
What sets Tenneo apart in the market is its proprietary AI, which is tailored to analyze business systems and provide customers with data-driven insights for improved training decisions. It focuses on individualized learning, enhancing the efficiency and cost-effectiveness of training management.
With over 100 connectors, Tenneo ensures a seamless and expedited user experience, making learning AI-driven and more intuitive through video assessments, Natural Language Processing search, and machine learning-based smart suggestions. Automation, in-depth analysis, and learning pattern recognition further enhance the learning process.
Notably, Tenneo stands out by offering the quickest implementation, guaranteeing an 8-week turnaround, in contrast to the 12-18 weeks typically required by other LMS platforms. This results in substantial time and effort savings for its users. Ankush asserts,
"Another differentiating factor that makes Tenneo stand out in the market is that we know ONE LMS does not suit all customers. With our 23 years of extensive market and end users research we know what suits our customers best. We have 4 variants of Tenneo LMS – Learn, Learn+, Grow and Act. A customer keeps evolving to higher variants as their learning processes mature."
This ensures that customers pay for what they need today and that their choice of Tenneo LMS remains relevant over the long term.
Challenges faced
Changing the ways of your business when things seem to be going fine brings with it a new set of challenges. Ankush says,
"Our recent pivot has been one of our biggest challenges. We were growing just okay, but the market was busting with great opportunities."
As Ankush proclaims, this required them to rebuild their ways. They gave themselves a new purpose, a new name (from G-Cube LMS to Tenneo), and lots of fresh energy to rebuild business closer to its customers.
One of the hardest parts of this change was convincing their team that they needed to change with the times. Not everyone on the team liked looking at numbers, trends, or industry reports, but it was necessary for their transformation.
Achievements of Tenneo
Some of the company's achievements so far include:
Contract with the Government of India, training 300,000+ government employees from 100+ central and state govt. agencies
Utilization of its LMS during COVID-19 lockdown and the launch by Prime Minister Narendra Modi
Impactful association with Special Olympics, benefiting 100,000+ specially-abled athletes and coaches worldwide
Over 100 industry awards, including LearnX, Apex, Diamond Pick by Craig Weiss Group, eLearning industry awards, Training Industry awards, and Brandon Hall Group awards, solidifying Tenneo's prominence in the LearnTech sector.
Future plans
The company's current aspirations include being in the top ten Learning Product Companies worldwide. Some other goals include becoming more customer-centric and expanding their Total Addressable Market (TAM). He further adds,
"Journey to the Top is leading us to improve our product portfolio and build an ecosystem of complementary products that can improve the lives of our 2 million+ learners. AI and generative AI have given a whole new dimension to endless opportunities in our business."
Lessons learned
One of the lessons Ankush wants to share with budding entrepreneurs is that "CEO ≠ Chief Everything Officer." He says,
"One of the most crucial insights I've acquired is the understanding that being a CEO doesn't equate to being the "Chief Everything Officer." The true challenge lies not in devising a sound strategy but in constructing a resilient core team and systems that can operate and scale autonomously, requiring minimal intervention."
He also emphasizes building a good product. According to him, great marketing is just a way of killing a "bad product faster." He implores everyone to build their business around products and customers, not otherwise. He also believes that the market plays the most significant role in determining success. A great team needs a great market for something special to happen.
Lastly, he signs off by reminding everyone to be Curious – curiosity has created more opportunities than hard work ever will.