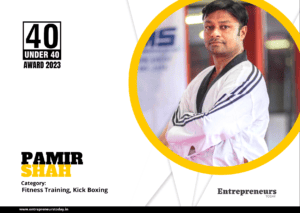 In an industry that traditionally looks down upon sports as a career and sports coaching as a profession, Pamir Shah is making strides. Entrepreneurs Today got in touch with him to learn more about his journey as a coach and an entrepreneur.
Pamir Shah, a 39-year-old computer engineer with a master's degree in information security from NYU, has not only excelled in technology but also in the world of combat sports. With a black belt in Taekwondo and an international referee certification, his journey in the combat sports arena began at the age of seven, and by the time he was 16, he was already imparting his knowledge as a coach.
About Dynamic Warrior Martial Arts
In 2011, Pamir laid the foundation for Dynamic Warrior Martial Arts, a venture that has since grown to include a network of 11 academies sprawled across India. These academies have become a hub for over 1300 students seeking training in an array of combat activities, ranging from Taekwondo and kickboxing to mixed martial arts. 
As for the size of his team, he currently has 62 coaches working across all the centers and over 300 individuals participating in the gym activities.
Pamir's academies extend their expertise to the fitness realm, providing instruction in strength and conditioning, weight training, CrossFit, and functional training.
What sets them apart?
What makes Pamir Shah's academy unique is its inclusivity and comprehensive approach to age groups. Unlike many other academies that typically start training kids at around five years old, his academy accepts children as young as three years old, promoting them as "little tigers" and focusing on developing their gross motor skills. 
The academy offers programs for individuals of all ages, spanning from young children to senior adults. They provide training in Taekwondo for those up to 16 or 17 years old, kickboxing and mixed martial arts for adults, and fitness classes tailored to seniors. 
They have also introduced family fitness classes, making their offerings accessible to people ranging from three to 55 years old. This inclusivity and variety of programs set his academy apart from others.
Juggling two roles
Since Pamir is a coach as well as an entrepreneur, he faces the challenge of balancing the two roles. He acknowledges that switching between these mindsets can be challenging. Pamir shares,
"When I am in a coaching role, I tend to adopt a non-professional and teacher-like approach. However, when I am in my office, I realize the responsibility I have toward the coaches working with me and their families."
To manage his responsibilities effectively, he adopted a more business-oriented approach to his coaching endeavors. This involved seeking sponsorships, scholarships, and implementing marketing and branding strategies, including international sports marketing, to promote his players and his sports-related activities.
Challenges faced
Given the turbulent nature of the industry, Pamir faced several challenges in his journey. Firstly, he had to deal with the initial skepticism in regions like Gujarat and Surat, where combat sports were not popular. 
Convincing people to take up activities like Taekwondo, karate, boxing, and Judo was a significant challenge. Additionally, he had to work on training students who initially couldn't participate in National Championships and convincing parents about the benefits of these sports. He says,
"To address these issues, I organized numerous workshops and awareness campaigns, conducting over 600 workshops of self defense  to gradually build interest and participation in combat sports."
He also mentions the backlash he has faced to date. Pamir reveals,
"I encountered comments devaluing the role of sports coaches, particularly in schools, where they were often seen as lacking education or literacy. Despite having graduated from a prestigious institution in the US, my decision to shift from a secure job to a career in sports coaching left me questioning the choice."
A lot has changed since then, and he now believes it was the right decision.
Celebrating feats
He was serving as the Project Director for a government initiative of self defense traning  in Gujarat called "Project PADKAR ." He has received numerous awards for his contributions to the development of martial arts and his academic endeavors. 
Additionally, he has been recognized for his business leadership, having awards like " Best martial art academy in India" and " leading self defense academy in India. His achievements as a coach are also noteworthy, with 4 Asian medalist and 27 of his core players participating in international championships and earning various accolades.
Future plans
Pamir Shah's future plans for the academy include expansion in Surat , with the intention to open more academies in the region. They are also looking to expand their presence across India. Additionally, they have plans to enter into franchising, aiming to develop their brand further.
Lessons learned
Pamir Shah's key lesson and advice for individuals in any field, whether it's related to art, culture, or any other domain, is that every field has its unique opportunities. He emphasizes the importance of confidence in one's own abilities and suggests that with confidence, you can develop your passion into a viable business. 
He encourages people not to underestimate the potential of their chosen field and to consider it an industry. Lastly, he notes, 
"Whether it's in music or sports, they can be avenues for building a successful future, just like other industries such as sports and the cultural sector. Let's consider them as industries in their own right, new industries, and approach them as entrepreneurs. This way, we can professionally and personally develop these arts holistically for our students."