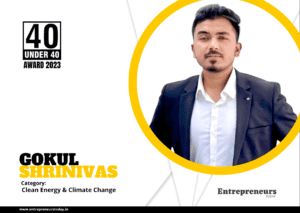 Minion Energy Management Solution, an advanced technology company, is poised to revolutionize the way commercial and industrial facilities manage their energy consumption. The brain behind the venture is Gokul Shrinivas, a remarkable individual who defied the odds to carve a unique path. 
A Unique Start
Despite facing rejection from over 450 job applications due to a 56% cut-off in his 10th standard examinations, he persevered. His lower grades were a result of being a state hockey player and a subsequent accident during a Tamil Nadu state match, which led to a four-month hospitalization.
Gokul's journey took a turn when he competed in a three-day coding competition and secured an internship at Amazon as a security expert, emerging as the highest-paid student in his batch. However, he soon realized that the IT field was not his calling, leading to his resignation from Amazon after a year.
He redirected his focus to his true passion—electronics and innovation. This decision led him to achieve over 40 international awards from various prestigious organizations and entities, including the PMO India, the Crown Prince of Dubai, the World Economic Forum, and many more.
His remarkable journey led to his inclusion in Forbes India's "30 under 30" list for 2022 in the Clean Energy and Climate Change category.
Beyond his entrepreneurial endeavors, Gokul is also an investor in several companies and an active member of various influential forums, including the World Economic Forum, the India Energy Storage Alliance, and Nasscom. He is a multifaceted individual, with interests ranging from aviation (holding a private pilot license) to music (a Carnatic guitarist) and teaching (as a guest faculty member at IIT Madras).
The USP of The Company
The company's unique selling point (USP) lies in its ability to provide comprehensive energy data analysis and insights without the need for equipment-level meters or sensors. With patented energy signature recognition technology, Minion EMS can aggregate equipment-level data, resulting in significant cost savings in both capital and operational expenses compared to traditional or smart metering solutions. Its real-time data logging and analysis capabilities enable users to monitor energy consumption at the EDGE, offering actionable insights and timely notifications to optimize asset performance and energy savings.
Minion EMS is designed to address specific pain points within organizations, including delayed action on energy-saving measures, asset maintenance, a lack of sub-metering, and proactive identification of abnormalities in critical assets. The innovative solution is expected to drive tangible results, contributing to the operational efficiency and sustainability goals of any organization.
Services Offered
The company offers equipment-level energy management without the need for additional sensors, reducing costs. The use of energy signature recognition technology provides detailed insights and real-time data analysis, enabling immediate action and proactive decision-making. Users receive actionable insights, including energy-saving opportunities and maintenance needs. It seamlessly integrates with third-party systems and promotes sustainability by reducing the carbon footprint. The solution's in-depth analytics are backed by a team of experts.
Minion EMS is scalable and user-friendly, suitable for diverse industries and facility sizes. It allows remote device control and offers a return on investment (ROI) analysis, aiding informed decision-making.
Challenges Faced
In the journey of building MinionLabs, several challenges were encountered, as is often the case with startups. Funding limitations posed an early hurdle, with the need for financial support to develop and scale the technology. Initially, the company relied on bootstrapping, self-funding, and participation in startup accelerators and pitch competitions to access early-stage capital. 
Market entry proved challenging due to established competitors in the energy management sector. MinionLabs tackled this by emphasizing its unique selling points, which encompassed equipment-level energy management without additional sensors, real-time data processing, and actionable insights. 
Technology development also presented a significant challenge. Creating the energy signature recognition technology and real-time data streaming capabilities demanded substantial research and development efforts. MinionLabs assembled a skilled team of engineers, data scientists, and domain experts to develop and refine the solution.
Scaling operations, especially in a hardware and software business, came with its complexities. The company invested in creating a scalable architecture and cloud infrastructure to accommodate growing data volumes. Partnerships with manufacturing and distribution entities were also formed to scale device production and deployment.
Regulatory compliance, particularly in terms of energy and data privacy regulations, was an essential consideration. MinionLabs ensured that its solution adhered to relevant industry standards and regulations, maintaining robust data security and privacy protocols to safeguard customer information.
Acquiring the initial customers posed a challenge. To address this, MinionLabs offered pilot programs and proof-of-concept trials to early customers, effectively demonstrating the value of its solution. Satisfied customers subsequently became advocates and references for the company.
Attracting top talent in a competitive landscape was another obstacle. MinionLabs focused on fostering a positive company culture, providing competitive compensation packages, and creating opportunities for professional growth. This approach helped in attracting and retaining skilled employees.
Global expansion requires understanding international regulations, cultural differences, and business practices. MinionLabs invested in market research, formed strategic partnerships, and provided localized support to successfully expand its global footprint.
Lastly, economic uncertainty and downturns could impact business operations. MinionLabs diversified its customer base across industries and geographies to reduce reliance on specific markets and maintained a strong financial position to weather economic challenges.
Achievements So Far
MinionLabs' achievements are underscored by tangible benefits delivered to businesses, particularly in energy cost savings and sustainability. Notable case studies include:
Fortis Hospital: Achieved INR 18 Lakhs annual energy cost savings on a total bill of INR 1.5 Crores, with a return on investment in under three months.
Nandu's Chicken: Realized INR 20 Lakhs in annual energy savings on their electricity bill, achieving an impressive return on investment within five months.
WeikField: Experienced recurring year-on-year savings of 28.6% on their annual electricity bill.
These case studies validate MinionLabs' effectiveness in helping businesses optimize energy consumption, reduce costs, and attain remarkable returns on investment.
MinionLabs has also garnered over 40 International and National Awards, including recognition from PMO India, the Crown Prince of Dubai, the World Economic Forum, and various industry bodies. Additionally, the company's inclusion in Forbes 30 under 30 of 2022 in Clean Energy and Climate Change, along with 300+ organic press mentions, further highlights its impact and recognition in the industry.
Plans Ahead
MinionLabs has a clear vision for the future, focused on product enhancement through advanced technologies, international market expansion, strategic partnerships, continued research and innovation, and a commitment to sustainability. These goals underscore MinionLabs' dedication to providing value to its customers and staying at the forefront of the energy management industry.
Lessons Learned
Gokul's journey in the energy management industry has yielded valuable lessons, including the importance of a problem-centric approach, adaptability, customer focus, resilience, team building, continuous learning, and network and partnerships. These insights serve as a roadmap for aspiring entrepreneurs navigating the challenges of building a successful venture.
Note from the founder:
"Embrace challenges as opportunities for growth, be persistent in pursuing your vision, and never stop learning. Entrepreneurship requires dedication, passion, and a willingness to take risks. It's a journey that can be incredibly rewarding, both personally and professionally, as you work to bring your innovative ideas to life and make a positive impact on the world."