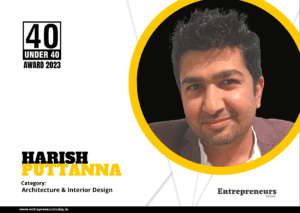 "Success for us is not about designing a house or building a structure. It's about making a difference in people's lives."
In a chat with Entrepreneurs Today, Harish Puttanna talks about how he is bringing a modern twist to the interior design sector with Bloomspaces. He also takes us through his journey in the industry so far. 
Harish Puttanna, The Founding Director of Bloomspaces, is a seasoned professional with over 15 years of experience in the Indian and global real estate markets. Known as a trusted advisor to developers, occupiers, and investors, his visionary outlook and technology-driven solutions have left an indelible mark on the sector.
With a background in marketing and finance, he holds a Masters in Business Administration (MBA) from Indiana University of Pennsylvania, USA, and is known for his people-oriented approach.
With a diverse career, Harish has held significant roles such as Head of SMC at Mantri Developers, International Sales at Sobha Developer Ltd., and Regional Head of Marketing at Copper Beech Townhomes LLC in the USA. He has also served as a Strategic Partner to Developers in Australia.
Harish's notable contributions extend to launching multiple high-end real estate projects in Bangalore, Hyderabad, Pune, and Chennai. He has represented the industry on the global stage through travels to countries including the USA, UK, Middle East (Dubai, Kuwait), and Australia.
His achievements have earned him numerous awards both within India and internationally, recognizing his exemplary leadership and business development skills. 
About Bloomspaces
Bloomspaces is an Architecture and Luxury Interior Design firm based in Bangalore, with operations across India and Australia. They specialize in meticulous, high-quality architectural and interior design solutions for homes and offices, striving to bridge the gap for premium design without the premium price tag. Their services encompass architecture, interior design, and furniture styling, all aimed at enriching the spaces they work on.
Inspiration taking root
Harish Puttanna's inspiration for his work stems from a fundamental desire to reintroduce nature into the built environment and foster a deep connection between people and the natural world. Having worked in various locations across the globe, including the US, Asia, the Middle East, and Australia, he came to the realization that the future for humanity lies in reconnecting with nature. 
According to him, this connection with the natural world, through elements such as plants, soil, and light, holds the key to improving health and enhancing our overall lifestyle.
A unique approach
Bloomspaces sets itself apart by adhering to its core principle, as embodied in its tagline, "Your Story – Our Design." The uniqueness of the business lies in its ideology, which centers on creating spaces that reflect the life journey, aspirations, and passions of its clients. 
The company believes that the design of a home or workspace should narrate the story of the individuals who inhabit it or the companies that operate within. This customer-centric approach makes Bloomspaces stand out, as it seeks to personalize every project according to the client's unique narrative and vision.
Challenges faced
Bloomspaces encountered a range of challenges in their mission to create environmentally-friendly and nature-centric designs. The primary challenge has been sourcing materials that are natural, recycled, and ecologically sustainable. 
To address this, the team has extensively traveled to rural villages across India, engaging with individuals deeply connected to nature. They've worked to acquire earthy materials, inspiration from natural elements, and sustainable materials that promote ecological health.
One of the specific challenges they face is designing spaces that foster a strong connection with natural elements. This includes creating environments where people can experience and interact with nature firsthand, such as breathing in natural air, cultivating and consuming self-grown vegetables, and engaging with tactile materials. 
Future plans
"The aim is to create and build projects using natural materials which will last for generations."
Bloomspaces' future plan centers on re-establishing a strong connection between residents and the natural world through their architectural designs. Their vision is to create natural and environmentally friendly buildings that engage the senses. This includes using materials that are not only visually appealing but also pleasant to touch, incorporating plants that emit fragrances and provide edible produce, and encouraging the presence of birds and bees whose sounds can be heard. These buildings are designed to promote the well-being of both the residents and the environment.
In the years to come, Bloomspaces aims to develop structures that resonate with people's care for the environment and inspire them through their harmonious integration with nature.
Lessons learned
Harish Puttanna has learned that shortcuts often lead to missed opportunities for genuine growth and development. He emphasizes that lasting success is built on hard work, learning from failures, and gradually progressing through small victories. His message for aspiring entrepreneurs is clear: genuine and enduring success arises from the process of learning, evolving, and persevering, rather than seeking shortcuts.