upGrad is an online educational service provider. Digital technology management, product management, entrepreneurship, data analytics, and data-driven management are among the programs offered by upGrad.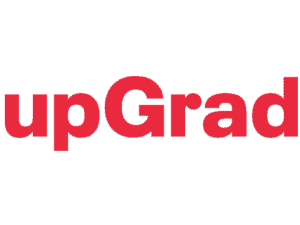 Ronnie Screwvala, Mayank Kumar, and Phalgun Kompalli founded upGrad in 2015 with the goal of improving the lives of working professionals by assisting them in upskilling while they are employed.
When asked about the success of upGrad, Ronnie Screwvala stated that the ed-tech business focuses on a 3C approach, which stands for coach, content, and career. For example, the site lists programs created by Chetan Bhagat, Harsha Bhogle, and Professor Sandagopan under the category "coach" (Director of IIIT Bangalore). 
More than 50 faculty members from prestigious national and international universities, including IIT Madras, Jindal Global Law School, MICA, Jamia Hamdard University, Deakin Business School, Liverpool John Moores University, Duke CE, and many more, make up upGrad's roster of more than 250 industry experts. The platform presently provides more than 7,000 hours of learning in terms of "content," and by the conclusion of the current fiscal year in 2022, they hope to have 14,000 hours available.
Inception
The founder claimed that the issue was that there was a significant disconnect between the theory taught in business schools and the actual issues faced by entrepreneurs. So they made the decision to use upGrad to close this deficit.
Their goal is straightforward: they want every entrepreneur in India to be able to obtain an MBA or specialized training in digital marketing, product management, finance, etc. without having to quit their job.
In order to give entrepreneurs the best of both worlds—classroom education and practical experience—the startup has worked with top universities around the globe, including IIM Ahmedabad, the LSE (London School of Economics), ISB Hyderabad, and Cambridge Judge Business School.
Services
The Master of Business Administration (MBA), upGrad's flagship program, is a two-year online degree that provides a challenging curriculum and hands-on learning opportunities.
With a focus on strategic decision-making, financial analysis, and professional development abilities that are transferable across industries like technology businesses or startups, this curriculum trains students for leadership positions in business and management.
Additionally, they provide short-term graduate programs such as Bachelor's Degrees in Management Science and Post Graduate Diploma Programmes (PGDPS).
With theory application modules encompassing subjects like marketing strategy, accounting fundamentals, operations, supply chain management, etc., these courses offer a comprehensive understanding of entrepreneurship.
Challenges
As with any other ed-tech startup, upGrad has faced its share of difficulties, some of which are:
Investors were unwilling to fund any online learning venture at the time that only catered to working adults rather than K–12 pupils. Due to this, Ronnie Screwvala provided the majority of the first financing, which was contributed by the three co-founders. The company is currently on track to raise $100 million as of February 2021, with Temasek agreeing to invest $50 million and the International Finance Corporation (IFC) pledging a total of about $45 million.
Encouraging companies to take the legitimacy of degrees obtained online into account. Once again, the majority of Indian companies were and still are unwilling to view specialties and degrees obtained online as being on par with those obtained through full-time offline study. As a result, upGrad had to invest a lot of money and time into emphasizing the benefits of its specialization programs that are associated with universities.
Achievements
For both the "ed" and the "tech" in their edtech, upGrad has received honors, including
Best Career Planning Platform at Ed Tech x 11th Indian Education Awards, 2021

#1 Startup in India as per LinkedIn Top Startups, 2020

EdTech of the Year Award, 2021 at TechIndia Transformation Convention, 2021

Best Online Platform for Higher Education on 29th July 2021 at Global Brands Awards 2021

ET Best Education Brand 2020.

'Best Communication and Teaching Platform' in the Education Innovation Awards 2020 by Entrepreneur India.

'Best Corporate Training Programme' by the 10th Annual Indian Education Awards 2020.
Future plans
By the end of 2025, upGrad hopes to have 5 million alumni members, including working professionals who enroll to stay skilled and relevant in their fields. The business is striving arduously to introduce more specialized programs, which will be curated by prestigious international universities and offer degrees that are recognized around the world. 
What's special about them?
Other domestic K-12 businesses like Vedantu and Byju's don't directly compete with upGrad, giving them a monopoly in the Indian market right now.
upGrad stands apart from other online learning platforms because of its emphasis on imparting practical knowledge.
Their entire curriculum was developed in conjunction with business owners and industry leaders who shared their knowledge and views.
All of the education startup's programs are also approved by prestigious international accrediting organizations like AACSB & ASQA. This guarantees that students receive a top-notch education that is acknowledged worldwide.
After receiving its final $40 million in funding on August 9, 2021, from Temasek Holdings, IFC, and IIFL, upGrad's valuation surpassed $1.2 billion, making it the third unicorn in the edtech sector. It is currently worth more than $2.25 billion.