Are you looking for the best books of 2022 as an entrepreneur?
Life of an entrepreneur is not stable. There is no way you can learn something once and then implement the same thing everyday in your start-up.
As an entrepreneur you have to learn daily.
Books are the best way to learn and to discover new happenings  in the world.
Here are 5 best books published in 2022 that every entrepreneur must read –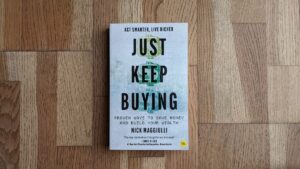 Just Keep Buying
Author – Nick Maggiulli
Amazon Rating – 4.4/5
Goodreads Rating – 4.1/5
Summary of Just Keep Buying
One thing we often hear from personal finance "gurus' and even from our elders is to cut down your expenses.
However , the time is changing and so do our teaching. Just Keep Buying is that new prospect of money and finance in life that anyone must know.
As the Author Nick Maggiulli explains in his interview ""I think financial media beats up on people. There's a lot of guilt out there, whether that's 'you have to work 24/7' or 'you need to cut your spending drastically.'"
He continues "the biggest lie in personal finance is that you can cut your spending to build wealth.
"Cutting spending is a short-term solution. The data is evident: the most reliable path to building wealth is to grow your income.
"Don't get me wrong; some frivolous people should not be spending the way they are. They probably need a little guilt.
"Cutting your way to wealth just doesn't work. If it did, we would see the savings rate increase to 10% or 15% consistently, regardless of income level, but it's not true. Savings rates clearly go up as income level goes up."
Nick suggests to have a mind-set of increasing your income over the time , rather than keep cutting your expenses.
Isn't that a fresh prospective?
Why you should read it?
As an entrepreneur it's crucial to know the value of money and how to manage your money. While you hustle on your start-up , investing your earned money in other ventures is also important.
However, as a start-up founder many forget that and they might have to regret in future.
That's why learning personal finance such as managing money, saving , spending habits and investing is a crucial step, afterall we all have bills to pay.
And books are the best way to learn it. Just Keep Buying  is very simple, easy to read book with unique modern structure.
Nick Maagiulli converted his blogposts that he had been writing since 2017 into a book along with new guides presented in a unique way.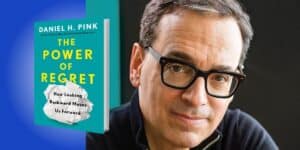 The Power of Regret
Author – Daniel H. Pink
Amazon Rating – 4.5/5
Goodreads Rating – 3.9/5
Summary of The Power of Regret
The New York Times Best selling author of When and Drive,  Daniel H. Pink presents a fresh perspective on regret in this book.
He presents his views in a manner that is understandable, approachable, and practical.
The Power of Regret book demonstrates how we might lead richer, more active lives by providing real-life examples of people's regrets together with helpful advice for reinterpreting regret as a positive force.
Why you should read it?
As an entrepreneur you make decisions without proper data everyday. Some of these fail while only few succeed so regrets are unavoidable.
In order to write this book, Daniel Pink started two research initiatives called The American Regret Project and The World Regret Survey, which gathered the regrets of over 15000 people from the US and other countries.
After that, the Author divided these regrets into four main categories: foundation, boldness, moral, and connection regrets.
Through this process, he also provided an example of what a life well-lived looks like.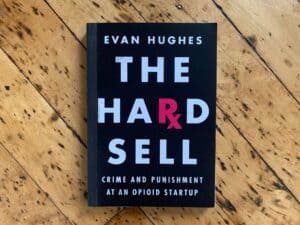 The Hard Sell
Author – Evan Hughes
Amazon Rating – 4.5/5
Goodreads Rating – 4.2/5
Summary of The Hard Sell  
The Hard Sell is a story of an Opioid start-up , a small pharma company , how it got built, had the best selling core team for a an opioid that paid doctors to run their business and how it went bankrupt.
It is a story of rise and downfall of a fraud startup covering the infamous Insys Therapeutics fraud case.
–
Why you should read it?
The story telling of Hard sell may make you angry but it gets more engaging as you read it.
It describe how people would justify heinous actions in order to get money and avoid having to deal with anything as adults.
The Stolen Focus
Author – Johann Hari
Amazon Rating – 4.5/5
Goodreads Rating – 4.3/5
Summary of The Stolen Focus
The Stolen Focus : Why you can't pay attention by the New Year Times bestselling author Johann Hari , demonstrates the reasons why our attention is decreasing day by day and how to get it back.
It is a wonderfully written tale that so many of us have felt must be told, but whose causes and effects are difficult to grasp and explain without relying on speculation, bias, or dogma.
Why you should read it?
New entrepreneurs often lack with focus. Many investors point it out while investing in their startup that the founding team need to focus on one thing at a time in their venture and as you grow you can begin to do other things too.
Focus is something we all struggle with, this book is a very simple guide to help you clear the clutter and pay attention to only meaningful stuffs.
How to live your life
Author – Ruskin Bond
Amazon Rating – 4.5/5
Goodreads Rating – 4.5/5
Summary of How to Live your Life  
Ruskin Bond is a well-known name among book and literature lovers.
The book is particularly engaging because it offers straightforward instructions in a really charming way.
The book is divided into nine chapters and provides the author's observations on life as well as your own observations on many facets of life, or more specifically, the wheels of life.
In the book How to Live Your Life, it is discussed how to start the day, love, nature, time, life, thoughts, luck, and celebrations.
Why you should read it?
How to Live your life is a simple guide book for all age people no matter at what point of life you are.
The book also contains handwritten letters from the author.
How to live your life is like a warm guide by an elder that you can relate to not matter what your situation is right now.
This book will not only value you for self-help but also will motivate on your taught startup journey.
Read More: 5 New EV startups in India to look forward in 2023