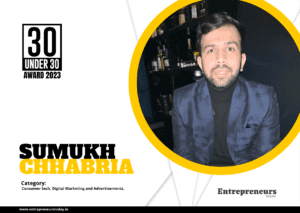 The 26 years old Sumukh Chhabria is the CEO of Big Ventures India PVT Limited, Chief Digital Officer of All Stars Limited, and Director of Operations at Metrocast Network India PVT Limited and Bhima Riddhi Broadband. Before venturing forth to work in varied industries like Consumer Tech, Digital Marketing and Cable Tv, Sumukh pursued a graduate degree from Kingston University, London.
Moreover, before Sumukh set out on his entrepreneurial journey, he was trained under his parents, Nagesh and Nisha Chabbria, the CEO and Founders of Metrocast Network PVT Ltd.
Entrepreneurial Journey
In a talk with Entrepreneurs Today, Sumukh reveals that his sister, Riddhi was studying integrated digital marketing in New York, and following the completion of her degree she began her own venture All Star Digital. Sumukh adds that upon her return, they joined hands and started working on the venture together. While Sumukh was already taking care of the cable, it was after he joined his sister that recognised how crucial the internet and digital marketing are. This revelation followed the founding of a broadband business that Sumukh named Big Ventures.
"When my company started, we were amid covid in 2020 and the Internet industry was booming. Riddhi was building up All Stars again and I started a cattle farm which wasn't giving me the results I wanted so I wanted to build something more productive."
Sumukh adds that while his cable company was performing well, he hoped to be more productive. Thus, it was his zeal that gave him confidence and propelled him to start his own broadband business.
What are the services provided?
"In Big Ventures and Bhima Riddhi Broadband, we provide Internet and OTT services to the customers. In Metrocast India PVT Limited, we have more than 5 lakh customers who use our cable TV Services."
What are some of his achievements in the field?
Sumukh says that the last two years have been a smooth ride and they have witnessed positive results in terms of growth and scaling up. Their other achievements are that their retainers have increased by 50% by last year at All Stars. They are also in the talks of starting a design-based platform in All Stars. Also, Metrocast has retained 90% base and started business in West Bengal in the first quarter of this financial year.
As for Big Ventures, they are the second largest player in Goa and have started OTT services as well. They have also tapped into the Kolkata and Bengaluru market for internet services. They also currently have a strong hold in the north Karnataka market.
Was it always a smooth ride for them?
As with almost every business, the time during the pandemic affected their business to a large extent. Being a consumer-oriented business, the impact was significant as most of their staff in their three cities of operations got infected. As a result, they were grasping at straws to keep their operations going with these people.
"We had to work in a way that all the employees were in a proper safety condition and environment."
Future plans and Lessons learned
When asked about his future plans, in an adorable note, he adds "As much as I would love to see myself at Hyde park having a smoothie and eating some chip dip, I would love to see my companies excel in their sector and as we enter into 2-3 more sectors." Sumukh also looks forward to capturing a nice market share in those as well.
One of the most intriguing lessons Sumukh has learned in his 20s is that he is not 'invisible to time'. He holds the notion that while you can always think of 'tomorrow' to be the better day to start working towards your dreams, 'tomorrow' is not guaranteed. So, it's always a good idea to start working towards your goals 'today'.
Finally, he notes that India has seen more than 100 unicorns in the last six years and one can only anticipate that it will increase by two times in the next three years. So, budding entrepreneurs need to keep their heads up and keep dreaming.