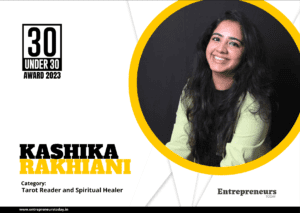 A tarot card reader, and spiritual healer by profession, Kashika Rakhiani started her journey as a full-time career in the field in 2019. Before that, she was a dance teacher and worked in that field for 10-11 years. After years of working as a dance instructor, finally something clicked in her and she went on to dabble in an area very different from her preceding career.
"I was only 9 years old when I got my first tarot card from a stationary shop."
Despite the fact that her family has a long history of teachers and practitioners, there were restrictions at the time that prevented her from studying or practising tarot before the age of 18 to 21. Kashika, therefore, devoted herself to dancing in the interim. In 2019 she made her comeback and opened her Instagram page to do readings and since then she has not looked back. She had a spiritual predilection that went back to her early years and intended to use it in her favour as she grew older. Her page has flourished over the last few years, and she has also become more experienced and knowledgeable at healing others.
Being an entrepreneur and maintaining her independence had always been major priorities for her, so when the time was right at age 26, she plunged into the world of entrepreneurship.
What are the services she provides?
Specializing in Tarot reading, Akashic Readings and spiritual healing, Kashika also does numerology.
Her speciality has always been tarot reading. Being able to listen to people's problems and provide them with healing solutions is always a rewarding job according to her. Over the years, she has dealt with just about everything and her clients have always benefited from her services whether they encountered issues with their finances, relationships, careers, or health. She further adds that people in anguish who sought her counselling during the COVID-19 outbreak were able to maintain their spirits.
"In 2021, I also started teaching various modalities so as to impart my knowledge to the world. As I always say 'This world is a complex place and I believe everyone is undergoing some or other thing these days, and they need help. Even doctors nowadays say to get healings done.' So why not teach it to everyone."
What are the challenges she faced?
"Covid in 2020 came as a blessing to me, as I learnt many other modalities and also started my journey as a healer! From reading about issues that people face in their life, I started healing their issues too, and my journey since then hasn't stopped."
Things, however, were not always easy as Kashika shares that she faced a lot of challenges during the pandemic. There was a huge surge in accounts, mostly created by students, claiming to provide tarot reading services. The market was cluttered by amateurs who are interested in tarot readings, and on top of that, their Google-learned abilities are essentially useless, resulting in clients being misled by them. Because of this, there is a great deal of mistrust among people. Making customers trust her was a huge challenge for her.
She claims that things have since calmed down and there aren't as many accounts claiming to be experts in the field.
Kashika has also faced a lot of stereotypes and challenged many misconceptions associated with the field. However, she is glad that she has her family's support throughout.
How does one tell that a tarot reader is genuine?
As there are numerous apps and phoney practitioners available nowadays that can make predictions in a matter of seconds, the only way to tell for sure whether a reader is genuine, according to Kashika, is to walk in for a consultation and independently determine whether the predictions line up. You won't be able to judge someone effectively unless you have had some interaction with them. With her one-on-one interactions on Instagram, Kashika aims to give her clients peace of mind and create real ties with them so that she can assist them better.
"My intuition and honesty are my USP. To me, happiness in solving issues of people is pure bliss and fetches a lot of blessings, while money will always be there, these good wishes and blessings are something that keeps me going."
What are some of her achievements?
"Not one or two, but I have 14 awards in my cap at the present moment, I am into more than 30+ modalities and many more counting."
On a personal note, she also adds that through her reiki and candle healings, she has helped a lot of people. She has also worked with Cancer patients and eventually they came out getting better. This, according to her, is her biggest achievement till now.
What are some of her future plans?
A few years down the line, she looks forward to opening a physical office and doing one-on-one consultations with the clients. Moreover, she wants to reach more people through Instagram and have a good client base.
What are her takeaways from the 20s?
Early on in her journey, Kashika realized the significance of good communication for entrepreneurs. She has also learned the value of never giving up on improving oneself in order to achieve one's goals. She believes that the pursuit of knowledge should never end.