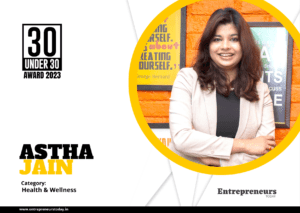 For eons, Indians have integrated ayurveda into their culture. In the wake of westernization, when Ayurveda is losing its touch, Astha Jain, through her venture Ayuvya Ayurveda, is leaving no stone unturned to make people aware of the value of Indian culture and Ayurveda.
Ayuvya Ayurveda is aware of the pressing need to integrate healthcare practices based on ancient wisdom into the everyday lives of Indians. Astha Jain says,
"As Ayurveda treats not just the symptoms but the root problem, I also have a deeply rooted relationship with Ayurveda. My grandfather was a known Ayurvedic Vaidya who spent his whole life perfecting Ayurveda & had the wish to share his wealth of knowledge with the rest of the world. So I ventured on this journey to continue his legacy and that's how Ayuvya Ayurveda, a platform where the ancient wisdom of ayurveda meets modern science came into the picture."
Astha Jain is the CEO of Ayuvya Ayurveda, a wellness brand that focuses on holistic well-being and offers quality & inexpensive products that combine ayurveda traditions with the lifestyle of modern users.
What about Astha's education and professional background?
Before venturing forth on her journey to found Ayuvya Ayurveda, Astha graduated from Chandigarh's Punjab Engineering College with a Bachelor's in engineering.
However, Ayuvya Ayurveda is not her first venture. Astha has had an entrepreneurial spirit since the time she was in her second year of her college when she founded her first venture.
In an exclusive interview with Entrepreneurs Today, Astha explains that the idea behind her first venture was to leverage state-of-the-art technology to deliver anything from your door to any place.
This was only the beginning of her entrepreneurial zeal. Following the first venture, Astha started working on her next venture which entailed printing t-shirts, which were highly popular among teenagers.
Eventually, Astha also went on to contribute to humanitarian initiatives like the "Pranab Mukherjee Foundation" and founded her non-profit organization, Punarkriti, intending to further give back to society.
Once Astha got done with her Bachelor's, she worked as a Digital Marketer for a while. But soon after, it dawned on her that her heart lay in entrepreneurship. All of this led her to found 'her next life-changing project of starting her own marketing company'.
To date, she has worked with some of the most renowned brands like "Yes Madam- Salon at Home" and De Beers Forevermark from ground level and helped them expand in the Indian market.
What does Astha have to say about Ayuvya Ayurveda?
Astha shares that Ayuvya Ayurveda is a wellness company that combines the 5000-year-old ayurveda wisdom with the consumers' contemporary lifestyles.
They provide a selection of products made with a blend of potent herbs inspired by old ayurveda writings.
"We have a premium line of Ayurvedic self-care products that is perfected through science and will fit seamlessly into your self-care regime and not the other way around. Ayuvya is on a mission to make the self-care journey more fun and pass down the efficacy of ayurveda to our customers in a personal form that fits seamlessly with your modern lifestyles. Ayuvya is the embodiment of rich ayurvedic tradition, effective science, and —above all— a soft spot for wellness."
What is it that Ayuvya Ayurveda is solving?
"When I started this business I found an industry filled with brands that claimed to be pure & healing but totally based upon false advertising and toxicity."
So, in order to address the problem, she strives to offer products that are effective and genuine and that promote a harmonic balance between the body, soul, and mind.
Astha reveals that while there are brands out there who claim to have genuine products created using ancient methods, the reality is far from it.
There are only a handful of such brands that adhere to thproper procedure, but their products come with exorbitant prices.
"From the beginning, our mission was to follow ancient ayurvedic texts and pour them into our formulations. Then we made sure to make these unique & rare formulations affordable & accessible to all, to make the self-care journey seamless irrespective of gender, class or age."
What are some of their achievements till now?
With a long-standing reputation for bringing about transformation in people's lives and self-care journeys with their wide range of high-quality products, they are proud of how far they have come.
In addition, they have rapidly expanded their wellness ethos throughout India, reaching a total of 10 crore individuals, the bulk of whom are from tier 1 and tier 2 cities.
Furthermore, their website now has 4 lahks of registered users. However, their greatest accomplishment to date has been their ability to garner the community's trust and establish themselves as a platform where every product and process is genuine and unadulterated.
Has the journey been easy?
Certainly not, Astha reveals that the time during the pandemic has been testing. She says, "we didn't have enough workers to fulfil the upcoming orders. Our vendors & manufacturers were from a small village in Madhya Pradesh and during the pandemic, they weren't able to ship the heap of orders."
Quite fortunately, things worked out eventually and even during those confusing times, their sales spiked with each day.
What are some major takeaways from Astha's journey?
From where Astha stands today, looking back, she has had a very enriching experience. And as one would expect, she got to learn a lot along the way. During the interview, she walks us through some of the major lessons.
One major aspect that is especially difficult to manage as an entrepreneur is executing your idea.
"The most difficult part comes after the idea generation, where you have to manage all the technical processes, empower others, implement strategies and most importantly learn to embrace failure. Failure gives growth and if you are resilient in overcoming failure, then success will come to you."
Lastly, another key lesson she learned is that problem-solving and decision-making go in tandem. Astha holds that during a crisis or a problem, it's crucial to identify the root cause. Otherwise, the solution would only address the issue superficially and it won't be long before you slip up again. She implores that rather than creating new problems to address, one should first strive to solve the existing problems.
What are the future plans for the company?
A few years down the line, they are looking forward to more diversification.
They have recently launched an Ayuvya App that lets you connect with Ayurvedic Acharaya directly on calls and messages and even diagnoses the customer's root cause and lifestyle problems through a questionnaire. Moving forward, their vision is to make Ayuvya App a household name when it comes to Ayurveda.