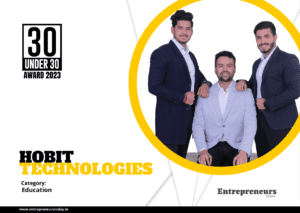 Edtech has traditionally been seen as a great unifier with the potential to provide access to high-quality education in off-the-grid locations. Hobit is the forerunner of the passion economy in India, fueling the knowledge, skills, and aspirations of possibly hundreds of millions of students nationwide from all socioeconomic backgrounds.
In a conversation with the Founders of Hobit, Gaurav Dua, Arpit Tyagi, and Lakshay Rohilla, they walk us through their journey as well as of Hobit to date.
Gaurav Dua, Arpit Tyagi, and Lakshay Rohilla founded Hobit to address the acute lack of quality education in non-academic and creative learning domains. It is a learning platform focused on interests and expert-led in the creative arts, sports, and hobbies.
During our conversation with Gaurav, he says, before launching his own venture, he completed his studies at the Asia Pacific Institute Of Management. He further shares that all three childhood friends that joined hands to build the startup come from very diverse platforms in terms of educational backgrounds as well as experience.
For those who think of backbenchers as the black sheep, Gaurav Dua has certainly proved them wrong. On a note of jest, he shares that since the time he was in school, he was always the backbencher and now he is spearheading the creative learning field.
How did Hobit come to be and what inspired the three friends to join hands?
Although more people are pursuing their hobbies and passions more than ever and are turning them into successful businesses, a significant lack of opportunities frequently prevents people from pursuing their passions further. The founders were conscious of this problem and also realised how limited the online selection of high-quality content was and how expensive and offputting the offline options were.
Gaurav shares that both he and Lakshay Rohilla were state-level volleyball players at school and had always been inclined towards extracurricular activities. Arpit Tyagi, whom he met in college was on the other hand, very much into the Indian startup ecosystem. So, it only made sense to them to join forces and start something together that adds value to the industry.
Hobit was launched by its founders to address the lack of suitable education in creative learning and non-academic disciplines like sports, dance, music, culinary, fitness, and comedy. They have 20+ subcategories for each segment. Hobit is a virtual learning platform that unites committed instructors and learners through live mentoring, engaging learning opportunities and community building. With its headquarters in Faridabad, it began its journey during the lockdown phase in 2020.
Hobit was formed with three objectives in mind: first, to assist learners in upskilling to become creators; second, to assist current creators in monetizing to become micro-entrepreneurs; and third, to inspire people to have a hobby, a pastime, or a worthwhile interest that gives them a break from their drudgery.
More about Hobit
Arpit Tyagi mentions that they realized that there is a gaping gap in non-academic interests in smaller and even populous cities and that there are very few qualified teachers or academics. As a result, Hobit has set its sights on offering all-encompassing solutions, including the option of online merchandise shopping, free tutorial videos for practice, education, and knowledge about a specific topic, and live video tutorials in the form of modules from renowned artists.
At Hobit, working professionals and homemakers have the option of choosing classes with various time slots so users can learn at their convenient time daily. Gaurav adds, "we provide virtual classes for the categories and subcategories with the help of Artificial Intelligence and Machine Learning." After the end of each class, the students get an auto-generated report that tracks their performance. In addition to academic activities, students can participate in a community of other students who share the same interests. These communities are segregated based on each hobby. Additionally. They also provide pre-recorded certification courses for various hobbies and subcategories.
What are some of their achievements till now?
One of their major feats is that they began their journey by bootstrapping the startup despite the heavy competition from the major players in the market. They have also received investments from top investors like Stoffer Arko Norden (ex CEO of bookings.com), Douglas penny ( Founder of Research Capital, one of the biggest investment banking firms in Toronto, Canada), Ivy Growth Associates and Marwari Venture Catalysts. Among more than 300 startups, Hobit was one of the top 5 startups selected by Marwari Catalysts for their accelerator programme in their most recent cohort.
Another key achievement of theirs is that even during a time of economic slump when most of the businesses are closing down, they have been profitable. In a time span of 1.5 years, Hobit has more than 2 lacs+ user base in India and UAE.
Some of the awards they have received till now are:
Out of 50+ startups, they landed with the 2nd Rank in best Pitching in State Conclave that was held in Jaipur, Rajasthan.
In Mission to USA, organised by ESC and STPI (Govt of India body), Hobit got selected under the top 35 startups out of 700 From PAN India to be taken to Silicon valley for networking by Govt. of India.
What are some of the challenges faced by the team?
Lakshay tells us that the initial stages of starting the venture were quite difficult in terms of not having enough capital. And since they did not have enough funds around that period, they faced challenges in onboarding employees as well as investors. Furthermore, leaving their previous jobs and convincing their parents to believe in their vision brought about another set of challenges.
However, things have changed a lot since then and now few years down the line, they look forward to leading the Hob-tech industry globally.
What are some of the lessons learned in the journey?
A major lesson the term has learned in their 20s is that if you have clarity and a clear business strategy, things will work out for you. Gaurav emphasizes that consistency is the key. He further explains that there are a lot of people out there who dream of founding a startup, but the people who manage to stay consistent even on their lowest days end up succeeding.