Aman Gupta is the chief marketing officer and co-founder. In addition, he has held positions as the CEO and co-founder of Advanced Telemedia Pvt. Ltd., Chairman D2C Council of the Internet and Mobile Association of India, Co-Founder of Imagine Marketing India, Director of Sales at HARMAN International, Senior Management Consultant (Strategy Services Group) of KPMG, and Assistant Manager at Citi.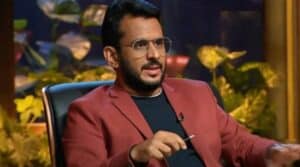 His educational credentials include a Bachelor of Commerce from Delhi University, a Chartered Accountant designation from the Institute of Chartered Accountants of India, and an M.B.A. from the Indian School of Business.
Shark Tank India featured Gupta in around 30 episodes, and he made investments in a variety of ventures, including technology and fashion companies. The companies that Gupta struck deals with are listed below:
With the goal of revolutionizing the accessibility and delivery of dialysis therapy to the ever-growing population of renal patients, the Mumbai-based startup was founded.
The Renal Project intends to establish micro-centers all throughout India in order to reach the necessary areas. Aman Gupta's most recent startup investment is this one.  He made a 50 lakh INR investment for 3% equity.
Titan Capital led a $340,000 pre-seed fundraising round for Delhi-based D2C food business WickedGud.
Aman Gupta and Sameer Mehta (co-founders of boAt), Amit Chaudhary (co-founder of Lenskart), Archana Priyadarshini (Partner at Point One Capital), Gaurav Ahuja (MD at Chrys Capital), Jorge Fernandez Vidal (Investment Director at Liechtenstein Group), and Harsh Vakharia (Founder of Invideo) also invested in the funding round.
According to the Delhi-based D2C business, the funding received will be used to improve the team and develop the brand across D2C channels in order to support its first growth.
Bummer
Bummer is an innerwear firm with headquarters in Ahmedabad that focuses on producing high-quality, environmentally friendly items. The company's products are geared toward millennials and are only produced from micro modal fibers—the softest material—with each pair weighing less than 60 gm. 
Over two rounds, Bummer has secured $280.6K in investment. On December 29, 2021, they received their most recent funding from an angel round. Three investors are paying for Bummer. The newest investors are Namita Thapar and Aman Gupta.
Freecultr
Freecultr provides the softest, coziest, most skin-friendly apparel compositions available in India. In addition to inner, sleep, lounge, and activewear, the company, which began in 2011 with clothing and footwear, now offers. It presents an intentional strategy for comfort. Aman Gupta and four other investors contributed 37 crores INR to the company's series A round.
Skippi Ice Pops
The company, which debuted in April 2021, makes its ice pops only using colors, preservatives, and sweeteners that are extracted from fruits and vegetables. There are six flavors of popsicles available: raspberry, orange, mango twist, bubblegum, cola, and lemon.
Ashneer Grove, Anupam Mittal, Aman Gupta, Vineeta Singh, and Namita Thapar, the five sharks, were all enthusiastic about the pitch and the product and decided to invest in Skippi Ice pops. Skippi Ice Pops, India's first ice popsicle company, obtained Rs 1 crore in finance in exchange for 15% equity.
Shiprocket
It was launched in 2012 as an e-commerce shipping platform. Direct-to-consumer sellers may transport items at a reasonable price thanks to Shiprocket. The business suggests the finest courier services to a business using a machine learning-based data engine.
Everything is done in one location, including choosing the courier provider, printing shipping labels, and order tracking. This facilitates simple shipping and returns for businesses. Aman Gupta, the 9Unicorns Accelerator fund, and twelve other investors contributed to the company's $185 million Series E round of funding.
Anveshan
They assist their clients in swapping out unhealthy kitchen ingredients for premium, wholesome, reasonably priced, and minimally processed food items. Aman Gupta and six other investors contributed to the company's seed round, which totaled 36.7 crores INR.
AyuRythm
Founded in 2016, AyuRhytm is a customized digital platform for holistic wellness. The company's app uses an AI algorithm to deliver tailored recommendations for diet, yoga, and meditation. This makes it possible for consumers to purchase goods and services to fulfill their wellness objectives. It is the ideal fusion of antiquated knowledge and contemporary technology. A deal was struck by the Shark Tank judge in India for 75 lakh INR at 2.68% equity.
Nuutjob
On business since 2021, Nuutjob specializes in items for men's hygiene. They sell items for both intimate hygiene and men's grooming. Products from the company keep intimates dry and clean, which reduces irritation, perspiration, and unpleasant odor. Around men's private parts, the products maintain a correct pH balance. For a 6.6% equity stake in the business, the co-founder of boAt invested about 8.33 lakh INR.
Some of the startups that received backing from Aman Gupta are: 10Club, Peeschute,  Beyond Water, InACan, Get-A-Whey, Farda Clothing, Ariro, Raising Superstars,  Altor, Revamp Moto, Growfitter, Chargeup, Hammer, Loka, Bluepine Foods, Beyond Snack, EventBeep, Meatyour, The Yarn Bazaar, COCOFIT, Let's Try Foods, Find Your Kicks India, Brainwired, Namhya Foods, Jain Shikanji.
Read more: Ways Entrepreneurs Can Manage the Impending Recession