Ashneer Grover served as the co-founder and managing director of BharatPe, but on February 28, 2022, he resigned and gave up his responsibilities with the company after becoming embroiled in a slew of controversies. including financial irregularities.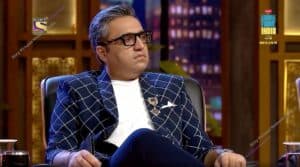 Grover has been replaced in the second season of the upcoming Indian edition of the well-known international business reality show by Amit Jain, the CEO and co-founder of CarDekho. Six of the remaining "sharks" were kept. Let's review and look at the startups that Ashneer Grover has financed before we get set for the second season of Shark Tank India.
The Indian subcontinent, which has had civilization for the longest time, has a wide variety of languages, cultures, tastes, and cuisines. These flavors have been retained by numerous food companies. While some have skillfully merged two different cultures, others have made the same dish for centuries. Big Bang Foodtech wishes to make this food available to all people. Their goal is to expand well-known food brands while retaining old-fashioned methods, ingredients, and ideals.
Funding: Total Funding $48.0M
Investors: Ashneer Grover, Chitra Radhakrishnan, Harsh Jain, Artha Venture Fund
Founded in 2019, TagZ Foods produces popped potato chips that they claim have 50% less fat and are never fried or baked. It is gluten-free, trans-fat-free, preservative-free, cholesterol-free, and free of artificial colors or flavors. More than 1,000 upscale retail locations in Bengaluru and other cities as well as all online marketplaces like Amazon, Big Basket, and Supr Daily carry TagZ Foods. The company claims to have assisted more than 1 lakh customers since its inception.
Funding: Over the course of 5 rounds, TagZ Foods has secured money totaling $1.1M. Jan 27, 2022, marked the date of their most recent funding.
Investors: 15 investors are funding TagZ Foods. The most recent investors are Namita Thapar and Ashneer Grover.
Freadom
In order to advance English language learning, Freadom, founded in 2016, was created in partnership with Stanford University. In any country where learning English as a second language is a goal, it prepares kids to read and study it. By 2023, the company hopes to have 50 million customers worldwide. Hundreds of elementary school students' academic performance have improved by 30% as a result of their material and teaching technique, and they now have more confidence. Freadom's revolutionary educational approach and cutting-edge artificial intelligence technology, which makes language learning available to all children between the ages of three and twelve, are at the heart of the company's success.
Funding: Ashneer and other investors contributed $2.5M to the company's seed VC round.
Koo, which was launched in March 2020, is presently the second-largest multilingual microblogging site accessible worldwide. Koo, a pioneer in language-based microblogging, empowers users to freely share their thoughts and express themselves in a language of their choice through its immersive language experiences, democratizing the voices of people. There are currently 10 languages available for Koo. More than 7,500 prominent figures in politics, sports, media, entertainment, spirituality, and art & culture actively use it to engage with their followers in many languages. It has more than 50 million downloads. Koo's online and app platforms are used in more than 100 different countries.
Funding: Over the course of 5 rounds, Koo App has raised a total of $44.5M in investment. Their most recent round of fundraising, a Series B round, was raised on February 24, 2022.
Zorro
A seed round of $3.2 million has been raised for Zorro, a pseudonymous social network, from more than 16 unicorn entrepreneurs, including Vijay Shekhar Sharma, Ritesh Agarwal, Kunal Shah, Ankiti Bose, Ashneer Grover, Lalit Keshre, Gaurav Gupta, and numerous other angel investors. 
Prior to its entrance into the United States, the pseudonymous social network Zorro declared on July 1 that it is rebranding its name to Hood.
HireQuotient
According to a press release from Singapore-based HireQuotient, which automates HR interviews for businesses, seven Asian unicorn founders contributed $1.8 million to the pre-seed round of funding. Ashneer and seven other investors contributed $1.8 M to the company's pre-seed round.
Fello
Launched in 2020, it is a firm that incorporates gaming into personal finance and investment. The platform enables gamers to become investors. Users can save, invest, and earn more returns here than they would in a typical savings account. Ashneer, Acequia Capital, and eight additional investors contributed $1 million to the company's seed round.
Skippi Ice Pops
All 5 sharks—Ashneer Grove, Anupam Mittal, Aman Gupta, Vineeta Singh, and Namita Thapar—were impressed with the pitch and the product and funded Skippi Icepops. India's first ice popsicle brand, Skippi Ice Pops, received funding of Rs 1 crore in exchange for 15% equity.
Some of the startups that received backing from Ashneer Grover are: Get-A-Whey, Paz Care, Trica, FrontRow, OTO Capital, EasyRewardz, Lets Hash, The Whole Truth, Credgenics, Pocketly, India gold, Junio, M2P Fintech, Rupifi, earKart, MyHq. 
Read more: Investor Ashneer Grover to launch his book 'Doglapan'