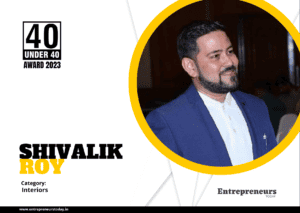 Shivalik Roy, the Founder, and Managing Director of Royale Touche Inc, is a dynamic entrepreneur who transitioned from a senior global IT sales role to establish his own venture in 2016. 
With a strong background in IT sales, Shivalik hails from Patna, India, and pursued his education at Don Bosco Academy and St. Michaels before venturing to Pune for further studies and his professional journey.
Royale Touche Inc. specializes in the distribution of Royale Touche Laminates and flooring across the state of Karnataka. 
Shivalik's leadership is not limited to his business pursuits alone; he also serves as the Secretary of the Karnataka Laminates Distributors Association. In this role, he focuses on fostering collaborative relationships with trade partners and ensuring a harmonious business environment.
Shivalik's decision to step away from a successful IT career at the age of 30 to explore his entrepreneurial potential is a result of his dream to build something of his own. Shivalik shares,
"With a passion for sales and the discipline that IT taught me, it was time to retire from the IT sector at 30 and embark on a venture where one can fully explore their potential and hire the best talent to grow together."
Outside the business realm, Roy finds solace in a range of hobbies, including biking, driving, trekking, traveling, and reading. Through a blend of strategic insight and a devotion to personal growth, Shivalik Roy continues to shape ventures and inspire those around him.
As for what propelled Shivalik on this path, he reveals, 
"Working for oneself and the ability to generate employment were the main motivations. The world of interiors and architecture is ever-growing, and being associated with a product related to it was a great push. I started with a small setup 7 years ago, and today, we span 8 showrooms across Karnataka."
Today, he stands as a beacon of inspiration for those grappling with career choices and uncertain paths, offering a role model for countless young individuals navigating their aspirations.
About Royale Touche Inc.
Shivalik Roy's business takes a stand as a distinctive entity in an industry where technology seamlessly intersects with interior products. The hallmark of their uniqueness lies in their ability to harmonize technological innovations with interior solutions. 
Whether it's harnessing the power of AI or leveraging the reach of social media, their influence reverberates across platforms, enabling them to engage a broader audience with cutting-edge offerings. 
Interestingly, their competition has played a pivotal role, acting as a driving force that continually propels them to scale new heights.
Transforming Obstacles into Success Milestones
The journey of building their business has been punctuated with challenges that naturally accompany growth. With resilience as their guiding principle, they have consistently confronted these challenges head-on. 
The credit for surmounting these obstacles rests upon the unwavering support of those who have stood as pillars of strength. The collaborative efforts of their dedicated team and partners have been instrumental in converting challenges into stepping stones toward progress.
Defining Success Through Impact
For Shivalik Roy, the yardstick of business success lies in the impact made on people's lives through their products. Collaborating with architects, builders, contractors, and dealers to craft dream homes for customers remains a gratifying measure of achievement. 
Noteworthy milestones encompass the establishment of 8 comprehensive display centers, the rapid ascent of their brand, and strategic partnerships with prominent Pan-India brands. 
An impressive feat is Roy's rapid ascent as one of the youngest committee members of the Karnataka Laminate Distributors Association (KLDA).
Future Looks Bright
Shivalik Roy's vision for the business is firmly anchored in a future-ready approach. The roadmap involves cultivating a business environment that's perpetually receptive to learning and growth. According to Shivalik,
"The only way to achieve this is by staying open to ideas and growing alongside people."
With a steadfast commitment to remaining open to ideas, the path forward entails a symbiotic journey of evolution alongside a community of collaborators and partners.
Lessons learned
The crux of Shivalik Roy's journey encapsulates the tenets of persistence, a receptive mindset, and adaptability. His counsel to budding entrepreneurs is straightforward: take that initial step and commit wholly to growth. Lastly, he adds,
"To all budding entrepreneurs, start by burning all bridges to the past, and relentlessly striving towards the growth of your business. Remember, there are no shortcuts to success."
Roy's experiences underline the essence of forging ahead, armed with unwavering principles and a spirit of continuous evolution.