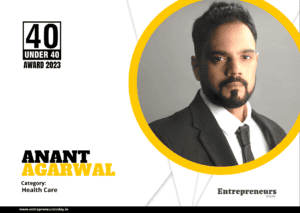 Hailing from Kolkata, Anant Agarwal has emerged as a visionary in both entrepreneurship and clinical research. In 2012, he laid the foundation for Indoriv Clinical Private Limited—a pioneering venture that has since propelled the realms of Biotech and Pharma towards unprecedented frontiers. With a team of 100 adept medical experts, Agarwal's brainchild drives innovation in Biotech and Pharma, bridging the gap from idea to market. 
Agarwal's journey into this dynamic field traces back to his alma mater, the University of Sheffield, where he earned his degree in Biomedical Engineering in 2011. Ironically, it was a stumbling block—an internship that didn't pan out as planned—that set Agarwal on the path to creating something extraordinary. This setback fueled the inception of his brainchild: a pioneering clinical research consultancy and biobank, a concept that would soon reshape the landscape of medical research.
Today, Indoriv Clinical stands tall as a global contender, its significance reverberating across borders. As a hybrid biotech firm, it has become a driving force propelling the realms of Human Clinical Trials and Biobanking to unparalleled heights. Agarwal's brainchild has become a conduit for expediting research endeavors, effectively bridging the gap between promising concepts and transformative healthcare solutions.
Inception of Indoriv Clinical
Driven by a passion for Biotechnology and a practical need to sustain himself, Anant Agarwal's entrepreneurial journey began as a survival strategy. Faced with over 200 job rejections despite a strong academic background, he set out on a journey to carve his own path. Starting in a hospital Emergency room with minimal resources, Agarwal's tenacity led to the inception of his venture. From those humble beginnings, his company has now expanded to encompass over 100 professionals across five cities.
Anant Agarwal's company thrives in the domains of Clinical Research and Biobanking. Distinguished by its uniqueness, the company stands as a key player in this niche sector. With an unwavering commitment to compliance, their USP lies in meticulously executed processes and top-tier Standard Operating Procedures (SOPs). At the core of their success is a dedication to pioneering practices, setting them apart as a beacon of excellence in the field.
Indoriv Clinical, led by a multi-disciplinary team, streamlines clinical research, ensuring ethical drug and device testing to accelerate research. Prioritizing patients, Indoriv Clinical serves as a catalyst for enhanced healthcare access. With an integral biobank, Indoriv champions cost-effective solutions and efficient research, earning recognition as a patient-centred, science-driven leader.
Challenges faced
Having to weather a storm of industry setbacks, Anant Agarwal's journey was riddled with his own set of challenges. He had to face it all, from a six-month industry shutdown prompted by regulatory shifts to project cancellations. Yet, these trials underscored a vital lesson for Anant. He asserts,
"Survival only depends on how you maintain yourselves in the hard times. Enthusiasm and motivation are temporary highs that are short-lived. Discipline drives us through the harder times."
Adhering steadfastly to policies, SOPs, and systems, Agarwal's company emerged stronger than ever, which is truly a testament to his and the team's unyielding spirit.
Achievements so far
When asked about their yardstick of success, Anant expresses,
"We measure the success of our business by how many innovations we get to the market."
The company's track record shines with validated products that bridge the gap between science and society. With successful market entries, their efforts resonate as a valuable contribution to both scientific advancement and the betterment of society. 
As per their other achievements so far, Indoriv Clinical has been lauded by Outlook India and Hindustan Chronicles, and stands out as a hybrid CRO, with a prestigious Most Trusted Award 2022 from RMB Connect and t2.
Plans ahead
'We want to become the largest biobank in the world."
We asked Anant what the future holds for Indoriv Clinical. With a glint of excitement, Anant reveals his aspiration to transform Indian biobanking, aiming to surpass global standards. 
He further adds,
"It doesn't make sense that Vienna, which has a population of less than 1 CR people, has the largest biobank in the world. We want to make Indian Biobanking data accessible to researchers all around the world to push innovation further and stronger. 
Their goal is to provide widespread access to Indian biobank data for global researchers, driven by disciplined efforts and disease-focused profiling. Leveraging a robust marketplace, Indoriv envisions propelling India's biobanking landscape to new heights.
Lessons learned
Reflecting on 12 years of entrepreneurship, Anant Agarwal underscores a pivotal lesson he learned: 
"You lose every day and win once in a while. You have to have the discipline of mind to be okay with that. Entrepreneurship is not a winning or losing game. It's a survival game. Growth is a side effect of survival. So keep the focus on surviving and not winning."