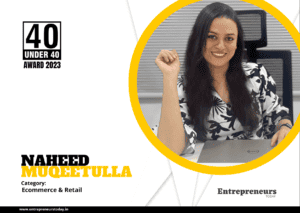 Naheed Muqeetulla is the Founder and Managing Director of Imperial Online Services Pvt Ltd. With a degree in Finance from St. Francis College and a gold medalist in Accounting and Commerce, she brings a wealth of financial expertise to her role. Additionally, she completed an Entrepreneurship course from IIM-B and boasts a decade of experience in managing finances and accounting. 
With 8 years in the rapidly growing e-commerce industry, Naheed has acquired keen insights into its dynamics, potential, and challenges. She has been recognized as one of the 25 Iconic Business Women of 2022 by CEO Magazine and one of the top Business Leaders of India in 2022 by The Week. 
Furthermore, she has received certification from the Iron Lady Program for her significant contributions as a leading woman entrepreneur. 
Getting started
Speaking of how she made her entry into entrepreneurship, Naheed says, 
"My father, an entrepreneur himself, was possibly my greatest inspiration to enter the world of business. His problem-solving abilities, combined with my mother's never-say-no attitude, were definitely passed along to me and inspired in me a zeal to build something of my own."
She also recognized a significant supply gap in the online market for high-quality denim and jeans. The fragmented nature of the market prompted her to take action. With an initial launch of just three pairs of jeans that sold out within four days, she quickly expanded the product line to meet demand.
About the company
Imperial Online Services Private Limited operates as a company specializing in the design, manufacturing, and online sale of western apparel, prominently under its flagship brand Urbano. 
Urbano, a youth-centric, digital-first apparel brand, offers stylish and quality clothing for the style-conscious young demographic of modern India. Their product range includes jeans, chinos, t-shirts, shirts, jackets, and hoodies for men and children, available on various online marketplaces such as Amazon, Myntra, Flipkart, Nykaa Fashion, Ajio, and through their brand website, www.urbanofashion.com. 
Urbano's mission is to make high-quality fashion accessible to Indian consumers by consistently launching the latest designs and trends at affordable prices. 
Over the past 6 years, Urbano has emerged as a leading private label for men's and kids' clothing in the online space, achieving a remarkable CAGR of 156%. 
A recent strategic partnership with Aditya Birla Fashion and Retail Limited is expected to facilitate rapid growth in the coming 5 years through infusion of funds and expertise.
The USP
What sets Imperial Online Services Pvt Ltd, and its Urbano brand apart is a focus on consistency, sustainability, market acumen, and accessibility. 
Urbano excels in delivering unwavering quality in the online fashion market, paying close attention to customer preferences. They remain attuned to ever-changing fashion trends, especially appealing to discerning younger consumers. She asserts,
"We also take pride in how we build products that last and adopt sustainable measures, including the use of recycled fabrics, more eco-friendly methods of production, reduction of water consumption during the production stages, and use of biodegradable bags to do our bit to reduce our carbon footprint."
Above all, Urbano's mission is to provide accessible fashion, offering the latest trends at affordable prices and ensuring widespread distribution across India.
Challenges faced
Naheed encountered two major challenges in building her business. First, assembling a capable and dedicated team was pivotal but no small feat. She prioritized not only skill but also loyalty to the company's long-term goals.
Second, staying ahead in India's dynamic e-commerce space was demanding. Adapting to shifting consumer tastes, competitors' strategies, evolving workplace dynamics, and changing legal requirements required a different strategy. Naheed shares,
"We have made sure that we build the right mechanisms and processes that can help track and analyse such changes, and allow us to take necessary actions to stay ahead of the curve."
Celebrating feats
"Success has always been a holistic term for me. It isn't simply about the financials or the bottom line. Ensuring customer satisfaction, advancing employee welfare and growth, promoting and supporting our vendors, and contributing to the community are significant milestones." 
They have achieved several noteworthy recognitions, including consistent Top Seller awards on Flipkart over the past six years. The brand has also been honored as the "Top E-Commerce Brand" and "Best Emerging Fashion Brand of the Year." 
Additionally, Urbano's selection for the Myntra Rising Stars program underscores its potential for sustained growth and success.
Notable media coverage in The Week, Zee Business, and Economic Times has further highlighted Urbano's success and Naheed's contributions to the fashion industry. 
Plans ahead
Naheed Muqeetulla's future plans for Urbano involve establishing it as the most beloved denim-wear brand in India while prioritizing financial and socioeconomic sustainability. To achieve growth and revenue targets, the company aims to reinforce Urbano as a symbol of unwavering quality, sustainability, and accessibility. 
Key strategies include expanding the product catalog with a focus on jeans, t-shirts, and shirts, diversifying into new categories such as accessories, athleisure wear, and footwear, and improving stock availability for core styles to prevent stock-outs. 
Lessons learned 
Naheed emphasizes the irreplaceable value of hard work and unrelenting dedication, where a clear vision and unhesitating commitment to putting in the necessary hours are paramount. She adds,
"There will be ebbs and flows in your business. But you need to remember that no matter where you are, you need to continue to keep working on your idea and your business."
She underscores that the presence of a stellar month should not lead to complacency, nor should a downturn in customers or sales instigate surrender; mastering the art of navigating both success and setbacks demands unwavering tenacity.
She also believes that consistency is the linchpin for building trust, extending beyond the initial sale to encompass the continual fulfillment of promises. Lastly, she encourages everyone to enjoy their work. Naheed signs off by saying,
"Have fun with it. This is your passion and your project. You can take it in any direction you want!"