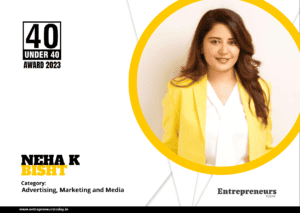 "I started Blue Buzz to build brands with complete freedom, even though I knew I needed to learn new skills like finance, hiring, and new business development."
Neha K Bisht is a believer that the journey of entrepreneurship is a never-ending one where learning comes every day. With a range of achievements under her belt today, she walks us through how she began her career in the PR world. 
Neha K Bisht is the Founder and CEO of Blue Buzz, a boutique PR and Marketing agency. A self-made woman, she has proven herself through her innovative and strategic approach to brand narratives.
While looking back at how far she has come and where it all began, she tells us,
"I started my career in advertising, but I quickly realized that my true calling was in PR. I love the challenge of creating and executing campaigns that capture the attention of the media and the public. I'm also committed to building a company culture that nurtures creativity and innovation."
To delve into her background, Neha always found it fascinating how brands leverage storytelling. So, right after she was done with high school, she enrolled for a Mass Media degree. With a brief stint as an intern at a PR agency, she learned the ropes of the world. Neha further adds,
"I was fortunate enough to work with multiple established brands and had a strong urge to set up my own company.
With Blue Buzz, my goal has been to become synonymous with innovative brand narratives across sectors." 
Currently, Blue Buzz is nothing short of a media powerhouse that specializes in creating unique brand stories. Since they started, they have grown and are now offering 360-degree media solutions. In terms of the services they provide, they offer a combination of advertising, PR, marketing, and other techniques.
What sets them apart?
1. Customized Brand Strategy: At Blue Buzz, every brand gets a tailor-made strategy. They dig deep into your target audience, market position, and communication goals to craft a unique brand narrative that truly stands out.
2. Consumer Insights: Blue Buzz doesn't believe in one-size-fits-all solutions. They dive into consumer perceptions, needs, and motivations to create brand stories that resonate and drive results.
3. All-in-One Solutions: Blue Buzz offers a full suite of services under one roof, from PR to digital media and branding. This saves you time and money while ensuring consistency across all channels.
4. Local Expertise: As a homegrown agency, Blue Buzz understands the challenges faced by start-ups and mid-sized brands. They deliver top-notch service at an affordable price point.
5. Creative Excellence: Beyond the basics, Blue Buzz is always innovating to reach consumers in exciting ways, delivering exceptional results and experiences.
Achievements till now
Blue Buzz's track record of achievements underscores its commitment to excellence and innovation in the realms of marketing and public relations. Notably, they have garnered recognition for her outstanding contributions, including being honored as the "Speaker & Best Business Woman in Marketing & Public Relations" at the Women Entrepreneurship Summit 2023 by the Global Triumph Foundation and securing the "Women Disruptors Adgully Women Entrepreneur of the Year 2023" title. 
In addition, Neha Bisht has been celebrated as part of the "PR 40 Under 40" and "Content 40 Under 40" elite, further exemplifying her expertise in the field. The agency has also clinched prestigious awards such as the "Brand Slam Marketing Excellence Award" by IGI and the "Best Use of Facebook" Fox Glove Award in 2021 for their work on Mind Wars. 
With a slew of accolades, including "Best PR Agency of the Year" at CMO Asia's National Awards in 2020, Blue Buzz continues to be at the forefront of industry recognition, shaping the landscape of modern marketing and PR.
Blue Buzz's exceptional work also earned them the "PR Agency of the Year" award at the 2020 CMO Asia Awards. Neha herself has been honored as "Publicist of the Year" and featured in "30 under 30" and two "40 under 40" lists for PR and content professionals.
Future plans
Blue Buzz's vision is to become the epitome of creative storytelling across all platforms. They firmly believe that storytelling is the ultimate tool for forging connections and elevating brands. Aspired to be the premier choice for brands seeking unique and compelling narrative expertise, their roadmap includes a commitment to delivering top-notch work that aligns with client needs. 
Additionally, they plan to stay ahead of the marketing and communications curve through investments in research and development. By cultivating relationships with industry influencers, journalists, and thought leaders, Blue Buzz aims to remain at the forefront of innovation. 
This journey will also see them expanding their team, bringing on board talented individuals who share their visionary zeal. 
In a world driven by narratives, Blue Buzz is poised to shape the stories of tomorrow.
Lessons learned
Neha's entrepreneurial journey has imparted her crucial lessons. First and foremost, she emphasizes the significance of trusting one's instincts, even in the face of adversity, as unwavering belief in oneself and one's vision can overcome any obstacle. 
Neha also underscores the importance of inclusivity, advocating for a workplace where all are welcomed and respected, regardless of their backgrounds or beliefs. Such diversity, she notes, injects fresh ideas and perspectives that drive a company's growth and success. 
Additionally, she highlights the value of cultivating a robust support network comprising fellow entrepreneurs, mentors, and business leaders, as they play pivotal roles during both challenging times and moments of celebration. 
She reminds budding entrepreneurs that entrepreneurship entails hard work, but it is an enjoyable journey, encouraging us to find ways to have fun along the way.