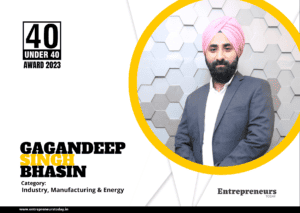 Gagan Singh is a prominent figure in the construction and infrastructure industry, and 'Entrepreneurs Today' sought to connect with him, acknowledging his significant influence within the sector.
With a background in banking and insurance, having ventured into the industry in collaboration with my uncle Shri Ajit Singh Kohli, who is the chairman of Procon RMC Plants Pvt. Ltd. 
Under his leadership, they expanded from building materials and equipment rentals into concrete manufacturing, with Procon RMC operating across 11 locations and supplying major developers, metro projects, and even the bullet train project in Gujarat. 
Gagan's dedication and teamwork have driven the growth of his two ventures, making him a key player in the construction sector.
About Procon RMC
Procon RMC Plants Pvt. Ltd., founded in October 2018, is making waves in Mumbai's construction industry. Focusing on ready-mix concrete, the company prioritizes quality, consistency, and customer satisfaction. They stand out with their own fleet of Transit Mixers, Concrete Pumps, and Boom Placers, offering added depth and flexibility in service delivery.
In a bid to further enhance its offerings, they are establishing a state-of-the-art Crusher Plant in Wada, ensuring certified quality and guaranteed metal materials for clients in Mumbai and Thane.
This venture was founded by Mr. Ajit Singh Kohli and Mr. Gagan Singh, driven by their vision to lead the RMC sector, which crossed leaps and bounds with our Partner Mr. Nitin Vijayakar who has been in the Concrete Industry since 25 yrs. Ajit Transport Company, led by Mr. Ajit Singh Kohli and Mr. Gagan Singh, plays a pivotal role as a partner company, contributing over a decade of experience with more than 300 transit mixers and 50 other concrete equipment in the Mumbai market.
Procon's journey began with our first commercial plant in Mira Road, followed by expansion with new plants in Wadala, BKC with Reliance Infra for Metro and Omkar Developers at Bhoiwada & Malad. We have also established plants in Surat for the Bullet Train High-Speed Rail Project.
What sets them apart?
What sets them apart in the construction industry is their comprehensive in-house approach. They own and operate their fleet of equipment, concrete plants, wheel loaders, and crushers, which results in both backward and forward integration. This self-sufficiency distinguishes them from competitors and allows for greater control over quality and delivery.
Furthermore, the active involvement of the company's leadership in daily operations ensures a hands-on commitment to excellence. Their strategic plant locations throughout Mumbai, spanning from the Western Line to South Bombay and the eastern part, provide a comprehensive coverage of the region, making Procon RMC an ideal choice for a diverse range of projects across Mumbai.
A day in Gagan's life
A day in his life is marked by a diverse and hands-on approach to his business ventures and tackling daily challenges head-on. His typical day involves overseeing daily operations and financial matters across his various enterprises.
As part of his role, Gagan manages the extensive fleet of vehicles and equipment, as well as a centralized workshop for maintenance. He also mentions recent ventures into Cement Bulker transportation, indicating an ongoing commitment to diversification and growth in the transportation sector.
Gagan places a strong emphasis on nurturing client relationships, particularly with major developers in Mumbai.
This client-centric approach is pivotal in his day-to-day operations, with aspirations to provide comprehensive solutions for their projects. His daily routine revolves around overcoming challenges, ensuring productivity, and fostering growth in his various ventures.
Achievements so far
Procon RMC Plants Pvt. Ltd. has achieved notable success and recognition in various aspects of its business ventures. They have demonstrated a commitment to diversification and expansion by moving from building material supplies to construction equipment hiring, and ultimately into concrete manufacturing. 
This adaptability and progressive approach have allowed them to cover various aspects of the construction industry.
In addition to their comprehensive operations, they've received recognition and awards that validate their excellence:
Recipient of the "Brand of the Year" award from the Indian Achievers Forum – Global Business Opportunities.

"Asia's Innovative Ready Mix Concrete Award" in 2022.

Named one of the "Top 10 Construction & Building Material Startups" in 2022 by Industry Outlook.

Honored with the "Indian Achievers Award for Emerging Company" in 2023, acknowledging their growth and potential in the industry.

These achievements reflect Procon RMC's dedication and the impact they've made in the construction and concrete manufacturing sectors.
Challenges faced
Gagan Singh, along with his ventures, has faced and effectively navigated several challenges in the construction and concrete manufacturing industry. Notably, logistics has been a significant challenge, particularly in a city like Mumbai with its notorious traffic and infrastructure constraints.
However, their ability to successfully complete projects, including Metro and Bullet Train projects, highlights their capacity to overcome these logistical hurdles. Having a robust team with dedicated individuals overseeing quality control, logistics, and daily operations has been instrumental in tackling these challenges. 
Their integrated approach, combining transportation of building materials and concrete manufacturing, has helped streamline operations and minimize disruptions, ensuring a consistent flow of products to their clients.
Future Plans
Procon RMC Plants Pvt. Ltd. has ambitious future plans in mind. They aim to expand their current annual revenue, currently at $30 million, to $50 million within 2 years. Their vision involves further diversification and expansion, with plans to establish a presence in all major cities across the country.
They also intend to secure contracts for significant infrastructure projects such as Bullet Train and Metro projects nationwide. Their ultimate goal is to achieve 100% revenue growth year after year, demonstrating their commitment to continuous progress and success in the construction and concrete manufacturing industry.
Lessons learned
Gagan Singh has learned valuable lessons throughout his entrepreneurial journey. He emphasizes the importance of resilience and not being deterred by failures. His approach is to view setbacks as "bad days" and push forward with determination to achieve victory in the next. This mindset has been instrumental in overcoming challenges in the logistics and construction industry.
For budding entrepreneurs, Gagan offers advice centered on the power of technology. He highlights how embracing and utilizing technology, such as GPS and ERPs, can significantly multiply the success of any business. Being open to new technologies and staying at the forefront of industry advancements is crucial for growth.
Additionally, he underscores the significance of maintaining a winning attitude, never backing down, and continuously striving for growth. Gagan's journey, from starting with just four vehicles to expanding to 250, is a testament to his persistence and the support of key figures in his life, like his uncle, who played a pivotal role in his growth as an entrepreneur.