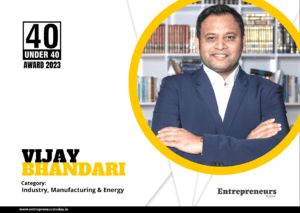 Vijay Bhandari, a distinguished entrepreneur and alumnus of Bishop Cotton Boys School and Jain University in Bangalore, brings a wealth of experience and expertise to the business world. Hailing from Jodhpur and raised in Bangalore, he has a deep-rooted appreciation for hard work and dedication, having witnessed his grandfather's relentless pursuit of his dreams.
With his father's guidance, Vijay cultivated his innate entrepreneurial skills. He holds a management degree from Oxford Brookes University, UK, and a master's in business enterprise and innovation. His pragmatic approach and exceptional communication skills have enabled him to excel in all facets of running a business.
Currently serving as a Whole Time Director in prominent companies, including Bhandari Precision Forgings Private Limited, Ring Forgings Private Limited, and Twivi Technology Private Limited, Vijay plays a pivotal role in some of India's leading open dye forging, ring forging, and machining enterprises. 
These companies, with roots dating back to 1980, have shown remarkable growth and continue to flourish under his leadership. Vijay Bhandari is a testament to the values of hard work, dedication, and entrepreneurial spirit.
Finding Inspiration
From a young age, Vijay was captivated by the remarkable achievements of his grandfather and father, who built their manufacturing empire from the ground up. Their unwavering dedication, resilience, and self-belief left an indelible mark on him during his school years.
Inspired by his family's legacy, Vijay Bhandari forged his path in the manufacturing sector. Fueled by a passion to take this legacy to greater heights, he envisioned expanding the reach of their products to a global stage. Today, his vision has materialized as they export to diverse countries, including Dubai, Thailand, Qatar, the USA, Germany, and Italy. 
Vijay's commitment to compete with the world's major players in steel forging, including Western and Chinese manufacturers, underscores his unwavering belief in the "Make in India, for India, and By India" concept.
Unique Selling Point
What distinguishes them is their unwavering commitment to maintaining the highest standards of probity, a practice not commonly seen in the industry.
The company boasts a distinguished Board of Directors with expertise spanning banking, finance, and administrative services, providing them with a formidable edge. Within a short span, they've garnered trust, established a solid reputation, expanded their knowledge base, and earned the market's unwavering confidence.
Their emphasis on teamwork is another distinguishing feature, as they've cultivated a team of dedicated professionals who serve as the driving force behind their vision and its realization. Vijay Bhandari's businesses stand out not through comparisons but through their unwavering commitment to excellence, ethics, and collaborative strength.
Challenges Faced
Vijay Bhandari's entry into the steel forging manufacturing sector in India was no easy feat. The market was dominated by well-established Western and Chinese companies with decades of experience, making it a considerable challenge for home-grown forging firms to gain acceptance among stakeholders.
Penetrating this competitive landscape and earning recognition required significant effort, even though Bhandari and his team were confident in their ability to establish a distinctive presence over time. Their unwavering belief that success is achievable with dedication and wholehearted commitment became their guiding principle.
Building credibility and trust quickly within a short timeframe was another formidable challenge. However, their core strength emerged from this as they successfully distinguished themselves from their competitors. Their ongoing commitment to staying at the forefront of technological advancements and expanding their knowledge base ensures they continue to overcome industry challenges and move closer to their vision.
Achievements So Far
Vijay Bhandari's achievements extend beyond mere financial figures. He and his team place great importance on success encompassing a range of values, including growth, ethics, humanity, morality, and spirituality. 
Their commitment to moral integrity and credibility in all their assignments has been instrumental in their achievements. They've rapidly expanded from a small team to having a presence in major cities and nationwide representation, a testament to their success. 
Moreover, they've garnered respect from conglomerates, investors, the banking sector, and other stakeholders, solidifying their position in the competitive field of steel forging and manufacturing.
Plans Moving Forward
Vijay Bhandari has set clear, ambitious goals for the future. In the short term, he aims to position his businesses among the top five steel forging companies in open dye and ring forging. Looking further ahead, his long-term vision is to become one of the most credible and largest steel forging manufacturing companies globally.
To achieve this, the plan is to compete with established Western, European, and Chinese steel forging companies. Their first strategic step involves full establishment in Southeast Asia, with operations already underway in Thailand and structured plans for expansion into other countries, pending necessary approvals.
Continuous learning and adaptation are at the core of their strategy, as they strive for global dominance in the highly competitive steel forging industry.
Lessons Learned
Vijay Bhandari has learned that failure is a crucial part of success, emphasizing the role of perseverance. He believes in the value of hard work, with success being 10% inspiration and 90% perspiration. Teamwork, structured planning, and adaptability are vital for organizational success. His advice to budding entrepreneurs is to distinguish between dreams and aims, highlighting the necessity of tireless effort in realizing one's aspirations.