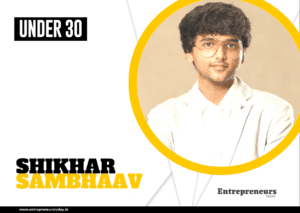 Suvies – coined based on " Sous Vide" in French – is a convenient Master Chef category Cooking technique which ensures one maintains a Healthy Lifestyle , while still having the chance to indulge in a perfectly cooked CHICKEN protein – currently in the market with six delectable global BBQ flavors.
Inception
Suvies was launched with the idea of offering mouthwatering treats to food enthusiasts. While considering the pace the world is moving at and how the eating habits of today's generation have evolved with convenience playing a primary focus, "Ready to Eat" meals and "Home Deliveries" becoming key aspects on his mind, he moved on with passion for a perfectly cooked meal leveraging technological innovation and zeal to discover uncharted global flavors. This inspired them to incept "SUVIES."
Shikhar realized that he needed his food to reach billions of people, and not just settle for a few thousands. Eventually, things looked bright for SUVIES and this led to the launch of an amazing food cart as a Proof of Concept followed by the food truck for better reach. Shikhar says that family support was the key towards the birth of Suvies. Though it was shaping as a Hyperlocal Brand but his experimentation in developing the healthiest Ready to Eat Frozen products that weren't on the market would not have possible without assistance he got from his family.
With his gaze focussed on creating a global brand the idea of launching a small manufacturing facility for Suvies shaped up, and it took just six months when he got first breakthrough with popular hypermarket in Pune. Since such a product was not in the market anywhere in the globe, and with everything developed from scratch without any aid from professionals, Shikhar's start up became first to commercialize Sous Vide technology for Ready to Eat marketable product..
About the Founder
Shikhar, a first-generation serial entrepreneur, finished his education as a communication designer with a specialization in film making. Even while studying in College he founded his first little business with a friend, selling junk jewelry, which was featured on POPxo, but they were unable to continue because of academic commitments. On college film shoots, Shikhar would prepare meals for the entire cast & Crew. He found joy and fulfillment in watching the crew members' joyful expressions as they consumed his dishes. It was a natural flow that he decided to follow his interest in food venture after graduation, specifically healthy cuisines. To gain practical experience in the field, he joined one of Pune's well-known restaurant as an intern for two months. This experience helped him launch his first food business, The Wheel Barrow (TWB), an exotic self-designed Texas Style Food Cart which offered global Bar-Be-Que flavors inspired by Malaysian street food culture, in upbeat Koregaon Park area of Pune.
More about his other ventures
Shikhar also launched his Marketing Agency and Studio last year, which now employs four people and has a few customers from India and the United States. Shikhar also founded another company the previous year by leveraging his creative ability in Skill Development.
After starting the agency, he also founded a innovative games product company that made real playing cards and game cards which are selling in India and the USA. The 420 Edition Playing Cards, their debut item, was successfully funded on Kickstarter crowd funding platform. And very soon, we'll be releasing a new Card Game on the same platform. Creating and Organize new business initiatives helps him sustain his inner creative urges and help build teams.
The offerings at Suvies
Suvies was established solely to provide healthy Tandoor and BBQ flavors to people throughout the world so they may enjoy them every day without worrying about their health being Ready to Eat. Instead of serving typical fried foods like kebabs and tikkas, they are producing global flavors using Sous Vide Cooking technology  to offer BBQ Chicken Tikkas , Kebabs and Tandgis.
They promise that their chicken does not contain:
– Any kind of preservatives.
– Oil.
– No Added Colors / Flavors.
– No MSG.
– No Lactose and its' Gluten Free.
According to Shikhar, they follow customary manufacturing practices for hygiene during the cooking process. The team wears a head cover, gloves, and other safety gear while cutting and marinating. The food is unaffected by any external risk as it is placed inside the vacuum bag. As a result, germs etc are eliminated throughout the sous vide cooking process. After passing all quality checks, these vacuum bags are subsequently frozen and packaged.
Future Growth Plans
By offering a fantastic product selection and being able to make the oh-so-loving chicken accessible to everyone, their goal is to now develop a long-term collaboration with all the supply chain stakeholders. They strive to be recognized as the industry leader in terms of quality, product innovation and global flavors.
Till now, Suvies was bootstrapped, and Shikhar conveys his gratitude to his parents for believing in him and the idea. Because of this, they were able to retain it throughout Covid Times, which was difficult for them as a startup, but they managed to survive.
Shikhar's sincere commitment to the future and diligent approach to go from Hyperlocal to Global, SUVIES is now teamed up with SRam & MRam, a multinational investment conglomerate with offices in Malaysia UK and the Middle East. Not only they now will expand globally but will soon be selling a new line of products that will include more exotic flavors from across the world in both the non-vegetarian and vegetarian product categories, along with plant-based meats, which not only can be bought off the shelf as frozen food but also at room temperature (Next best Revolution in this category).
Lessons Learned
Shikhar learnt many lessons during this arduous journey as an entrepreneur but his spirit to "Never Give Up" has kept him in good stead till now, which is what is his golden advise to all aspiring entrepreneurs. He goes on to say that if you believe in yourself and your vision, all you need to do is keep working hard to complete the tasks at hand , as they say " Measure what Matters " and maintain humility with deep conviction that what you are doing will significantly alter the course of history.