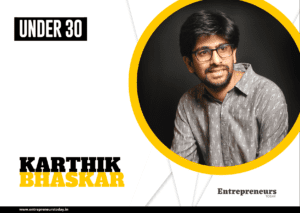 Karthik Bhaskar is the Founder of Finvekst, with around 7.6 years of work experience under his belt, he has worked with Corporates & startups. In an exclusive interview with Entrepreneurs Today, Karthik and Anisha Jain, the Co-founder, take us through what went behind the inception of Finvekst and their journey as entrepreneurs.
Currently, with a team of interns & freelancers, Karthik and Anisha Jain are managing everything in the company. Anisha, who has nine years of work experience, began her career as an engineer before switching to a business analyst position and ultimately taking on the role of auditor. She currently performs technical audits for the Australian business Atlassian.
In an exclusive interview with Entrepreneurs Today, both of them walk us through how they incepted the idea to build Finvekst.
How did Finvekst come to be?
Karthik and Anisha reveal that it wasn't until they enrolled in an MBA programme at IIM Bangalore that they realised the value of financial education for teenagers at the school level. So that was when he shared the idea with Anisha Jain, the current Co-founder of Finvekst. They began developing this specific concept in January 2021.
Since then, they have conducted a great deal of research and development to determine the true market gap, the state of the system, and whether anyone has already attempted to address this issue. After conducting their own research for about a year and a half, they created their own podcast and tried to connect with students. Later, they got in touch with schools to convey the significance of this to them.
While some schools were enthusiastic about taking them on for the workshops, others were quite hesitant. They eventually concluded that focusing their efforts solely on schools and interacting with kids is very important and gradually turned their attention to Masterclass in colleges as well because they will be joining the workforce in another 3 to 4 years and they need this knowledge to avoid financial mistakes. Karthik claims that the product in this case is rather different, as it addresses issues like investing based on your goals and how to nurture the habit of investing rather than merely emphasizing a theoretical approach to financial education for the students.
Services offered
As one of their primary objectives, they are currently starting with workshops to raise financial literacy in India. In order to help the parents and students become more financially literate and capable of making more independent decisions in the future.
They are also focusing on developing technology-driven habit-forming gadgets to assist children aged 5 to 12 in acquiring positive reinforcement from their parents, which would assist children in establishing delayed gratification, which serves as a foundation for financial education.
At Finvekst, they are also working parallelly towards other dimensions. They intend to create a mobile application in the future that focuses on goal-based investing and wants to enable students to exercise and learn about investments. This is a product that they are still developing and are looking forward to launching soon.
One of the main concerns they wanted to concentrate on, according to Karthik, was instilling good financial habits as early as possible because investing is not a skill or knowledge that can be learned. As a result, they developed a product that will allow high school students to begin investing at the age of 13 using real money rather than virtual money. This will be with the compliance with SEBI and other regulatory bodies and currently, they are working on it.
Visit finvekst.com to book a demo of their finance masterclass.
Journey till now
When talking about his achievements, Karthik says what he considers an accomplishment is that he got to meet a lot of people and found a lot of exposure.
He says, "since I do not come from a financial background, I do not have anybody who can just tell me that these are the regulatory bodies that you need to look into or this is how we will need to approach things."
So, for Karthik, till now it has been an individual journey. However, what he is grateful for is that Anisha and he can sit and brainstorm together to figure things out. His entrepreneurial journey has been a path of gaining more knowledge because not only about building this company or even I personally learned a lot of things about investment. A lot of concepts that we can also emit to the next generation. His entrepreneurial journey is more geared toward knowledge exploration. He would personally like to thank all those unseen hands who supported the idea from behind and have given so much time with the mere expectation of just kickstarting the idea and moving from 0 to 1.
Anisha claims that because her family has a history of saving and investing money, she has been able to develop these skills, which she lists as one of the things she has acquired over the years. She says, they met during the start of the MBA and they realises that this is something that they wanted to work towards. To expand or achieve their skills and knowledge in the financials industry, they made sure to enrol in several financial courses over the length of their MBA course.
Future Plans and lessons learned
They hope to cover 100+ schools in Bangalore by the next year. For students to start with their first investment with as little as Rs 100 to Rs 500, they hope to launch their application by June of the following year.
Anisha adds that they want to make the app as accessible as possible for teens and parents so that they can find any information they require regarding investments in the app itself.
Lessons Anisha learnt in her 20s;
Life is too short to regret decisions made.
It's important for women to that seat whenever possible, this is something that Sheryl Sandberg had said which has heavily influenced Anisha.
Small continuous steps are better than big leaps.
Some of the lessons Karthik learned from his mother and would like to share with budding entrepreneurs:
Don't fall for fancy things, think about long-term sustainability.
Keep your foundations strong if you want to build something.
Don't go by the noise that has been created, understand the ethics that have been there around.