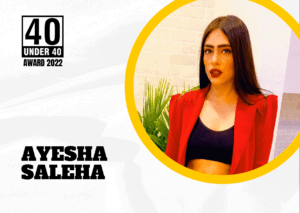 Sharief Ayesha, based in Bengaluru, Karnataka, is the founder of YAAY CARDS. A lesson she learned in her twenties is that she is her own competition and that we should never compare our lives and journeys to others. Her exploration and pursuit of her passions and goals led her to realize the value of forging her own identity.
The YAAY CARDS are unique, personalized photo/greeting cards for all occasions. YAAY CARDS are essentially the perfect present for any occasion, which lets you express your excitement and gratitude while also spreading light and love. Their cards come in three different variations, and each card has stunning lights that glow. The Yaay Cards bag or box contains luxury chocolates, flowers, decorations, a greeting from Yaay Cards, as well as a thank-you note from the company. YAAY Cards' mission is to create moments for a lifetime that are nothing less than remarkable. They also believe it is through the act of giving that we receive.
Vision and Impact
With the notion that greeting cards are going out of style, given the prevalence of everything happening online in the digital age that we live in, Sharief Ayesha wanted to reinvent and design greeting cards that keep up with the current fad.
Ayesha adds that as a woman entrepreneur, she gained respect and recognition in the society. She began to exude greater confidence and understood that the only path to success moving forward was to continue to grow. Her YAAY Cards have been cherished and endorsed by celebrities, which serves as a big triumph for her venture.
A troubled time
Ayesha reveals that the hardest part of the journey was when the pandemic hit. Since there were no festivities, they felt the heat of the situation as they did not sell much during that period. Furthermore, when it comes to providing gifts or presents, the majority of individuals prefer the food and beverage industries over them. However, she did not lose heat and set out on her journey to highlight the significance of providing gifts or presents as a sign of respect for a solid and everlasting relationship. She believes nobody has ever become poor by giving, and since making people smile and happy can be quite tough, YAAY CARDS is here to provide a solution.
Being a female entrepreneur, Ayesha had her share of troubles that are still prevalent today. Although it's disheartening that women still face these obstacles today, it can be encouraging to those dreamers who want to break through the glass ceiling. She recalls a trying period in her life when she felt lost and confused. When Ayesha did not take the career path her parents wanted her to choose, they expected her to get married and settle down, as there seemed to be no point otherwise in doing something else. She nevertheless refused to give in, broke free from all the constraints that bound her, and succeeded in building the name for herself that she had always envisioned.
As she stands here today, with achievements under her belt, Ayesha paves the way for other women who dare to dream as she did. She is also extremely grateful to the country for helping her realize her dreams. Lastly, a message she wants to convey to emerging entrepreneurs is that if you put your mind to it, work hard, never give up, and pay no heed to rejection, you can overcome anything that life throws your way.