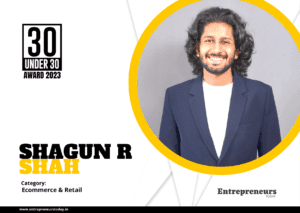 Hailing from a Marwari business family, running businesses of his own has always been in Shagun's blood. The 26-year-old is currently the Founder of three ventures, Planck Foods, Kyros and Wular Hydrotech.
A serial entrepreneur by nature, Shagun holds a Bachelor's degree In Business Administration from NMIMS, Mumbai in the year 2017. Ever since he was in school, he knew that his true calling lies in being an entrepreneur. To further develop his business acumen and knowledge, he is currently enrolled in the Post Graduate Programme in Management for Family Business (PGP MFAB) at the Indian School of Business (ISB), Hyderabad.
The success stories of businessmen and founders also propelled him to venture forth on the entrepreneurial path. "I have always been fascinated and intrigued by how big business empires such as that of the Birla family, Ambani family, etc have been built over the years. My parents have run their individual ventures over the years successfully and that entrepreneurial mindset naturally got passed on to me."
Entrepreneurial Spirit and journey
It was in 2017, soon after Shagun got done with his graduation, he add the choice of joining his family business but instead he chose to start his first venture, Wular Hydrotech, in the Rainwater Harvesting industry.
By installing the finest in class Rainwater Harvesting systems, they were able to assist corporations in India in becoming water positive. They have been in charge of the project for more than five years and can now proclaim that they have aided behemoths like Mahindra & Mahindra, Hindustan Unilever, ITC, and many more.
As Shagun continues to run this venture, he started working on two more businesses that are in line with his values and vision.
He reveals, "I have adopted a vegan lifestyle since the year 2019. It is not just in terms of what I eat, but also the products I purchase. I avoid buying genuine/animal leather wallets, shoes etc." Shagun founded two other D2C Vegan startups Planck Foods and Kyros with the same premise.
Planck (www.planckfoods.in), short for "mix of Plant and Snacks," aims to offer the finest and healthiest plant-based snacks to India's Vegan and health-conscious consumers. He says, "I turned Vegan due to animal cruelty. My vision in life is to help create a world where none of the animals is harmed/killed for human pleasure and entertainment."
The third venture, Kyros (www.kyrosstore.com), named after the Greek God of Time Kairos, is a brand of premium accessories for luxury watches. He describes, "Kyros is a brand that is a first of its kind in India. The watch industry is growing immensely we are creating the perfect products of the highest quality to store and carry your luxury watches safely and conveniently such as travel rolls, pouches, display stands, etc. This brand is using Vegan leather in all its products."
Over time, things started to straighten up and in the next seven years, he envisions turning his startups into Unicorns.
What are the challenges faced in the journey?
The journey for Shagun has not been easy, he explains that developing an idea that is in its embryonic stage into something tangible can be a very taxing and tiring process. He explains that it's because you are on a mission to build something novel and innovative. As a result, he had to make it through the days when things seemed daunting and he questioned whether he was on the right path.
"My mother has been my biggest source of inspiration and strength. I have really looked up to her and I am where I am because of her" Shagun says.
He also adds, "one quote that kept me going in the testing phase is by Sylvester Stallone from the movie Rocky Balboa, 'It ain't about how hard you hit. It's about how hard you can get hit and keep moving forward. How much you can take and keep moving forward. That's how winning is done!'"
What are some of his takeaways from the 20s?
One of the major lessons he has learned in his 20s is to never be scared to follow your dreams and take risks. He further adds that there will always be critics and detractors who will try to bring you down. So, it is crucial to ignore the commotion around you and move forward if you have confidence in your abilities and vision.
Some of the other takeaways are that if you put your mind to it, everything is attainable. He implores everyone not to undermine themselves and how important it is to not succumb to peer pressure. He adds that no good ever comes out of appeasing others.
Lastly, a message he wants to convey to emerging entrepreneurs is that if there is an idea in your mind that you think can be the next big thing, work towards making it work. He further notes that in India, we have consumers of all kinds in terms of money, spending capabilities, taste, choice, culture, etc. There are so many demographics in India that you can target and build a solution for, the possibilities are endless.