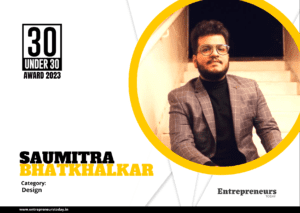 Saumitra Bhatkhalkar is the managing partner and founder of Studio SB. At a very young age, he began his quest to build something big for himself and etch his name as an entrepreneur. Since the time he was in eighth grade, he has had the drive to design and construct something unique. Saumitra says that he gets a different rush from managing and directing his crew. Saumitra tends to be more action-oriented than a believer. When he is not busy managing his business, his other interests lie in sketching, photography of animals, and professional DJing. He has also played badminton professionally in the past. Saumitra also has a penchant for cooking.
When asked about how he incepted to start his own business, Saumitra responds,

"When I was in 8th grade, I started gaining interest in designing, sketching, painting, etc. My friend's dad was an architect, so I used to see him almost everyday what kind of work he does. That made me even more interested in this field & I decided to become an Architect. Later after passing out, I worked at a firm for 8-10 months. After that, I got the first opportunity to work as a freelancer & when I completed the project on my own with so much ease, I was confident enough to start this business on my own."
Saumitra adds that when he first set out on his entrepreneurial journey, he was very confident and positive about what he could achieve. He further extends his gratitude to his friends and family, whose support helped him achieve what he had always dreamt of accomplishing.
What are the services provided at Studio SB?
As a multidisciplinary design firm, they take up architectural, interior, landscape, commercial, & hospitality projects pan India.
Achievements till now
They have been awarded by Architecture & Interior design Excellence awards as "Most promising & Outstanding architecture & Interior design firm of the year 2022" & Saumitra was awarded as "Top 25 most emerging & Trendsetter architect of India, 2022".
Most challenging time in the journey
According to Saumitra, he launched this company in July 2020, at the height of COVID. He opened the business in a 7 × 7-foot cubicle and only had one project at the time. Following the end of that project, they simply pitched for further projects, but due to the market and their inexperience, they were unable to get any concrete deals for about 3–4 months.
Saumitra was on the edge of deciding to close the business and start something new as a result, but he found the strength to hold out for another two months, during which time they were able to secure two modest deals. He never looked back after that. Currently, they are working on 4 million square feet worth of architectural projects and a couple of high-end luxury interior projects. They also have a big office in a prime locality with a team of 14 people.
Future plans and lessons learned
Seven years down the line, Saumitra envisions his firm being recognised globally & he is working day-night to achieve that dream.
Some of the lessons he learned in his early twenties are that "not every time you are going to succeed irrespective of the hard work you have put in. So, you should not get discouraged by failure or rejection." Another lesson he wants to share is to do what one feels is right and listen to their heart.