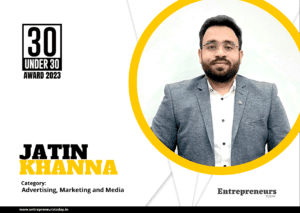 Jatin Khanna, who presently serves as the director of Fit Tech India Sports and Fitness Equipment Pvt Ltd and is based in New Delhi, completed his education at Ramjas School in 2013, graduating with a B.com from Delhi University.
Jatin, who is currently 27 years old, started his career in the business sector in 2014 while he was still pursuing graduation.
Inception
His venture, Fit TechIndia Sports and Fitness Equipment Pvt. Ltd. is a Manufacturing Company of Fitness Equipment. They have a manufacturing facility in Faridabad, Haryana. They are predominantly experts in the manufacturing of home fitness equipment, such as spin bikes, treadmills, dumbbells, and many other items.
Jatin started his own company in the Name of Fit World where he was the proprietor of the firm. With an approximate turnover of 55cr in FY21–22, he handled the business alone from 2015 to 2022.
In its first year, the company had eight employees and was completely bootstrapped. Now with more than 100 staff and a turnover of over 75cr this year, the company is thriving.
As of this year, Jatin has founded Fit Tech India Sports and Fitness Equipment Pvt Ltd alongside Sumeet Ubhrani (Director), who is 37 years old. They anticipate having a turnover of roughly 75cr this year.
He gives credit to his father Parvesh Khanna, who has always been his rock and supported him in his accomplishments. Especially his family, who helped him by encouraging him and keeping him motivated to pursue his passion. He also expresses gratitude to Sumeet Ubhrani, Director of Fit Tech India, for believing in him and working with him to realise their shared vision.
What was Jatin Khanna's state of mind before he set out on his entrepreneurial journey?
Jatin says, "for me to start a business there were 2 things that mattered the most, one was the Goal and the other one was the Agenda to do business in India."
He goes on to further explain that concerning the agenda, he calculated how many people he would be able to support with a small business the day he started thinking about starting one. For instance, if he currently employs 10 people and decides to launch a manufacturing unit, he anticipates that 40 to 60 people, either directly or indirectly, will be employed by this small business. This will contribute to income generation.
As per the goal, he says his uncle operated a fitness equipment import company in 2014. They were importing almost everything from China and Taiwan. In a conversation with him, he learned that there is no such large company operating in this sector in India. He aimed to produce these items only in India. He wished to promote a way of life in which maintaining physical fitness or good health is thought to be the norm.
He was aiming for the home fitness market and did his research to learn that the Indian industry is quite small and that starting a manufacturing business requires a significant upfront investment, technical strength, and superior salesmanship. However, he had the impression that the segment would gradually expand to its peak between 2035 and 2040. He believed that Covid was responsible for changing people's perceptions and convincing them that fitness was also important.
Achievements till now
In 2022
First company in India to manufacture motorized treadmills in India.
Anticipating a turnover of around 75cr in this Financial Year (2022-2023).
They were the first firm to introduce and mass-produce Spin Bikes in India for the home market.
Turnover of around 55cr (2021-2022). Even launched a few others models in India.
Some of their other achievements include:
Dispatched Their first export lot in UAE in 2020.
Their Exercise Bike was one of the most needed items During the time of Covid.
Started another business of exporting goods to African countries in 2018. Even though the project did not go through he ended up learning a lot from the experience.
Began with 8 people in the first year (2014) and generated 50 lakhs in revenue till now.
Things, however, did not always look so bright as Jatin chose a sector where many individuals shy away from conducting business. It is not easy to haggle over prices with merchants, where their products aren't ubiquitous and widely available. They had to battle side by side with importers who got materials from China.
Lessons learned
When asked what he had learned in his 20s, Jatin responded that the best thing about being in your 20s is that you have plenty of opportunities to learn new things and can easily form new habits.
In his twenties, Jatin had discovered that you may occasionally take advantage of the fact that people don't always take you seriously so you can play the Underdog in those situations. He goes on to say that while he had many rivals and people who weren't there to support him throughout his early years, he was fortunate enough to have the support of his family. He also expresses gratitude to God for making it all happen, and for having a role in shaping who he is today.
Some of his other lessons from the twenties are:
1)The Road to success is not straight.
2) Dreams do come true. And hard work, grit, and determination do pay off.
3) You don't need a degree to do marketing.
4) Focus on building systems.
5) Age is just a number. Anybody at any time can start the business.
Future Plans
They aspire to take the company to the next level over the subsequent seven years. Their future plans revolve around:
To make in India and strive to export as much as they can from India.
To create and produce only those products in India that the population of India genuinely needs. Every country has varying levels of health and physical build.