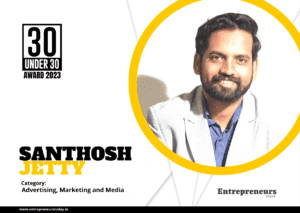 Based out of Bangalore, 28-year-old Santhosh Jetty is the Founder and CEO of Akartha. Akartha is a renowned Indian creative agency that offers 'creative' services such as branding, strategy, integrated campaigns, and ad film production. The agency is known for its distinctive concepts packed with quality that is reflected in its exceedingly innovative content, conceptualization, and high production values.
Entrepreneurial Journey
In an interview with Entrepreneurs Today, Santhosh says it has been five years since their initial market debut, and they have amassed some pretty solid clientele over the years.
Since the agency's founding, its goal has been to produce outstanding advertisements to change people's perceptions of advertising as a monotonous medium.
Regarding the inception, Santhosh reveals that prior to founding his own business, he worked at a startup that encountered a huge loss and had to lay off the majority of the employees.
In order to build something of his own and provide job opportunities at the same time, Santhosh decided to start his own company.
With Akartha, Santhosh built a creative space for talent and gave them a platform where people have the freedom to do their best work. Today, because of its unwavering commitment and perseverance, Akartha has established itself as a reliable "creative partner" for a number of its clients, including Akzonobel, Blackbuck, Paytm, Khatabook, Pine Labs, and many others.
More about their work
Through their art, Akartha also promotes the idea that people are motivated by their emotions, not logic since the former drives them to take action and the latter to draw conclusions. Because of this, they facilitate enhancing their clients' brands by evoking uplifting feelings through effective storytelling.
"Stories have huge value in advertising, as they make people see and experience emotion. Compelling stories for the right target audience with the right characters, emotion, research and detail tend to capture our attention faster than the most elaborately produced good looking ads. We are not just an agency, but also a production house under one roof."
The workforce at Akartha stands out from other agencies due to their attention to detail, connectivity, and dependability in addition to their skills and work ethic.
Challenges
Building the agency from scratch was a little daunting initially since Santhosh began his journey with no money and just one computer that he bought with his mother's savings. When he started, it took him five months to get the first recruit, and up until then, he had been managing mostly everything on his own along with the two interns he hired.
"I come from a very middle-class family. So for us, like, it's really risky to go out and you know, pay one and a half lakh or two lahks at once and pay up to 20k every month for the office space."
So, as they started the journey of converting one of Santhosh's rooms into his office, there was a huge insecurity in not knowing whether clients will come with work.
Also, in the beginning, it was a challenge for Akartha to persuade businesses to come to them as they lacked known brands in their portfolio and did not have sufficient expertise in certain segments. However, they persisted and created compelling and informative content that helped clients' campaigns succeed.
"We focused on partnering with clients who wanted to become a leading global brand, which matched with our own vision, there was no looking back after that."
Achievements
Some of Akartha's accomplishments till now are that they have won numerous unicorn startups as their clients. Also, within a day of going live, Akartha's "Khata Hua Khatabook" campaign for The Khatabook received over 1.3 million likes on TikTok, and the app had somewhat more than 50,000 app downloads the same day. They also won the Platinum Film Award at IFP last year.
Apart from being recognized as one of the 'Nine Outstanding Business Leaders of The year 2022 by Deccan Herald, they were also listed in Silicon India's 10 most promising creative agencies of India 2020.
Lessons learned
Some of the lessons Santhosh jetty learnt in his 20s are:
One should be financially aware, save and invest money from an early stage.
Stay true to your ethics and be humble.
Treat people the way you want to be treated by them.
Akartha's success largely depends on retaining both its personnel and customers happy, and it is the diversity and inclusiveness strategy of Akartha and the welcoming workplace have led to a high rate of staff retention. Akartha is making a difference in the world by relying on these incredibly energized and passionate creative professional teams.