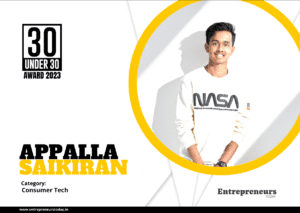 As a successful teen entrepreneur and the founder and CEO of SCOPE, Saikiran Appalla is paving the way for other young people to follow in his footsteps. He didn't begin his entrepreneurial career until he was seventeen years old when he devised a strategy to build a platform that would allow any entrepreneur to interact with mentors, experts, and investors in their respective fields. His endeavour attracted a lot of attention, and Sakiran has since been active in the community, assisting others in developing connections for prosperous professional futures.
By creating a network that connects aspiring entrepreneurs with skilled advisors, investors, and industry experts, he hopes to change the startup sector.
His venture Scope App is more than just a simple networking platform; it is also a data platform that gathers information and examines the most recent economic and technological start-up trends in order to forecast the best investment opportunities that can raise the likelihood of a successful ROI.
"This Networking platform can help in acting as a catalyst of economic opportunities for a lot of people from finding jobs to raising funds for your start-ups."
His unconventional ideas about startup markets and the studies he carried out have produced only successful outcomes. He has advised and continues to advise some of the top consumer products and artificial intelligence (AI) firms in the world, even though his techniques may be unconventional. Saikiran often gives speeches at a variety of companies and academic institutions, where he explains his approaches and encourages attendees to adopt fresh perspectives.
Problem-solving and innovation
In an interview with Entrepreneurs Today, Saikiran explains that due to the disconnect between investors and aspiring entrepreneurs, the majority of them fail despite having adequate mentorship and funding. This is the industry's most pressing and unmet demand. Until now, there has been monopolistic capitalism, which has helped rivals like LinkedIn and Angel List to some extent. However, as time went on, the industry's solutions grew stagnant and exorbitant, creating a $3.9 trillion worldwide market potential.
"SCOPE APP beats the competition and puts forward a Creative Dominance to capture the market. This Networking platform can help in acting as a catalyst of economic opportunities for a lot of people from finding jobs to raising funds for your start-ups."
Today, he is in charge of creating the platform's marketing strategies and bringing stakeholders. He is also responsible for leading SCOPE's business and strategic divisions, personifying its development strategies, and managing the main application.
Journey Till Now and Achievements
"I must say that this journey has been a roller coaster ride and I have learnt to never give up and keep striving to achieve my goals."
Through his career and academic endeavours, the Indian young entrepreneur has received numerous honours and distinctions. His accomplishments include receiving the Global Kids Achievers Award for creating the SCOPE app and being accepted into the Brown University Junior CEO Program.
At the World Business Angel Investment Forum, Sakiran was most recently designated as India's international partner. At the organization's upcoming General Assembly, where he will represent India, his efforts will help open the door for that nation to join the largest equity investment market forum in the world.
Sakiran was recently chosen as one of The Big Red Group's list of the 11 Most Teen Entrepreneurs in India. He has collaborated with some of the leading figures in business, including Tony Xu, co-founder and CEO of Door and a key investor in SamsungNext.
He was one of the top 100 students across India selected by Google to visit their office and was also selected as Top 100 most powerful Personalities in India by GlantorX Media (Nation's Choice Awards).
Furthermore, he has also recently been nominated as the International Partner for India at World Business Angel Investment Forum (WBAF). He will represent India at the next Grand Assembly and pave the way for it to join the world's largest forum of the equity investment market.
Future plans
In the upcoming year, they want to consolidate their position as the leading professional networking firm in the country.
Additionally, they aim to surpass 3 million downloads within the next four to five months and are developing a comprehensive one-stop-shop solution to meet the demands of start-ups along the way.
A message he has for emerging entrepreneurs is that failure is just part of the journey, it is not the end and you are not a failure unless & until you have given up on your dreams.
Lastly, he says, "Failures are unavoidable and ridiculously costly for start-ups with little time and money. So often start-ups invest huge resources into big products or marketing initiatives. Naturally, we want to believe that our hard work has paid off, yet the reality is that a very small number of those projects will produce large-scale, lasting benefits – most will have no impact at all on your business, and some will even make things worse. The key to success, therefore, is in trying to fail slightly less often by using more data rather than gut feel in the project planning phases, and not letting projects that fail to meet their success criteria linger around for too long."