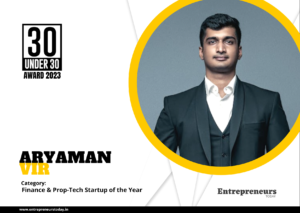 In a conversation with Entrepreneurs Today, Aryaman Vir, Founder and CEO, walks us through all the nitty-gritty of founding his venture MYRE Capital.
What is it that MYRE Capital is solving?
Aryaman Vir says, "Commercial real estate in India has been the preferred investment avenue for institutional investors due to the favorable risk-return profile of the asset class. Investors can earn a stable monthly rental income (8%-10% yields) and benefit from annual capital appreciation (15%-25% internal rate of return)."
Due to the significant amount of money needed to invest, CRE has previously had substantial entry barriers for retail investors. MYRE Capital, India's first Neo-Realty Investment platform, was founded by Aryaman Vir with a vision to democratize the Commercial Real Estate Sector and offer a reliable platform for CRE investments.
MYRE Capital is a tech-enabled fractional ownership platform that provides easy access, transparency, and liquidity to a curated selection of rent-yielding commercial real estate assets. MYRE is a pioneer of the fractional ownership investment framework in the real estate industry and has become the 'go-to' platform for retail investors looking to participate in institutional-grade CRE investment opportunities.
MYRE Capital provides real estate owners and developers a reliable source of stable finance whilst providing potential investors and stakeholders with end-to-end investment management and execution thus enabling them to redevelop trust in this asset class and reposition the Indian real estate market on a global platform.
Inception of MYRE Capital
MYRE Capital is a tech-enabled platform that was started with a vision to democratize Commercial Real Estate Investments and Ownership by empowering retail investors to participate in institutional-grade investment opportunities that were previously dominated majorly by HNI's and Institutional Investors due to the large investment minimums.
Like other investment asset classes, MYRE was conceived with an idea to provide a seamless digital platform via which retail investors could build a curated fractional real estate portfolio across geographies and cities at the click of a few buttons.
More about the Founder
Aryaman holds an undergraduate degree in Networked and Social Systems Engineering and a Master's in Systems Engineering from the University of Pennsylvania, School of Engineering and Applied Sciences. During his Masters, He was awarded the prestigious Cwikla award in recognition of his outstanding scholarly achievements and contributions to the School of Engineering and Applied Sciences.
Aryaman is an Internationally Ranked FIDE chess player, a national-level squash player, and is also deeply interested in Research and Discourse. He has researched green growth and urban development for the Nobel laureate Dr. R. K. Pachauri has written a paper focusing on its inclusiveness and profitability through sustainability in developing countries which was accepted and presented at the '2nd Pacific Rim Energy & Sustainability Conference' in Hiroshima, Japan. Additionally, he worked at some of the most sought after and prestigious firms – Softbank, Moelis, and Anarock.
Achievements
MYRE has maintained a 100% on time rental collection and disbursement to investors despite the pandemic – this has built a significant track record and repute for the platform. Moreover, the platform currently has more than 45,000 registered users, investors from more than 40 cities and 16 countries, and 250Cr+ in assets under management making it one of the fastest-growing PropTech companies.
Some of his major accolades include:
Aryaman was the recipient of the Realty Plus 40 Under 40 awards.
The company was a recipient of the Realty Plus PropTech Excellence Awards – 'PropTech Startup of the Year' and 'PropTech- the Young Leader of the Year' in 2022.
The company was a recipient of 'PropTech Company 2022' and 'Innovative Real Estate Start-Up (West)' at The India Property Awards, 2022.
Aryaman led a new vertical called LRD ( Lease Rental Discounting -NCD ) and closed both of the opportunities in a record time of fewer than 25 days.
Challenges faced
Aryaman shares that it was challenging to launch a business amid the pandemic's numerous lockdowns. With people  on the team getting infected each week and suffering from 'Lockdown Fatigue', it was getting increasingly difficult to manage daily operations, let alone building disruptive solutions. This became incredibly inefficient since MYRE  only had 2 to 3 members in each vertical.
To address this situation, One of the popular initiatives that was coined by Aryaman and has gained large-scale adoption is the "Home From Work" solution.
They reserved a 5-star hotel floor for the entire team, which was very economical considering the lack of travel during the pandemic – everybody met each other for the first time during this trip, quarantined together, and worked together.  This idea was a pivotal moment as it led to rapid growth for the platform in what was seeming like an 'impossible situation'.
What are the future plans?
Having started out as a Fractional Real Estate platform, within a year the Company has diversified its reach into various other sectors such as Structured Debt, FLDG, and Aryaman is planning to add additional verticals.
In the upcoming years, Aryaman is aiming to:
Launch India's first retail investor Syndicated Real Estate Investment Trust (REIT)
Aggregate and manage the largest Commercial Real Estate Portfolio in India, making MYRE the largest landlord!
Expand MYRE's presence to a global platform enabling retail investors to participate in assets situated across the world.
Become the largest single source of private equity and private debt capital for the Real Estate Sector.
What has he learned in his journey?
One of the major takeaways from his early twenties is there is no such thing as a good or a bad idea. According to him, how an idea is carried out and executed decides the fate of the idea.
"If an idea is good, more people will follow and build similar companies/platforms. In a competitive landscape, it is important to be able to execute faster and better, and this is the only way to stay ahead."
Additionally, he has realized that taking calculated risks as an entrepreneur is just as crucial as being calculative and analytical. While founders try to  anticipate the  outcomes to decision making, more often than not, many unexpected circumstances tend to emerge that alter the outcome.
"I believe what is most important is to be able to adapt, scale, and execute in such situations."
Furthermore, he adds that the Real Estate Industry as a whole has been rather stagnant to integrate new-age technology platforms, therefore most organizations are run by veterans of the sector. He says, "Whilst I felt that my age did cause certain barriers initially in engaging with established Real Estate Companies, today, I strongly believe that our track record and performance have enabled me to establish a strong brand presence for MYRE in the industry. Not only has MYRE become a well known brand but is also recognized for the positive contribution it is making in disrupting the investment landscape in the sector. "