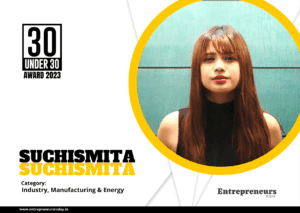 Region and age were no bar for Suchismita Saha, intelligent and with a mind of her own, knowing perfectly well at the early age of 22 that she wanted to strike out on her own.
Moreover, it was clear to her that she would never be satisfied with merely forging her own path and going up the road of success alone. Her journey also involved many thoughts about other women, far less fortunate, who found it impossible to realise their dreams of carving out an identity for themselves.
Hailing from the northeastern city of Agartala in Tripura, with an educational background in computer science and engineering, 27-year-old Suchismita began her entrepreneurial journey when she was 23.
And her road has brought her to a point where, although not the first woman to operate a large scale construction company in India, she is undoubtedly one of the first from the Northeast.
At present, she has been running three companies with aplomb. Her first venture was the parent company Eureka Home Solutions , a retail chain.
According to Suchismita, her three businesses operate in the domains of retail, construction and luxury-based space designing for institutions.
Over the past four and a half years, Suchismita has been bringing about a positive transformation in the entrepreneurial landscape of the Northeast through her diverse ventures. Be it real estate, retail chain, luxury-based designs, construction projects , or her NGO – Tarubala Girls Foundation, Suchismita is letting nothing come in between her dreams.
Inception
Suchismita reveals, "When I was in my third year of engineering, I had already made up my mind about going it alone, unwilling to enter a cushy position within the family business."
She admits that initially, she had to do quite a bit of soul searching and brainstorming to find her calling and area of interest and expertise. Additionally, funds were her largest hurdle.
"I didn't know exactly what I wanted to do. Mainly because at the age of 23 ,I was not very clear about how to arrange the funds required."
However, the path became clear when she thought of starting small with something relatively easier as space designing.
And thus, the journey began. A journey that would test both her stamina, perseverance amd business acumen to the fullest.
As she confesses, she was new to the design but took the plunge anyway.
Her business took off with just one client who gave her an advance token. The rest was upto her ingenuity and intelligence. This was where she turned to the Internet to scout for a team comprising an architect, designer, and other team members from all over Asia.
Fortunately, things came together and she pooled the little money they received for a couple of years and finally entered the retail business market.
The Road less Traveled
Since then, her companies have made inroads into the areas of construction and space designing as well.
The retail chain consists of Multiple franchises of reputed brands not only from India but also from Europe.
She is currently looking into the possibilities and evaluating opportunities for expansion in the Kolkata market as well.
With a valuation of Rs 27 crores currently, Eureka Group believes in delivering quality and treating each and every client specially. For Eureka, the customer service always comes first and is non-negotiable.
The Group and the Mission
Eureka Ikkonic Group operates with more goals than just profit. One of its primary goals is to reduce the carbon footprint and carbon emission, hence they prioritise Ece – friendly designs and support clean renewable energy.
Another area of focus is designing customised luxury interiors that take the clients taste and preferences into account.
The aim is to make luxury-based interiors accessible to the general populace while ensuring that no design is repeated. The company firmly believes that every space , big or small is special and deserves something unique.
"The Eureka Ikkonic Group has dedicated itself to going beyond being just an industry, taking issues like women's empowerment and the impending climate crisis quite seriously. We aim to ensure a better future for the planet through the construction of  eco-friendly buildings, which are built largely with sustainable materials and energy efficient designs, Suchismita says.
"Taking the common man into account, we have specialised packages that cater to all pockets and bring luxury-based interiors within everyone's reach. In a way, we make any man's dream of owning a beautiful home come true, while keeping in mind the environment and our future as well!"
Suchismita points out how space designing often becomes standardised. Keeping this in mind, they try to come up with customised solutions that suit every client's requirements and reflect their individuality as well as pocket.
Entrepreneur with a Vision
Though Suchismita's business ventures keep her busy, it's her NGO –
Tarubala Girls Foundation – where she finds solace.
Named after her grandmother, who has been her childhood inspiration, Tarubala Girls Foundation focuses on girl education and community development programs. Tarubala Girls Foundation opens education and livelihood opportunities for women and empowers and encourages their participation in community development.
The intention of the NGO has always been to reach out to underprivileged girls and women of society, and provide them with education and skill training programs. The focus of Tarubala Girls Foundation has always been to act as a helping hand to these less privileged women and children and equip them with tools of education to make them self-reliant and atma nirbhar (self reliant) in life.
"Through education and training, the NGO has reached out to disadvantaged women and children throughout the state. We have also been able to work with orphans and the underprivileged to support their empowerment," she adds.
Tarubala Girls Foundation also works in the areas to curb child marriages, which negatively influence a child's right to education, health, and protection. Tarubala Girls Foundation provides social awareness on child marriage, the importance of education, and the evils of domestic violence and dowry.
The NGO also provides vocational training to adolescent girls and women, who can then start their businesses. Tarubala Girls Foundation also makes sure the empowered girls and women get trained and get placement opportunities in renowned institutes.
Post pandemic, several schools have reopened but there are many in the rural areas where children especially girls have dropped out. Suchismita and her organisation are constantly trying to organise workshops and seminars with the girls and their families to make them return to the mainstream.
Accomplishments and challenges
Just like her entrepreneurial journey where she constantly faces gender discrimination, Suchismita, a TedX speaker, is fighting to root out the deep-seated gender inequality in education too.
She could hardly find anyone in her field of work, which is real estate and retail. As a result, she had to face situations that pointed to a deep rooted bias against women.
However, she had come way too far to be intimidated and was determined not to back down.
"The most challenging part was initially when I told everyone in my family and around my family that I want to do business. So they were not very sure about the kinds of dreams I had, and I still have. No one thought I'll be able to pull it off. The greatest obstacle to my dream was a glaring bias against my gender, a refusal to believe that a woman could make her mark in a field that continues to be dominated, or even monopolised by men."
Future plans and lessons learned
As Steve Jobs said,  Your time is limited, so don't waste it living someone else's life. Don't be trapped by dogma – which is living with the results of other people's thinking. Don't let the noise of other's opinions drown out your own inner voice. And most important, have the courage to follow your heart and intuition. They somehow already know what you truly want to become. Everything else is secondary."
Suchismita has big plans of building factories of her own in the small state of Tripura and bringing in women to work in them and help them become independent.
Some of the lessons she learnt in her twenties are to believe in yourself and your dreams. "And even if people come up to you and tell you that you won't make it, if you have a good strategy and the grit to carry on, you'll be able to pull it off. " Another lesson she learnt is that if you want to be a successful entrepreneur, you have to be an optimist, there is no room for pessimism."
She also realised one thing. That it does not matter who does or does not believe in you, as long as you believe in yourself.
Not to waste time acting out a script that has been written by someone else but to write one's own.