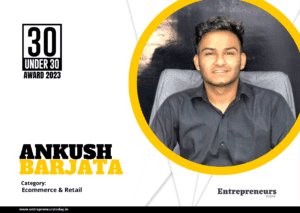 Hailing from Himachal Pradesh, Ankush Barjata is the founder of Deeva, an online portal to sell sarees to customers across the country.
Upon graduating with a degree in computer engineering, he was given a 26 LPA package and hired by an MNC. He claims that he had a comfortable lifestyle and a good work culture. Even though there was joy and calm all around, he was unhappy with the things he had accomplished in his life, considering that since high school, pursuing business or theatre has been his goal.
Journey and inception
Following the effect that the pandemic had on businesses, Ankush opted for a job. On the way, he even fulfilled his parents' wishes. But even years later, he continued to harbour ambitions for substantial success in business.
In March 2021, after much uncertainty and deliberation, he decided to leave his Hyderabad office for a business trip. His interest was in the apparel industry because his father was also into it. He, therefore, decided to travel to ten places in the country with a reputation for producing cloth. Surat, Kanchipuram, Delhi, Agra, Jaipur, Mumbai, etc. are just a few examples.
He received a lot of exposure to clothing and fashion in the cities where he travelled and had the chance to build relationships with businessmen in the cities who dealt with the import, export, and production of various types of sarees. They gave him information on how successfully one may make money in this industry.
At that point, he understood that sarees with more retail prices do not come at a comparable cost to produce. Only the market can determine a price based on its appeal to customers. He also realized that creating and hawking sarees might be lucrative, so he decided to pursue this notion further by working on and conducting additional research.
He created an application for browsing several sarees from any manufacturer across the nation with the assistance of the tech staff. The customer can scour through them and make purchases by using online payment channels. After the transaction is done, delivery services like Pickr and Ship Rocket bring the items to the customer's address.
Funding
Ankush admits that initially, he asked his father to invest in his business. However, he failed to establish credibility for himself and his proposal due to his ignorance of drop shipping and online commerce.
As a result, he began to watch for investors outside. He made an effort to contact angel investors on Linkedin and other social media sites. A month later, he found a US investor who liked his concept, and the two of them agreed to the terms of the arrangement. When his father saw that a foreign investor had made a substantial investment in his company, he stepped in and made an effort to understand the situation. He later decided to make the necessary investment.
Challenges
The hardest part of the process was integrating manufacturers. Manufacturers first rejected his company's idea since they do their business in bulk. By invoking their emotions and emphasizing the uniqueness of this endeavour in the nation, Ankush had to win them over. Nobody has used this concept. If they participated in this, that would be a huge plus.
Later, they became more invested in the idea. Few of them even stepped forward to be an investor in his firm.
The second is putting together a team. Ankush hired a few dreadful people that wrecked his time during the launch. Finding people who work hard and adopt our vision was too challenging.
Lessons learned
Ankush says, "I've always learned to keep my target high. No matter from what point you start, set your target high and decide the trajectory you are going to travel."
He also realized how crucial it was to pick his team carefully. He initially chose the unsuitable ones, which was a mistake. However, as demands and time passed, he began to select the best candidates, and in time, ideally, he assembled a dependable team to work for him.
Most importantly, he also discovered effective money management. He had a history of spending money carelessly before the launch. However, after his business effort got off, he started to only spend money if it made sense and served a purpose. Money was more valuable to him.
Even though smart work is helpful, He eventually learnt to work harder since the business required it. If you want to do more in life, smart work alone won't assist you. For the type of goal you set in life, a combination of both is advantageous.
Future Plans
Even though Ankush doesn't have much bigger plans, he is in the process of making the application smoother and more user-friendly. He is also looking forward to opening physical stores all over India. He also wishes the customer base to grow exponentially within the next five years.