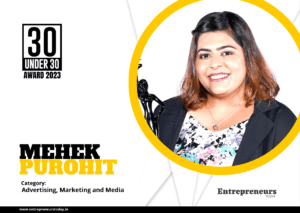 Hailing from a small town in Rajasthan, Mehek is on her way to making her village and family proud with her constant hard work and dedication.
She is setting an excellent example for those young women who come to Mumbai to pursue their dreams, especially those who come from orthodox backgrounds where getting married is prioritized over one's aspirations. Mehek, however, decided to work toward her goals by putting in a lot of effort and growing up to be a strong, independent woman. This decision allowed her to start one of the best social media agencies in India, Chakli Art.
What are the services provided by Chakli Art?
Chakli Art now offers 360° Designing Solutions, including Logo Design, Branding & Re-branding, Product & Packaging Design, Graphic Designing, Website/App Development, and Media Production under the name Chakli Production, which includes Photography & Videography, Video Editing, and 2D Animation, making the agency a one-stop solution for marketing and advertising needs for brands.
Inception
Mehek started her professional life in the hotel industry. She was constantly inspired to work hard and better herself by the encouragement of her mentors, friends, and family. She transitioned from working as a graphic designer to leading marketing within a short period.
As things started to look bright, all of her well-wishers said that it was about time for her to take on a personal project. She gave this idea some more thought and then decided to start her own business the next day. When she began her venture, Mehek started with no team and managed everything on her own.
Today, she has a team of 30 people. She continues by saying that every one of her supporters has made sure that she is always the finest version of herself and at the top of her game, regardless of the circumstance.
Mehek reveals that her interest remained very close to Art, Design and Communication, even though she had eight years of experience in the hospitality industry. She shares that it was during the period when her career reached a saturation point that she found her true calling with the help of her mentors, family and friends.
What are some of her achievements in her field of business?
"Emerging Digital Agency of the Year' at the India Leadership Awards 2019.
"Most Popular Digital Marketing Agency of the Year" at the 2019 Golden Glory Awards.
"Best Digital Marketing Agency of the Year' for Bollywood Film "Chase".
Got featured on TED Talk Youtube Channel.
Felicitated by Dadasaheb Phalke International Film Festival Awards two years in a row 2021 & 2022 as their Social Media Partners.
'Iconic Creative Digital Marketing Agency Award' at Mid-day International Showbiz Awards 2022.
'Iconic Creative Entrepreneur' at Mid-day Powerful Women Awards 2022.
Rocky road
"We started to build community in the digital space with our minimal art, and as we grew, so did our clientele. This opened up new opportunities for our team to grow. From finding the right people to training them, it seemed like a daunting task."
However, it was not the only thing that Mehek found difficult. She said she was weary of being a serious, furious, lenient, and other sorts of a boss, but as the team and company have grown, she is happy to have found her personality type. This has helped her, the team, and the organization build the principles that are now passed down to all new employees.
"Not just colleagues, but the value of working as a family toward a common goal has propelled us to unprecedented heights."
Mehek adds further that they've been continually motivated to realize the full extent of their potential by her family, the team, the online community, and the customers.
Future looks bright
As the Founder & Creative Director of Chakli Art, Mehek's goal was not to grow as a company but as a group of companies. She says, "since our inception five years ago, we have expanded into various business tangents. Chakli Art as a brand has also branched out in the production industry under the name of Chakli Production".
They currently operate three eateries under the name Chakli Hospitality and a clothing brand under the name Chakli Merchandise. After laying the groundwork in Dubai, they are also on course to open Chakli Art locations in 10 cities in India and 7 other nations over the course of the following seven years. The primary goals of Chakli Art are to inform and advance the ART community. India is a large country with untapped hidden gems in every crevice. Their main objective is to establish the Chakli Education Society, which will teach members of the underground hip-hop community, including rap artists, musicians, graffiti artists, and fine artists, how to establish and run a business.
Lastly, she notes, "with dreams come goals; with goals come dedication; with dedication comes hard work; with hard work, you learn; and when you apply that knowledge, there is nothing that can stop you from achieving your dreams."