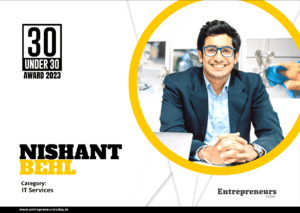 After obtaining a B.Tech degree and working two jobs, Nishant, the founder and CEO of Expand my Business, found his true calling – "to make the next million businesses digital." Thereafter he began his journey with Expand my business (ExMyB), a B2B managed marketplace for all digital needs.
What does Nishant have to say about ExMyB?
"At ExMyB, everyone works with a warrior mentality, taking each day in stride to make digital space accessible and create the best possible experience for all. We experiment, sometimes conquer, and sometimes fail, but we are moving on to bigger things to take the Indian IT industry to the world. My team and I have only one vision right now – to ensure the continued success and empowerment of businesses and our agency partners."
How did he incept the idea for the business?
In an interview with Entrepreneurs Today, Nishant reckons he got the idea of building the marketplace when he ran into some procurement-related issues in his previous business.
"I owned a home decor business about four years back. At that time, I decided to outsource some of my work to an agency to lessen the workload and realised how difficult it was to find the right agency. Even after spending considerable time searching on various platforms, I ended up partnering with the wrong agency. This was when I realised that while there is a multitude of agencies, there is no provision to help streamline the outsourcing process."
It was at that point that the idea for Expand My Business was inspired. ExMyB was founded to assist users in three key areas: discovery, decision-making, and delivery of digital services and service providers.
The driving force behind the idea
Nishant's initial purpose was to prevent other companies from experiencing the same problems with outsourcing as he did. He wants to build a platform with Expand My Business to give businesses, especially those in small cities, access to solutions.
According to Nishant, there are numerous regions in India where IT development and digital development, in general, have not yet fully materialised. Additionally, he sought to assemble a team who shared his sense of urgency and passion to find a solution to this issue.
What are the services provided by Expand My Business?
IT Development with New Age Tech and Digital Marketing make up the majority of the services provided by Expand My Business. At ExMyB, they take all complexities of delivering digital services into their hands and cater to the end-to-end requirements of business owners. The streamlined and standardised outsourcing process has digitally empowered several SMEs, as well as agencies and partners, especially from tier 2 and tier 3 cities.
The team has developed an efficient algorithm that allows businesses to use IT services from the right agencies through their platform. From managing client projects and providing milestone-based Escrow Payment solutions to guaranteeing total customer satisfaction, their goal is to build a strong IT infrastructure that would enable India to tap into the global market.
Achievements till now
Upon asking about the accomplishments in the industry, Nishant shares, "Expand My Business has accomplished many things in the past four years, but undoubtedly there is still a long way to go. We started from 2, and now we are an ever-growing team of 200+ team members."
They have successfully set up the biggest managed B2B marketplace in Asia for IT development and digital marketing. In addition, they recently raised the biggest fundraiser from some top global investors like Chiratae Ventures, Tanglin VP, Alpha Wave and Bharat Shah (Chairman HDFC Securities). Furthermore, they have onboarded 1500+ verified partner agencies and delivered 3000+ projects till now. The team has been working endlessly, and the results are a testament to that.
Rocky road
Building a startup from scratch was not a cakewalk, and Nishant encountered his share of challenges. What felt more daunting was raising a series A funding, not even after a year of raising funding in the seed round.
"But we had our vision in our mind and the hunger to see it come alive, so hard work and persistence came naturally."
As for most startups, the nationwide COVID-19 outbreak was the most challenging period. Many startups were on the verge of imploding due to a lack of funding. However, ExMyB proceeded to develop new verticals, target tier 2 and tier 3 cities, and concentrate on digitising all enterprises as some company owners lost all faith and shut down. Nobody knew how to handle the problem since it was new and unanticipated, but they continued trying and emerged from the experience stronger.
Lessons learned
The twenties is a time of constant change, and things were pretty much the same for Nishant. As most people do, he experimented extensively and tried to seize almost every golden opportunity that came my way during that time.
"Establishing a company itself came with a lot of lessons. From learning how to gain the trust of clients and investors to figuring out complex processes like due diligence, the journey has been full of learnings."
Most importantly, what he values most and has learned is that the time and effort put in by a team is the most critical factor in achieving business success.
Future looks bright
Seven years down the lines, Nishant envisions Expand My Business rising to the point that it becomes synonymous with IT services and significantly contributes to India's GDP.
They have already expanded to Dubai and Abu Dhabi, and in the next years, they plan to significantly extend their foundation both domestically and beyond the MENA region.
"The possibilities for growth and expansion are endless, and I cannot wait to see what the future holds in store for us."