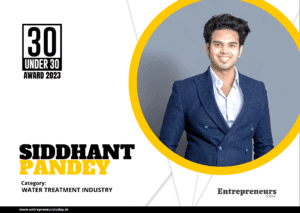 Hailing from Delhi, Siddhant Pandey is a 23-year-old entrepreneur and the Founder & CEO of Duvera.
Since his formative years, Siddhant knew he had it in himself to convince and lead people. So, after completing his 10+2 with biology, he did not want to succumb to societal expectations and pursue a career in medicine. Instead, he wanted to focus more on his strengths which led him to pursue BBA LLB from DME Law School – Indraprastha University soon after completing his high school.
Entrepreneurial spirit
In a conversation with Entrepreneurs Today, Siddhant reveals that his zeal to make his own money started when he was still in school, where he used to sell Street style clothing, then moved on to personalised paintings. But soon after, he saw there was no room to expand or scale the idea.
Thus, when he was in college, Siddhant began looking for opportunities that are more profitable and scalable. While talking about how he came up with the idea of venturing forth into the water filtration market, he explains that his father used to work in the same industry and he knew a great deal about the inner operations and the market. Thus, it only made sense to him to tap into the market.
Siddhant had the idea to establish this business so they could serve the entire market in the water filtration industry. His goal was that people should not have to look in different places to build just one machine. To address this issue, he built Duvera with the idea of building a one-stop solution that would provide people with everything from individual machine parts to complete machines.
More about the company
Today, Duvera is the leading provider of industrial water filtration that is efficiently transforming the industry. The company has been rising the market's graphs against the competition since its launch in the year 2019.
Derived from a Czech word, Duvera means trust, and with that, as their core value, they specialise in three levels of service. The services offered are:
Components trading: They provide their clients with every vital component that is needed to build a horizon of filtration machines, including Pressure Tubes, RO membranes, UF membranes, series of Filter Cartridges, SS and uPVC housings, EDI modules, series of pumps, UV solutions, rotary blowers, etc.
Projects: They provide a fully manufactured range of water treatment plants, effluent treatment plants, sewage treatment plants, reverse osmosis plants, ultra filtration plants, bottling plants, etc. for clients who want to outsource and find it difficult to get the right technical components or are not able to engineer the complete machinery themselves.
Consultancy: Duvera EHS Services has helped numerous businesses and organisations adhere to all regulations and standards related to pollution. They also help find issues with the organisational structure or procedure for compliance, conduct audits of compliance, evaluate risks and/or perform environmental impact analyses identifying, communicating, and meeting legal and other obligations.
Achievements till now
One of Siddhant's personal accomplishments is that he is the youngest and one of the leading players in the domain. His other achievement is that with just an initial investment of ₹50,000, the company has reached a market value of ₹1 Billion. Since the founding of the company three years ago, they have not only reached the Indian space but also expanded in the International market. Currently, they are also working with Saudi Aramco.
He further adds, "The volume which we are generating is huge as we are taking big chunks of the components trading business in India."
Rocky road
Siddhant reveals that the journey was not a cakewalk as they did not have any financial backing. As a result, they couldn't afford to take any uncalculated risks. Throughout his journey, Siddhant has taken numerous risks without paying any heed to the judgments of others. He has also encountered unwarranted advice and discouragement, despite which he has kept his head held high and was able to create an impact. He also acknowledges the fact that it was his parents' support that kept him going.
Lessons learned and future plans
One of the major lessons Siddhant learned in his twenties is that till the time you keep imagining and analysing about a hundred things, you'll only be trapped in your own cage of mere thoughts. He firmly follows the mantra of "Over analysis leads to Paralysis". His belief in just starting to work on whatever you have in hand and dumping all the complicated hypothetical questions of the future course has propelled him to where he is and where he is going to be. He also holds the notion that if you want to achieve something and work towards it, the universe will manifest it for you.
In terms of what holds in the future for him, Siddhant shares that he wants to dominate and work on the journey from the afterlife of water to the next life of water. He explains that he wants to work on that water after its usage from where it's termed as unusable.
In terms of the company, he believes that he has just scratched the surface yet. He is looking forward to going public in the next five to seven years. Ten years down the line, they anticipate for the company to have a valuation of 10 Billion.