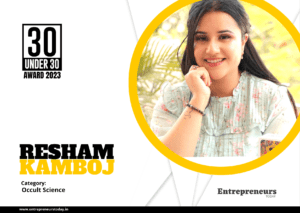 Resham Kamboj, the founder and designer of Tarot – Tree of Life Academy, has earned the reputation as India's top tarot card reader. She believes in a greater force in life and claims that because she is the granddaughter of an astrologer and the daughter of a tarot card reader, she was chosen to walk this route.
Resham was a former Bollywood fashion stylist who started her tarot card reading journey online because she felt it was her life's purpose to support others, especially in their trying times.
Resham thinks that everything that has happened in her life is interwoven with divine coincidences and signals from the universe. Since she was born into a family that engaged in many sorts of healing, she possesses a strong sense of compassion from an early age and is familiar with the language of miracles and intuitions. She decided to play in the fashion sector but had no plans to pursue it professionally.
True calling
After leaving for India, Resham encountered difficulties in both her personal and professional lives. She signed up for some courses on traditional healing after realizing how various spiritual spheres collided. Resham was carrying a child at the same time. By worshiping Goddess Durga, she found strength, and by adhering to Buddha's heavenly teachings, she discovered peace.
The "Tree of Life" and the account of Buddha's enlightenment captivated her. Her life thereafter took a drastic change after the birth of her daughter. Resham mustered the confidence to start living a more spiritually evolved life. She thinks her daughter appeared to her as the "Tree of Life," illuminating Resham to discover her own path, and that is how she devoted herself to becoming a certified spiritual healer and mentor.
Services
Resham provides services for Spiritual and Holistic healing and fortune readings. Resham offers readings by text, voice, and video call, so clients can choose one that works best for them. Her services include banishing negativity from romantic relationships, Reiki healing, Money Abundance Spell, Manifesting Any Wish with Merlin Magic, Marriage Spell, Career Growth Spell, Health Spell, Weight Loss Spell, and more. So, anyone can reach her and reserve a spot or do so directly at www.tarottreeoflife.com.
She provides 15 days of LIVE Video call sessions where anyone can become a certified and professional Tarot card Reader with Angel Therapy Attunement. The entire course includes lessons on tarot, astrology, Buddhist remedies, switchwords, and instant improvement. A certificate and four notes written in Hindi and English are among the main takeaways.
Impact
Rasham began her journey by sharing insightful posts on her Instagram account. Her "remedies" were well-liked, particularly by women from all walks of life. Resham vowed to assist every lady who needed support after going through a trying time herself. She provided free counseling to individuals in need and mentored widows, widowers, and victims of domestic violence. She gave them the support and direction they needed to become mentors themselves. When the pandemic hit, many individuals turned to spiritual education for solace, and Resham's online project skyrocketed in popularity.
Achievements
Resham has trained close to 20,000 students, and she currently has over 66,000 clients. She has completed more than 300 courses and is an expert in more than 30 healing and reading methods. Numerous prestigious publications and television astrology programs include Resham. She has received numerous honors, including recognition as the most well-known Tarot Card reader in India since 2021 and the winner of the Indian Excellence Awards sponsored by the United Nations. Most recently, in November 2022, she was invited to attend the Trusted Visions Award Show at the Indana Palace in Jaipur and was given the title of Most Trusted Medium.
Additionally, it feels like the achievement of her life's work when her tarot card readings enable others to empower their lives positively and gradually, get rid of their problems, provide their minds stability and mental peace, and shed light on a scenario with a way out of current issues.
Future plans and lessons in life
When asked about her plans for the near future, Resham says, "I never set deadlines or project myself to a certain position because I know God has more to give than my plans would ever be, I go with the flow. I inspire and help the maximum number of people I can. That is what I seek." She also goes by the words of Buddha and believes that finding your purpose in life and putting all of your heart and soul into it is what your purpose is. A lesson she has learned in her twenties is that one should not give the gear of their life in anyone's hand, If you crash you are responsible and if you fail you're equally responsible.