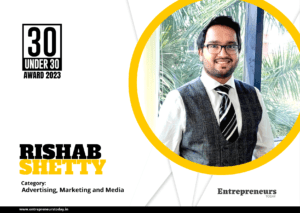 Through activations, youth ambassador programs, and online and offline experiences, Viral Fission is a platform that connects the most capable and enthusiastic youth with the brands they love in India.
They saw and linked several issues in a society like India, including the absence of conversations between brands and youth and the lack of job opportunities and career launch opportunities for youth. So, they came up with a solution that benefits all parties involved in this field and even add value by bringing them together in ways that are mutually beneficial and enable companies to test the influence of young and ultimately have faith in the future changemakers.
Entrepreneurial trajectory
Rishab's path as an entrepreneur has been exciting and fulfilling, from starting a business amid a pandemic to involving the nation's gifted, opportunity-deprived kids.
The biggest youth community platform in Asia was co-founded by Rishab Shetty, who also serves as COO He instilled a sense of community first via his talent and enthusiasm for connecting with young people. He can spot potential in the next generation and give them the tools they need to succeed. He believes that a variety of experiences have equipped him with the skills necessary to gather real-time intelligence, gain access to vetted social listeners and up-and-coming creators, and develop campaigns and portfolios that empower young people to take control of their lives rather than have them dictated to them by external factors.
"My ability and passion to connect with young people have been one of Viral Fission's most important foundations in building this pan-India network. In college, I volunteered for the Mumbai branch of PMI India and AIESEC India, which set the ball rolling. I was able to form a wide network of young working professionals."
According to Rishab, the company wants to redefine brand salience measurements with and for youth. Viral Fission provides a community-based youth network that co-creates unrivalled brand experiences.
Journey till now
Rishab shares that since he had to quit a lucrative career to set out on this journey, and because every other employee at the headquarters had to do the same, there were a lot of conflicting emotions at first. However, he was enthusiastic because he believed in the idea behind Viral Fission and could see the almost endless possibilities to which it could lead. He says he considers himself extremely fortunate to have his brother, Shreyas Hegde (Co-Founder), by his side during this period.
Rishab further adds, "I and Shreyas make the best team possible because I represent the community and have marketing expertise and he has excellent financial and strategic skills."
The most challenging and inspirational times throughout his journey coexist for Rishab. He says, "when starting a business, the first set of hires is the most important component because it sets the tone for the company. During the early days, we had close friends who believed in our vision and joined Viral Fission, but there was also concern about how to maintain personal and professional relationships at the same time, but those who can manage it, trust me, go a long way."
Rishab is delighted to witness these people leading their teams and putting forth the endless effort to achieve the goal of Viral Fission. A further indication of the viability of the Viral Fission ambassador program is the growth of the community as he observes their ambassadors now working as full-time workers, either in their own office or on the client side.
Milestones achieved
Obtained a pre-placement consulting position and worked with brands such as Kellogg's, and AT&T for US markets.
In GroupM Maxus was working as a business executive and worked with brands like Wipro, Lee, and Brigade Group to name a few for their traditional media campaigns.
In Flarepath as associate brand solution manager spearheaded a digital campaign for ITC (Pocket Engage), that garnered massive online traction, and saw overall participation of over 1200 campuses across 12 cities.
Business growth and achievements till now
Formed, trained, and led a team of young professionals in the creation of Asia's largest Gen Z exclusive and tech-enabled platform.
In a short period, they have built one of the most robust Gen Z and/or micro-influencer communities at Viral Fission 25k+. Created a business model which has the flexibility and ability to adapt to both offline and online formats at a
On the other hand, the business has also given rise to a whole new vertical of a tech-enabled community marketing platform for global conglomerates in the country. End-to-end tech platform with a presence across 700 cities in the country.
Afaqs, Fox Glove & Mad Over Marketing, a marketing media company has recognized their reels campaign done for the brand Spotify.
Over 20+ top brand campaigns were successfully delivered within this short period.
Created a business model which has the flexibility and ability to adapt to both offline and online formats at a scale.
Based on their insights, the parent company has built a content platform on Instagram platform called listenTBH, which has 53.5 K followers. It was also picked to provide content for the IPL franchise Mumbai Indians for the 2022 season.
Future plans and lessons learned
In fewer than ten years, Rishab is optimistic that Viral Fission will be well-known and have a significant global impact. After seven years, he wants to keep pursuing his passion for working with and around young people while writing the next chapters of community tech and youth throughout the world with Viral Fission.
Some lessons he learned in his twenties are that it is crucial to upskill and have the necessary knowledge within the domain of interest. He also adds that being aware of your strengths and having empathy will get you far.