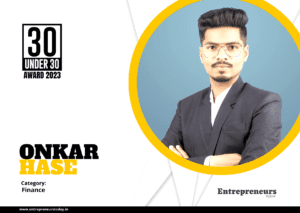 At the age of 18, Onkar Hase, a 22-year-old resident of Shriampur, Ahmednagar, was recognized as India's Youngest Stock Market Expert National Record. He founded and serves as the CEO of OS CAPITALS, which he did in 2019. He has been recognized as India's Youngest Stock Market Expert & Researcher by the India Book of National Records and as a holder of the OMG National Book of Records.
He received India's Most Sparkling Star Award this year for being the year's finest entrepreneur. He holds several world records and was given the Amazing Indian Personality Award for 2021.
From the very young age of 15, he began his trading career. Over the years, he gathered some experience. He became a successful trader and entrepreneur today because of his extensive knowledge and studies in trading.
One of India's top stock market research firms is his organization. Investors & traders can get stock market services from OS CAPITALS. He began his journey when he was 15 years old and began learning about the stock market. He read a lot of books and also gained a lot of knowledge from traders and investors. He founded his own business at the age of 19. The OS CAPITALS' annual revenue is now measured in crores. Many traders and investors look up to him as an inspiration.
He developed the perseverance, commitment, and discipline that were crucial to maximizing revenues during his learning phase. He used the knowledge he learned from reading books to help him develop company goals and methods.
Onkar continued to put a lot of effort into himself, which helped him become a great dealer. In 2019, he began offering stock market-related services. He currently trains more than 2000 pupils while serving over 5000 clients from across the nation. He has become the young generation's idol.
Challenges
One of the challenges Onkar faced in his entrepreneurial journey is that since he started his career at the age of 16, he could not open his own trading account, so he had to use his mother's account. He further adds that when he started out he did not receive any financial and emotional support from his family because of the lack of awareness of the path he was undertaking.
With the little capital, he had around that time, he started investing in crypto. It was then he realized that there was a potential of making a good profit even if one starts by investing a small amount. He says that fortunately since the market during that period was performing well, he was able to make good money. Onkar reveals that the initial capital he had was around 15-20k and with that money he started doing leverage trading, and with the profits, he started re-investing again. As a result, he was able to make around 19 lakhs in just a period of 3 months. However, he understood the risks that came with it, when he first encountered a situation where he lost around 3 lakhs, however, with time he learned more and entered the Indian market with better strategies in order to do stable trading.
Even though initially things were pretty daunting, Onkar is grateful that things eventually looked up for him.
Future Plans and Lessons learned
Onkar shares that currently he has two centres in Pune and Maharashtra, and he is looking forward to expanding in metropolitan cities like Bangalore. Onkar also wants to increase general awareness regarding trading among people.
Some of the lessons Onkar has learned in his 20s are that if as a young entrepreneur, you want to enter a domain, it's crucial that you learn as much as possible about the domain. This is something Onkar lived by even in his entrepreneurial journey. Additionally, he believes that if you have the right skills and knowledge about your field and are confident about it, your success is inevitable.
He also asserts that the general idea that people have regarding trading being a gamble, is untrue. If one has the proper knowledge and knows what they are doing, it's a legitimate way of earning, especially for those who want to get independent.