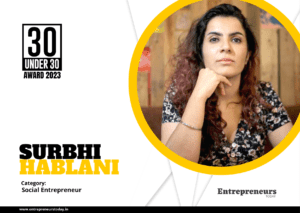 The pet-care industry in India has seen a significant boom in the past few years, with several new brands being added into the mix every other day. One brand that stands out in the clutter is Licks & Crunch, founded by Surbhi Hablani (who is actually a biomedical engineer by education!). With gourmet dog treats that are grain-free, gluten-free, and preservative-free, the brand caters to people who are looking to feed their pet animals clean food that's good for their health.
Founded in November 2020, the Instagram-based dog food company boasts of the widest variety of inventive and delicious treats that are made following extensive study. They utilize a variety of herbs and Indian spices to enhance the flavor and nutritional value of these dog treats.
Inception
It all started when Surbhi adopted her first dog, Humpty. He bonded with her as a little pup, so when mass-produced dog food made him violently ill, Surbhi knew that the market was due for a re-evaluation. After months of arduous research, Hablani set out to be the difference that was due in India's pet-food industry by founding Licks & Crunch. She runs the brand with her co-founder mother, Ritu Hablani, out of their home kitchen, and have seen nothing but growth since its inception. Something that Surbhi stresses upon is that the business came into existence after she adopted a desi dog, and had it been not been her dog, she would not have been an entrepreneur by long shot. This is a desi business run by desi women & desi dogs.
Before it was a business, Licks & Crunch was just a woman feeding her dog well. It was only when Hablani started sharing the love she had for her dog with other dogs on the street that she started believing that every dog is a good dog, and good dogs deserve to be treated well. As her business grew, so did the pack of dogs under her care. Today, she has a total of 103 street animals in Indore under her care. The proceeds from Licks & Crunch help making good things possible for dozens of street dogs every day!
The 103 dogs that are taken care of by Licks & Crunch also have a very important role to play in its success. Hablani cannot stress enough on how important quality is for the brand, and the way to ensure that only the best of the best is shipped off, all their flavours are taste-tested by these pooches!
Services & Achievements
With a new product line launching almost every month, the business boasts of the largest gourmet dog treat variety in the country with over 75 unique combinations! One of their best-selling lines is their hemp collection. People are becoming more aware of the various ways that the plant can benefit their canine companions, particularly with age-related problems like arthritis and medical illnesses like epilepsy. This has made the healing properties of the plant available in not only a palatable, but delicious little cookie that dogs relish!
Some more of their successful, and unique ranges include a tribute to Indian spices, a floral range, and the most recent, a healing mushroom range. Licks & Crunch also frequently collaborates with other brands and makers in each of its ranges. While this helps the brand in expanding its menu, it also creates a neat little ecosystem of collaboration between brands to present their products and its use cases.
Licks & Crunch boasts of a steady increase in sales since its inception; and all organic, to that! The brand averages at between 40 and 60 orders a month, with an average cart value of Rs. 2000. With a 76% retention rate, Hablani believes that the novelty and quality of her products speaks for itself.
Challenges, future plans & lessons learned
So far, the brand has been entirely self-funded. Any raw material and equipment is purchased with Hablani's own personal savings. While the brand still qualifies as a home business, the founders believe that the growth and success it has seen the past few years is very encouraging, and have big plans for the brand going forward. Currently, all the operations are done via Instagram but are moving towards an e-commerce platform to streamline and automate business transactions and purchases. Hablani hopes to expand her team in order to add the much needed push to production volume. Very soon, Licks & Crunch will be available on the shelves of some major pet-care brands, and in their stores. There are also talks of expanding their product line to include merchandise!
L&C had a rocky start with Surbhi facing constant disapproval from her father. She mentions her younger brother, Chirag, in the utmost fondness for supporting her since the very beginning.
A lesson she has learned in her twenties and a message she wants to convey to emerging entrepreneurs is that the hustle culture is absolutely overrated, just stay consistent, but also rest when needed, without feeling guilty.