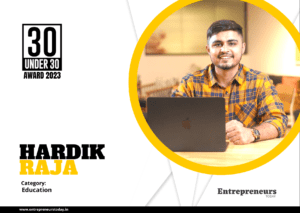 With the goal of assisting in developing the talents of the future, Skill Nation was founded as an online platform that combines the finest Industry Experts, Technology, and Education. Hardik Raja, Co-Founder of Skill nation and a Microsoft-certified PowerPoint expert.
"I ditched my CA dream to fill up this gap in the market."
In an interview with Entrepreneurs Today, he shares that he had cleared his CA intermediate Exams and was pursuing to become a chartered accountant. He was working for a consulting firm at the time in the Transaction Advisory Services department (TAS), where they used to deal with start-ups of the modern era seeking funding and used to offer them services like valuation, due diligence, advisory, debt refinancing, ESOP valuation, financial modelling, etc.
"Since childhood, I had the urge to start something of my own and it again reignited after working with these modern-age start-ups."
He says that while he was employed there, he noticed a significant opportunity where there were thousands with a theoretical or bookish understanding of finance, marketing, accounting, etc. However, not even 0.1% of them were familiar with the actual skills, such as presentation skills, communication skills, financial modelling, paid marketing, etc., or even the tools, such as Microsoft PowerPoint, Microsoft Excel, Tableau, Power BI, etc., that are regularly utilized by modern-day businesses.
At that point, he decided to forgo his aspiration of becoming a CA in favour of filling a market gap.
He first learnt about digital marketing during the lockdown and was completely astounded to see that by utilizing Facebook and Google advertisements, one could simply sit at one's desk and sell anything one desired to everyone on the planet.
It was after learning digital marketing and mastering his skills that he was able to cater to gaps in the education industry and address untapped issues.
What are some of the lessons Hardik has learned in his 20?
"This is the easiest time in history to become rich and financially free."
He claims that prior generations did not have access to the internet's full potential, where they could quickly and readily get knowledge on practically anything and everything with only a few clicks. However, we are lucky to live in a time where communication and knowledge are readily available and cost-free. We are living in the best possible circumstances to create a firm worth a billion dollars, become famous, and rank in the top one per cent of any field.
"Skills do pay bills"
He claims that if you are skilled, the world will value you. If not, the world will simply disregard you. Spend your early 20s developing skills if you want to be a guy of value. And in the twenty-first century, it is not a choice; it is a need. Look for something you enjoy while selecting a skill for yourself, but more importantly, look for something the world needs.
"Just Live life your way, there is no template."
Hardik says what worked for him in his 20s does not mean it will work for everyone in their 20s. Live your life the way you want to live it and define success for yourself. Avoid this destructive drive that would have you think that the only way to succeed is to run your own company and have millions of dollars in your bank account. Success can be as simple as feeding the hungry on the sidewalk, being able to love someone with all of your heart, making an infant smile when he was uncontrollably crying, or putting on a new dress it fits perfectly. It could be anything and shouldn't be your main objective.
Services provided by the company
In the edu-tech sector, they seek to provide young Indian workers with the necessary and futuristic skills such as digital marketing, finance, and copywriting, for instance.
Their services primarily include:
Live certification workshops (online learning sessions and programs) on a variety of in-demand skills of the 21st century.
We also provide advanced mentorship programs offering complete 360-degree knowledge of a Skill from absolute basics to the advanced level.
Achievements
The ability to provide people with a source of income and have an impact on their careers by assisting them in upskilling, in his opinion, is Hardik's greatest accomplishment to date.
Some of his company's achievements till now are that they have been profitable since day one. Additionally, they have taught more than 200000 people and led more than 500 workshops. They have an Annual Recurring Revenue of 50 Crores with just an initial investment of Rs 30,000.
"To grow in their career and get the salary hike that they deserve it is very important to master the art of presenting and storytelling."
Some of Hardik's personal accomplishments include training over 8000 working professionals, students, business owners and freelancers. What he helps them with is mastering the art of presenting and storytelling to grow in their careers and get the salary hike they deserve.
Rocky road
Hardik shares that his entrepreneurial journey so far has been pretty great with no extreme unrecoverable losses or backfires.
"However because I come from a middle-class background, unfortunately, it is extremely difficult for a boy like me to choose his dreams over his responsibilities."
He further adds that when he chose to stop pursuing CA, things seemed pretty bleak for him.
"I did not just quit my CA course, I in a way kicked out the only source I had to ensure the financial stability of my family."
Since things were uncertain moving forward, he shares that he spent countless nights dreading the failure of Skill Nation. The fact that he didn't have a degree to fall back on made things seem much scarier.
Future looks bright
Hardik says that in the near future, he is considering scaling Skill Nation and wants to keep improving its processes and produce better outputs as they move forward. His other plans include:
Bringing more workshops in various fields.
Bringing more advanced programs (duration 6 months) on advanced topics.
Collaborating with different universities to bring in university-certified courses.
On a personal note, he envisions being a better version of himself seven years down the line. "My goal is to make sure there is profoundness in my experience and impactfulness in my activity."