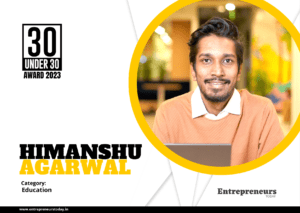 Himanshu Agarwal, Founder of Internet Coaching Empire, set out on his journey with a vision of creating India a 5 trillion-dollar economy. With all of its knowledge and expertise, Internet Coaching Empire is equipped to coach and advise you on launching a prosperous online business. They help experts and service providers start and grow their consulting businesses to 6 figures+ without asking them to pay for ads or buy expensive software.
Currently, they are on the go and are helping clients from across 8+ countries and have helped more than 100 students to make six figures, and about 12+ students make seven-plus figures.
Inception
Himanshu claims that the inspiration for starting this company came to him while he was attending a business coach's seminar. While there, he was privy to some incredible knowledge and wanted to share it with others. He wondered, "What if every business owner in India had this knowledge?"
At that point, he set out on a mission to bring as many business owners as possible to the coach so they could all benefit from the same insight. Over time, he concluded that one person was insufficient, at which point he launched the Internet Coaching Empire and decided to assist all experts and service providers in creating a domino effect that would give him leverage.
Services
Himanshu currently has three companies that he is successfully managing. These include Internet coaching empire, Backend Closers and Mailjar.
Internet Coaching Empire offers a range of services, including workshops, consulting, knowledge of how to set up a coaching business online, and EduTech expertise. They also help professionals and service providers strengthen and organise their businesses from the ground up.
Backend Closers is a sales agency that helps education companies increase their bottom-line revenue without adding new marketing costs. His other venture, Mailjar is a software company that focuses on solving lead generation problems for anyone for free and in the least time.
Lessons learned
As someone under 30 and with three successful ventures already under his belt, Himanshu sure has learned a lot in his entrepreneurial journey.
Let's look at some of the key lessons he likes to highlight the most.
Skills are what matters in the end. He says, "If you can use your intellect and skills to solve a market problem, the long-term benefits will be beyond what you could have ever dreamt of."
You don't get what you want, but what you deserve. He believes that praying, hoping, and wishing is not the answer; instead, you must first prove that you deserve what you are seeking. You immediately achieve your goal once you take on that persona.
At this point, he mentions the famous quote by Charles T. Munger that the "world is not yet a crazy enough place to reward a whole bunch of undeserving people."
Having role models is good, try to get inspired but do not become like them. Himanshu says everyone is unique. He goes on to further add that at the beginning of one's career, one tends to follow role models and inspirational idols, which is admirable but trying to be like them is a pointless endeavor.
"You will get rich by giving society what it wants but does not yet know how to get." When it comes to wealth creation, Himanshu loves this quote from Naval Ravikant, which he is happy to have learned in his twenties. He adds that with persistence and adherence to this philosophy, one will gradually make fewer mistakes as one advances in their career.
Achievements
The biggest achievement so far for Himanshu is that he has been able to work on his dream to help out people in their endeavor to transform their lives. Some other achievements include training more than 100,000 people in the business domain and creating 100+ lakhpatis and 12+ crorepatis in just three years.
Rocky road
In an interview with Entrepreneurs Today, Himanshu reveals that "being from a lower middle-class family who is a college dropout, it became extremely difficult for [him] to take any leap of faiths or take any bold risks early in the career. As with every successful entrepreneur, it was a constant roller coaster of a journey." Through his experiences, he has learned a lot about things no theoretical studies or books could provide.
The most inspiring time for him was when he worked as a full-time tele caller. During that period, he earned around 10k-15k a month. All of which he put into the company to finally build something of his own.
Future looks bright
Seven years down the line, he envisions his company providing the highest level of service and maintaining a super success rate, which has always been their priority till now. On a personal note, Himanshu believes that he still has a lot of potentials to unlock. In the near future, he still expects to find himself yearning for more and something better and finding the next 'aha' moment for him to push through.
In his concluding notes, he says, "There is a huge potential in India and I don't feel there is any reason why it can't become a 5 trillion dollar economy and compete against the biggest economies of the world. I encourage every person in the country to join us on this bandwagon and contribute to whatever we can."