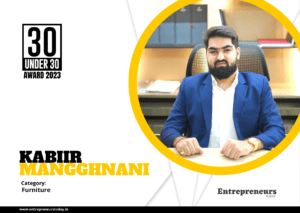 Kabiir Mangghnani, a 20-year-old young entrepreneur, was inspired by sofa designs in 2020 and wanted to give the people of Hyderabad access to the best furniture available. During his extensive study of Italian designs, he gained in-depth knowledge of the European materials used in furniture building.
He is still working on getting his graduate degree from Amity University. Kabiir, who with "Empire Home" hopes to introduce contemporary furniture design from around the world to India, is also someone who genuinely values meticulousness and is drawn to streamlined, clutter-free designs.
Inception
According to Kabiir, he was profoundly affected by furniture designs when he was a high school student. After class XII, he had intended to study sofa design in Milan, but the pandemic prevented him from doing so. He joined his mother's business SCASA which helped him understand the Italian furniture making deeply later he started studying Italian designs on his own, which gave him a deep understanding of the materials used to make furniture. As his knowledge of the subject increased, he made a conscious decision to join the market and launch his own brand to provide clients with the most modern luxury designs.
While talking about his journey he says," My Family being in business, I knew about what needs to be done, how it must be done. My family helped me a lot in finding these things, including land, my requirements, infrastructure, marketing, branding, etc. I received a lot of assistance in managing the store from my mother, Mrs. Nisha Mangghnani."
He admits that he steadily learned a great deal on his journey. With a lot of experience under his belt, he understands that anyone can gain a lot of knowledge from experiences.
This is the 3rd generation furniture business of the Mangghnani family. It runs in his DNA, Kabiir says.
Services
At Empire Home, they are focused on offering a variety of Italian furniture. Kabiir explains that Italian furniture falls into four categories, and they specialize in every category. The kind of furniture they offer are:
Contemporary Furniture
Luxe Furniture
Outdoor Furniture
Premium Carpets
The services they provide are specifically catered to the demands of the customers. They also offer customers advice on the best solutions that may meet their goals after conducting a full examination of their space and area. Moreover, sustainability is at the core of the services they offer.
Accomplishments
Some of the achievements of Empire Home include an exclusive collaboration with Italian brands like Calia Italia and Riflessi as well as renowned architects from South India. They also brought Italian design standards to their store interiors, which speaks volumes in itself. While talking about their venture, they suggest that this is the first time a furniture studio has been designed and implemented to a world-class degree in India.
Future plans
Founded by Kabiir, Empire Home, has a distinctive business concept to entice customers by offering the most popular designs in the world. Seven years down the line, he envisions his creations, with their elegant, alluring, and ideal designs, to be made available throughout India, not simply for the Hyderabad market or neighboring states. He aspires to have great success and growth and wants his brand to rank among the top 20 furniture designer brands.
Lessons learned
When asked what lessons he had learned in his twenties, Kabiir says, despite being only twenty, he had entered this phase of life with an open mind. He is aware that he would soon encounter hurdles and some harsh and essential lessons about life, as there is much to experience still.
He contents, throughout one's life, people learn and unlearn numerous things every day. Also, he is sure that with each passing year, he will grow more self-reliant and assured. Despite being so young, he acknowledges that following one's aspirations means making sacrifices, but he is willing to do so at whatever cost.
Another thing he has learned in his 20s is that if you focus on your objectives, you can accomplish everything you set your mind to. Also, instead of comparing ourselves to others, he implores budding entrepreneurs to stay focused and surround themselves with people who exude positive energy and can help them advance. He has consistently worked hard and been dedicated, which is how he arrived where he is today. Finally, he adds "With just your efforts, you can achieve anything during this hard-core period. This is an opportunity you must not miss, so grab it and make use of it."