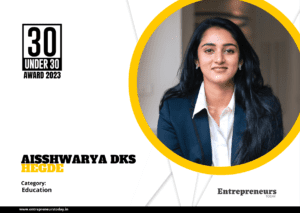 "An educator, entrepreneur and an empowerer"
Aisshwarya started her career as an administrator at Appollo National Public School, Bangalore – right after graduating as an engineer. She then started a new but rewarding learning experience by taking on leadership roles at three additional schools in a short period, which gave her the confidence to work on a clear and impactful vision. The four institutes she successfully runs today have a combined enrollment of about 4000 students. Each of her institutions guarantee overall growth in a setting that encourages hands-on learning.
She believes that she grew into discovering her passion of training students with leadership values and budding businesses as she made the conscious choice.
Through adept planning and a knack for learning, she developed her skills in leadership. She embodies the principle of creating leaders at her institutes and is a confident speaker, quick thinker and a methodical organizer.
She established the first Value Education lab in India, called "Catalyst," in the setting of one of her schools, National Hill View Public School, Bangalore.
The Value Education Lab was conceptualised in coordination with Bengaluru-based Val-Ed Initiatives with the primary goal of providing a "humanistic approach to education" through the integration of teaching methodology and infrastructure design.
The approach of Value Education Lab "Catalyst" – aims at instilling in students the values that last their lifetime.
This initiative focuses on the mental well-being of students, emphasising on :
– self esteem area,
– Values meter that gives and insight into what value means to different set of student age groups,
– Constructive conflict resolution that educates students about how to handle situations with their peers and society when they face conflicts in real life,
– Forgiveness pond that teaches the art of wellbeing in students,
– Gratitude area to count what matters in life.
She founded Excelligent, a firm that provides school necessities and supplies. Aisshwarya is also involved in managing shopping malls in Bangalore, including the largest shopping experience at Global Lulu Mall. She is an enthusiastic angel investor who believes in fresh talents and start-ups.
Aisshwarya says that the biggest role in her journey has been that of her partner who supports her. "The one is the one who aligns with your values and ethics."
Lessons in life
Aisshwarya has learned many lessons along the way of her entrepreneurial path, some of which is that one must think before one trusts their shadow and that criticism is a part of life thus one must utilize it as their strength instead of weakness.
In an exclusive interview with Entrepreneur's Today, she shares that getting herself into the education industry was an accident. She further adds that it was a chance she got. However, how she manages her business to this day is a choice she makes every day. She says that what motivates and inspires her to pursue this career route is the fulfilment and gratifying feeling she gets.
In an interview with Entrepreneurs Today, Aisshwarya shares about her difficult periods when she was unable to continue the degree that she was pursuing from Nottingham university due to some issues at home. The whole situation hit her hard, however, she came out of the situation stronger than ever. During that journey, she also learned a lot. She shares that even though she did not get to finish her degree, all the hours she spent preparing and studying were worth it.
She also learned that degrees are not everything. She also tells us that if one masters their skills, they will be accepted in the industry or domain they want to work in. She adds further that with the changing trends and innovations, one needs to adapt and upskill to sustain.
 Future looks bright
Seven years down the line, Aisshwarya envisions herself as an eminent leader in the field of innovative education.
A message she wants to convey to everyone is that education is the key to being open-minded. So, integrating a value education curriculum with holistic development is key to having the desired impact on the education system in India. She further adds that understanding what it means to be a human is crucial, above all. This could contribute to the improvement of the, society, nation and the economy overall.