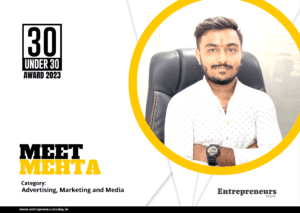 The Co-Founder of Celeb Central and The Cheat Day Café, Meet Mehta aspires to forge a world full of connections and opportunities for the youth of his country. He has made a presence for himself in the sector, mostly thanks to Celeb Central, his digital solutions business.
"Influencer marketing is the main service we provide to our clients along with SEO, SMM & website development."
Meet Mehta, Darshit Mistri, and Urvesh Jain are the co-founders of Celeb Central, a digital marketing and SEO services firm with offices in Mumbai. Meet Mehta works with creators all over the world with the aid of his friends, enabling them to connect with a range of brands.
"As I was an influencer once and knew how this works, we three friends had a word and planned to start a company which manages talent and looks after basic services for the brand."
At Celeb Central, they have professionals with expertise in the marketing and advertising spectrum. Their goal is to design, develop, plan, and carry out great digital products and services with a focus on brand expansion and increased reach.
Meet Mehta says, "The mission of our team of digital marketing and SEO enthusiasts is to create a marketing plan and strategy that helps you exponentially grow your brand. Using thoughtful, research-backed digital marketing expertise, we serve as your growth partner."
His personal accomplishments include being nominated for accolades from the Economic Times, Adgully, and other publications.
Inception
His interest has always been drawn to business and entrepreneurial endeavours. The ambitious and hardworking businessman is a young man with a myriad of aspirations to fulfil. He entered the business sector in 2019 after finishing his schooling with Hydro Esports. His involvement in the business goes beyond only serving as its founder; he also helps determine its progress.
More about Meet Mehta
Meet Mehta, who was born on May 2, 2001, in Mumbai, Maharashtra, and was raised in a Gujrati household. After graduating from KES Shroff College in 2019, he decided to finish his education at Nagindas Khandwala College in Mumbai.
He is exceptional in managing skills and talent, human resources, hiring, building brands, and virtually everything else related to business improvement. He started working as a Field Coordinator with Tata Consultancy Services (TCS) in January 2020. Meet gained insight into the need for coordination, consolidation, and efficient program implementation in a firm while performing his duties as a Field Coordinator at TCS. This changed his view on life and helped him adopt a more clear, more business-oriented approach.
In March 2022, Meet Mehta also assumed the role of Founder of his recently launched entrepreneurial endeavour, The Cheat Day Café. Hydro Esports, Celeb Central, and The Cheat Day Café are just a few of his many businesses. He solely oversees more than 50 talent contracts through Celeb Central and promotes direct-to-consumer companies through the platform. Since 2019, Meet has left behind successful footsteps, and his entrepreneurial endeavours have continued to soar.
His venture Cheat day cafe is co-founded by his elder brother Deep Mehta. They serve Italian food, which is the most popular with the customers, and the location is primarily used for private gatherings. The cafe opened on March 1st, 2022, and is located in Mira Bhayandar.
Services offered at Celeb Central
His flagship digital services company, Celeb Central, was established in 2021 and focuses on the marketing and advertising spectrum as well as developing, planning, constructing, and implementing excellent digital products and solutions. His SEO solutions company attempts to use its professional experience to help every project and client achieve definite success through deliberate cooperation.
The talented entrepreneur's major goal is to assist his business clients in expanding their reach and accelerating the growth of their brand with Celeb Central. He does this by providing modern, cutting-edge digital marketing & SEO solutions as well as experienced digital advisory services. His business works with the best influencers and leading companies, including, but not limited to, Toothsi, Renee Cosmetics, Bare Body Essentials, The Ayurveda Co., and Skinnsi.
Currently, they deal with over 20 brands that are leading in their niche industries. 
Things, however, did not seem as bright for the business. There were times when they didn't have many deals for their skills and turnover was just declining. So, they made some team modifications and brought on nearly ten or more of the finest brands.
Lessons from the 20s
In an interview with Entrepreneur's Today, he says "The industry I work in is diverse, and as you advance, individuals will want to bring you down. However, keep striving to realize your dreams. Make the rest of your life easy by working hard in your 20s. At first, my parents and partners were the only ones to back me; the others said things like 'you won't able to do this'."
Meet maintains that he was determined to make this firm a success and was quite confident about launching it. His family has a business background, therefore entrepreneurship runs in his family, so he wanted to establish his company as a leading agency & cafe in this field.
Lastly, as he talks about his plans seven years down line, he envisions himself being on the billionaire's list by the time he reaches his 30s. He also looks forward to launching many more projects in the near future.
On another note, he adds, "Just trust in yourself and keep working for your dream. You will achieve it if you're keen to work on it."