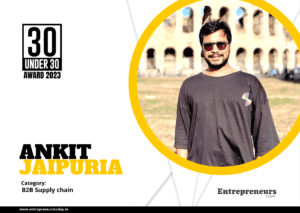 uKom makes it easier for fashion businesses to grow into well-known brands. With their marketplace, they are promoting the growth of the new fashion sector. uKom is a B2B apparel sourcing platform that offers eCommerce brands complete design-to-delivery solutions, allowing them to explore limitless potential with the fastest turnaround times and smallest MOQs in the business.
Entrepreneurial spirit
Ankit Jaipuria is the co-founder of uKom who graduated with a degree in Mechanical Engineering from IIT Delhi. As someone who has always seen himself as a problem solver, he found himself pursuing a path that led him to do the same even after college. Ankit began his professional career with upGrad as a consultant in the program management team before moving on to work for Booz and Company. Primarily, he has worked in three industries—consumer, retail, and oil and gas—in India and the Middle East.
Given that his family has been in the fashion industry for the last two generations, he found the fashion space exciting. So, he ultimately found himself returning to the startup scene, which had always delighted him. At this point, he stumbled upon fashinza, a startup in the fashion tech sector. Additionally, the fashion paradigm was changing, necessitating the creation of a new value chain to meet the shifting demands of the industry and be suitable for the digital era as opposed to the outdated and broken supply chain.
Inception
uKom was founded as a solution to bring change to the previous ineffective sourcing methods used by fashion enterprises. Their vision is to make fashion brand building easy with a futuristic fashion-sourcing supply chain.
With $800bn+ revenue in apparel sourcing, the fashion sector is one of the most significant industries in the world. However, the fashion industry's broken and ineffective supply chain took a year for him to study. Upon realizing the gaps in the market, he saw the dire necessity for applying modern supply chain management techniques to fashion business challenges.
Businesses found it challenging to conduct rigorous tests or to be creative when there were several stakeholders involved, lengthy production schedules, and a high minimum order quantity. To create an atmosphere conducive to rapid growth, uKom aims to collaborate with fashion businesses and handle all significant supply issues stakeholders encounter.
Akin to Myntra, Flipkart, and other websites, uKom offers a unique, curated inventory that is backed by data created within. The major goal of uKom is to simplify business startups in a setting that encourages a healthy lifestyle, lessens amoebic conditions, and offers hand-to-hand design to delivery services.
Sustainability is at the core of all they do. uKom is accredited to work towards the highest degree of compliance possible by minimizing the negative industry impacts on the environment and by offering a safe workplace for everyone.
Impact
The company's ability to address two significant industry issues is what Ankit regards as two of his accomplishments. The company has also shortened the approximately 6-month launch period for a design to only 21 days. The second problem they solved in the industry was addressing the issue of the minimum order quantity, which previously required more than 2000 pieces, now reduced to only 50.
Ankit shares several instances of how their solutions impacted the industry. He talks about a brand they had worked with that had become stagnant and could not grow because of its inefficiencies in failing to keep up with the latest design trends due to the lengthy launch period. But things changed for them when they collaborated with uKom.
He shares another instance of a brand that suffered a massive inventory loss, where more than 40 percent of the stock was liquidated because of overproduction, all because of the high minimum order quantity. However, when they collaborated with uKom, they provided a low minimum order quantity which reduced their inventory loss to zero.
In an exclusive interview with Entrepreneurs, Ankit reckons, "our vision is to evolve the supply chain from the Indian ecosystem, use our capabilities to show we are building something significant for the global market."
Achievement and challenges
They currently release 7,000+ exclusive designs every month for brands globally. uKom has served 80+ brands from 5 countries and 3 continents since its launch in January 2022.
In their overall journey, they have launched 22 brands. These brands began their journey with uKom, and their revenue growth was about 30 percent. They have also helped 20+ SME manufacturers in the Indian ecosystem to grow their businesses.
Even though Ankit's path has been fulfilling so far, he acknowledges that the industry's main issue has been the market's inability to change and adapt to emerging trends. As a result, it was a little difficult for them to develop something unique to challenge the status quo.
Future plans and lessons learned
uKom's vision is to become the largest launch platform in the world, and they hope to dominate global fashion sourcing.
A lesson he learned in his twenties is to have a bias for action and a solution-oriented mindset, not a problem-oriented mindset. He believes there will be ups and downs in life, but that makes the journey beautiful. Ankit implores the younger generation to stop seeking instant gratification and instead focus on enjoying the journey.