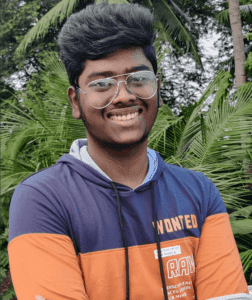 Meet Mr. Nishanth a very knowledgeable person. He hails from Chennai Tamil Nadu. He belongs to very decent and moral family background. And his family occupation is farming. His father Mr. Sheyam Kumar is a farmer. Nishanth in his school also thinks to become a business person like Bill Gates and Elon Musk. He spends his free time reading about them. He wanted to become a doctor and wanted to serve society and uplift his family. He was very clear in his mind to do business but at that time he was not so aware. He doesn't know what to do and how to do business in little investment.
But after Covid-19 he felt the need to start his business. But there was nothing solid. One day he came across a post where business startup tips were there. He enrolled there and was introduced to affiliate marketing. Firstly he was in fear if he could do it or not. But he studied about it and soon after having solid knowledge he started his business. He was just 18 years old and in just 2 months he made a six-figure income. He earned more than 2.5 lakh rupees from his business. He also being a Crypto Enthusiast made over 5 Lakh Profit Portfolio. He made his family members proud.
He helps people to earn money and become financially free. Currently, he is mentoring more than 1200+ people to achieve their dreams. His knowledge and experience of this business help youngsters a lot to start their own business.
A special message he wants to convey is that don't sit at home. Just start doing something which will help you to gain skills. First, plan and then execute that plan if the first two things are accurate then definitely positive things will happen.
Nishanth is a successful digital entrepreneur today and is guiding a lot of people. If you too are entangled in your life, how to find and work on a new opportunity in this great time. You can message Nishanth on his Instagram.