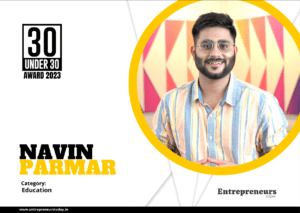 Navin Parmar is the Co-founder and CMO at Skill Nation and a Facebook & Instagram Ads expert. He is also a business coach and has trained over 12,000 people in Facebook and Instagram ads, including business owners, independent contractors, digital marketers, and agency owners.
Till today, with growth hacking, Facebook and Instagram ads, he has generated total revenue of more than 100Crs for Skill Nation and his clients.
Navin began his journey in 2016 when he did his first job at a hardware and electric store in his neighborhood.
"I did not think about the nature of work and career prospects because I wanted to learn how retail businesses operate."
However, he realised that running a retail business was not a good idea because it required a lot of capital and was not as scalable as online businesses were back when myriad tech startups made news headlines and magazine covers.
Things took a different turn soon after as the pandemic hit, and Navin began working from home. Even though he earned 15k each month from his job, his entrepreneurial spirit did not let him settle. Thus began his entrepreneurial journey.
"Although I did not exactly plan to do a business in the ed-tech domain, I always had an entrepreneurial mindset and a desire to create something of my own."
Soon after, Navin began working as a freelance Facebook & Instagram advertisements expert and had some traction. He has so far worked in the real estate, retail, and ed-tech industries with multinational clientele from the United Kingdom, the United States, and Ireland.
"Fortunately, I was able to achieve satisfactory results and achieve expertise, especially in the ed-tech domain. That's when I happened to meet the other co-founders and share my expertise with them to build Skill Nation. We started with a daily digital ad spend of 1500 Rs. which today stands at a whopping 3-4 Lakhs."
Lessons learned
In his entrepreneurial journey, he has learned a lot till now. However, the three lessons he wants to highlight the most are:
Choosing the right people to surround yourself with. He adds, "your company influences you more than you think it does, right from your fashion choices, and lifestyle to your thought process. Choose the right people and be the right person. Stay away from toxic people who consume your energy. You will see a massive difference in your life and career."
Everything you can imagine is very small in comparison to what you can actually achieve. Setting clear goals is crucial, but you should also be open to adjusting, reinventing, and rephrasing them as necessary. Never make rigid targets. Navin outlines the simple rationale behind this: "whatever goal you are setting right now is only based on whatever inputs you have gathered so far. Five years later, you will be wiser, more intelligent, and more mature than today."
Do not disdain money; rather, treat it with respect. Navin says, "money is still a taboo that people avoid talking about. I don't understand why working for money is not a valid reason to work somewhere, why is it looked down upon… I believe people should follow their passion but not defame those who do not have a passion or work to fulfil their responsibilities and duties to feed their families. Trust me, they are as motivated as those who follow their passion. So, respect money, and respect those who work for money."
Services
Skill Nation is an ed-tech company that provides the workforce in India with both in-demand and future-relevant skills using online workshops and mentorship programmes that are convenient to partake in and reasonably priced. They assist them in starting and growing their careers in fields like data science, data analysis, digital marketing, finance, etc.
Achievements till now
Having developed an ed-tech firm that is profitable from day one and is entirely bootstrapped, starting with a capital of 30,000 and crossing ARR of 50 Crores, according to Navin, is his greatest accomplishment till date.
He adds, "it does feel nice to be an irreplaceable part of a company that influenced 150k lives and is still counting."
On a much more personal level, he has helped more than 12,000 business owners and entrepreneurs scale their businesses.
Navin has also generated total revenue of 100crs for his multiple clients and Skill Nation combined. He further shares, "it feels really satisfying when people who attend my Masterclass come to me and say things like he helped them increase profits from 20k to 1lakhs, or helped them get better at their jobs or bag their dream jobs, clients etc."
Rocky road
Things did not seem as bright for Navin as they do today. Hailing from a middle-class household, he had his share of difficulties. They had to compromise on the smallest of things to keep their household running.
At school, Navin could never relate to the kids dining at fancy restaurants and shopping on weekends. As he says, "This very phase of my life which was full of compromises was the biggest source of inspiration for me as well. At that time, being ambitious and money-driven was not an option, it was the need of the hour, and it was a sheer necessity. The lack of money and resources inspired and motivated me to go from adversity to abundance."
A message Navin would like to convey to the nation is the importance of education. He believes that the only way to learn how to think and fully appreciate your human existence is with education. Everyone must receive their fundamental education, regardless of their circumstance, place of origin, or historical background.