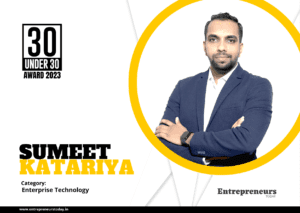 Sumeet Katariya had grown up doing business. Coming from a Marwari family, a community traditionally associated with the mercantile profession, he had begun his business journey at around twelve years of age, selling plastic packets to shopkeepers in the market.
After finishing his school education, he decided to move away from his hometown of Ahmednagar to Pune, pursuing an engineering education in IT. It was there that he sowed the seeds of the business ideas and practices that would grow to become the Accucia Softwares Pvt Ltd of the present day.
 Professional Net
Sumeet was the first engineer of the family. The expectation was for him to pursue it into a corporate service career. But he cast his professional net much wider. While studying in Pune, he used his knack for sales to find clients, and tried to convince them to set up websites for their business or services. It was 2012, and the digital domain was yet to properly overtake the popular imagination, so the task wasn't easily accomplished. Nonetheless, a local hospital in the city was impressed by Sumeet's vision and persistence, and became his first client. This was the beginning of his journey towards the inevitable conclusion in Accucia Softwares.
After graduating with a degree, and a project accomplished with national level accredition, he was placed in a Multinational Company. However, the hunger for business remained alive within him. Although he was working as a developer for them, something he had been vocationally trained for, he had discovered a love for the craft of marketing and selling that he wanted to explore further. So, he started a company in association with a few friends in parallel to his job, out of a small apartment in Pune. The company expanded on the website development services, by branching out into making apps and customising software for enterprises. Sumeet's characteristic dedication to client acquisition resulted in them quickly gathering a massive pool of over 600 clients, who were incredibly satisfied with their products, continuing to use them till today.
Determined to work independently, Sumeet declined an offer to work onsite, and quit his job, to focus exclusively on the business at hand.
Functional Philosophy
The initial company that had been formed in association with his friends was unfortunately dissolved owing to divergent interests, but Sumeet took earnest lessons from his participation in it to develop a functional philosophy of business.
The product developed by them had been a billing software. Launched in tandem with GST, it was able to capitalise on the confusion that had gripped the market in terms of calculating the amount payable over products. Most people were discouraged from using a tool like Tally due to its difficult learning curve. The app, with its simple user interface, and thorough applicability, became an essential tool for retailers. It automated inventory management, created sales reports, and delivered GSTR1 reports as well.
Going forward, Sumeet has always taken great pains to identify the needs of clients, and customise the deliverables in accordance with it. Software as a service is currently a fast expanding field of business, and he knows that in order to stand out from the crowd of similar businesses, his company has to be able to deliver quality products of a class apart. And for that, communication with the clients is a key component.
An experienced sales person, who loves his work, Sumeet has always paid minute attention to the pain points of his clients, so that his team of developers, coders, testers, UIUX designers, and business development people are able to address them properly. This has allowed Accucia Softwares to deliver similarly satisfying products to clients from a wide variety of industries.
Indeed, Accucia Softwares' deliverables have gone to a diverse array of industries. Having begun from individual clients, including grievance communication apps made for active politicians, to ERP automations services for an HVAC industry client in the USA. What has remained consistent for the company is the popularity of their products. All of their clients continue to use their softwares actively to this day.
Growth
Having been established around 2016-2017, Accucia began with a total of 3 people, including Sumeet, who fulfilled multiple professional roles. His dedication to the company inspired similar loyalty in his workmates, many of whom have remained by his side through the years. One of his initial hires currently functions as a Senior Solution Architect with an entire technical team working under him. The workforce has grown to about 40 people in the present, with specialised professionals available to perform specific roles.
Accucia was a bootstrapped company which became a private limited offering in 2018, as Sumeet anticipated the growth it was fated to undergo. Since then, the focus of the company has shifted further away from his initial expertise: website design. While that is still part of their portfolio of services, it has become more specialised, with a more systematic approach to the entire process.
Primarily, though, Accucia has shifted its focus to development of mobile applications. They are also targeting more corporate clients for B2B work rather than their initial focus on local, individual users. While his experience with smaller clients has been quietly rewarding, Sumeet has ambitious heights to scale, and is looking to grow his company in accordance with that vision.
Beyond
From a single flat in Pune, Accucia has grown into a company with 4 different outlets spread across Pune, and Sumeet's hometown of Ahmednagar. The company has been instrumental in the growth of concurrent start-ups as well, many of whom have had their MVPs developed through Accucia's services. So not only has it grown of its own accord, but helped in the growth of other smaller companies, and created employment in his hometown.
The future for the company is similarly bright, as Accucia continues to provide satisfactory products to their clients under Sumeet Katariya's effective leadership. As the focus of the company shifts, and their client base grows, they have also begun investing in other IPs, and helping them become profitable in the process. Upscale Media Pvt Ltd, a company Accucia had designed a product for, has been their first external investment. Their app, called AdBanao, has seen an upsurge in popularity. Its readymade availability of branding templates for different industries in multiple regional languages, has attracted many small businesses to utilise its services. To keep the application fresh, Sumeet has also employed a vast coterie of content writers and graphic designers who constantly update it with new templates every day.
With a client base spread from politicians and start ups, to multinational pharmaceutical & manufacturing companies, Accucia has already found unprecedented success under the visionary leadership of Sumeet Katariya. A man barely 30s, he clearly has a long way still to go. And we shall be observing his journey with goodwill and anticipation.