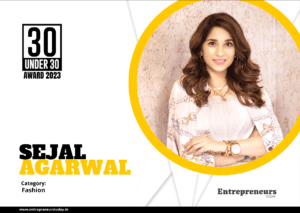 Co-founded with her mom Lalita Pagariya, Sejal Agarwal's venture The Style Planner focuses on personal styling, bridal makeup artistry and academy. In the academy, they focus on makeup artistry, fashion and styling-related courses.
To encapsulate Sejal Agarwal's endeavours, she is a well-known international fashion stylist, consultant, educator, expert in style makeovers, international makeup artist, and hairstylist. Regarding her educational background, she holds a Master's in Fashion Styling, and a specialization in Runway Fashion Styling from London. Moreover, she has a diploma in Designing and did her BBA from MIT.
Sejal Agarwal is a firm believer in learning constantly and holds the view that one should always be learning new things. This is something she follows herself, as after learning makeup artistry from her mom, she further procured certificates in makeup from the Russian makeup artist Michelly Palma, Dubai and London.
Early beginnings Inspiration
Ever since Sejal was ten years old, she has loved fashion and makeup and growing up she wanted to venture forth in those lines. Sejal's interest in beauty started from a young age with exposure to the industry through memories of her mother doing makeup and preparing brides for events. What Sejal had always loved about makeup is that it has the power to make people feel good and confident about themselves. So, at just the age of thirteen Sejal started doing bridal makeup artistry.
She also realized that beauty is everlasting and one should feel beautiful and confident about themselves at all times. This is precisely what inspired Sejal to venture forth into an industry that provides her with the opportunity to groom other people and help them be confident about themselves and led her to combine makeup artistry and styling as a service offered at The Style Planner. However, it was her creative curiosity that eventually led her to dabble in bridal artistry as well.
Furthermore, watching her mom educate others on makeup artistry inspired Sejal to a great extent which led her to educate and mentor students in colleges as well as in her own Institute.
Sejal has also hosted several initiatives as a part of The Style Planner Organization with the cause of empowering underprivileged women and promoting eco-friendly fashion.
What are the services provided?
Sejal categorizes the services provided into three parts:
Personal styling: What is unique about this service of theirs is that Sejal brings in personalization and customization as a part of their styling process. She goes on to say that because every person is unique and has different demands, they work hard to offer each of their clients a unique solution and experience.
This category also includes a wide range of additional services. Their most distinctive offering is "Effortless style consultation," in which they hold fun and interactive sessions with clients to get an overall idea about the client based on which they plan their aesthetic and the styling process. The customers receive a 360-degree makeover towards the end of the session, which finally reflects their personalities and makes them feel beautiful and confident about themselves.
Another distinctive service they offer is a "Therapy styling session." They have designed this session in a way that one gets to bond with their partner through the medium of styling during the sessions. Apart from these, they also have a bride and groom, personal shopping and wardrobe styling services. They also have uniquely curated 'Wedding' and Event Styling' sessions and have catered to clients Internationally.
Bridal makeup artistry: Under this category, they have a unique service called the 'TSP signature bride' which is an amalgamation of makeup and styling. Even with this service, they place a strong emphasis on customisation and modification based on the personalities of the brides because they understand that every bride wants to feel and look different on her wedding day. Everything about the bride's appearance is customized and tailored, including hair extensions, jewellery, and lens colours. They were the first ones to launch this unique bridal makeup concept across the globe.
Under the third category of the Academy, they provide unique courses that are curated by Sejal herself. A popular course of theirs is the Build your career in fashion and styling to help students understand what works for them the best. In these classes, Sejal assists the students by leading them through a variety of interactive activities to help them understand their goals. Additionally, they provide various specific and specialized courses in styling, designing, and makeup artistry.
Achievements
A prodigy from a young age, she was just 13 years old when Gruh-Shobhika magazine recognised her excellent sense of style and design and presented her with the award for "junior makeup artist."
When Sejal was pursuing her "Runway fashion styling" certification course in London, she was amongst the top 5 students chosen for the implementation team at the London Fashion Week. Moreover, she also won an award for her outstanding performance and received an award from celebrity Amy Jackson. She has also been invited to many shows as the judge and was always the youngest person on the panel.
She also had an opportunity to serve as a style mentor in varied renowned colleges because of her love for imparting knowledge and promoting personal development. Additionally, she also worked on the teams for Mercedes Benz Fashion Week and Lakme Fashion W/eek. Sejal shares that further into her career, she also styled various celebrities and pageant winners.
Challenges and lessons
One of the most challenging things in Sejal's entrepreneurial journey was to create awareness among people regarding personal styling. There was a general lack of vocational courses and knowledge in this particular area. However, over time, she was able to tackle this challenge and even got numerous opportunities to hold sessions and address people regarding the issue and the pressing need for a styler.
As per her future plans, she wants to venture forth into the fashion education industry and create awareness about the opportunities and importance of vocational education.
One of the lessons she learned in her twenties is one should believe in their dreams because if you don't believe in your dreams, no one will. She also emphasizes the importance of being consistent and patient.