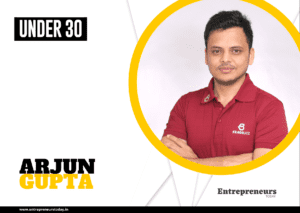 Arjun Gupta is a young and ambitious sports enthusiast who took his love for the game and turned it into a thriving business. Arjun's journey in sports began in his school days at Modern School Delhi where he excelled in cricket. He then went on to study at Hansraj College and graduated with an LLB from Lloyd Law College in 2018.
Arjun's talent on the field led him to become a professional cricketer, representing Delhi at the under-15s and under-18s level and even had the opportunity to play under the captaincy of Gautam Gambhir in the 2017 Ranji Trophy. He had the opportunity to play overseas in South Africa and England which gave him a new perspective on the game.
In 2017, he founded Kragbuzz Sports, driven by his passion for sports and a desire to create a unique sports clothing brand. With everything done in-house, from designing, printing, embroidery and manufacturing, Kragbuzz has quickly established itself as a leading name in the sports industry.
The Rise
Arjun comes from a family without a background in the clothing or garments industry. His father is involved in a different business, but Arjun found himself destined for the clothing business, driven by his passion for sports.
It all began in 2016 when some friends reached out to him asking for customized sports clothing, specifically team jerseys with exclusive logos and different sizes. At the time, very few people were supplying this type of product, and Arjun saw an opportunity. He started taking orders and getting them done in different factories in the Delhi NCR region. However, it wasn't long before he realized the huge market potential and demand for this type of product. This led him to start his own factory in 2018.
Today, Kragbuzz Sports specializes in making corporate merchandise, and clothing for teams, schools, colleges, universities, companies and brands. They are one of the very few companies in India that manufacture clothing, caps and bags all in one place, which makes it very efficient to create a product. Their customised caps demand has witnessed an increase from time to time, which led them to promote it under a separate brand name Kragcaps. The company's in-house production process, from designing to printing and embroidery, allows for quick turnaround times and a high level of customization for their clients.
The Achievements and Challenges
One of the biggest achievements for Kragbuzz Sports, under the leadership of Arjun, was when they were selected to make jerseys for the Delhi Ranji Team and the Delhi State Association in 2019. This was a major milestone for the company, as it helped to establish them as a reputable and reliable supplier of sports clothing in the region.
In 2020, the company took another big step forward by expanding its reach and making clothing for franchises in the UAE and Dubai. This was a strategic move aimed at positioning Kragbuzz Sports as a global brand. Today, the company exports to countries like Australia, the United States, Cambodia, and Europe.
In the same year, Kragbuzz also diversified into the sports media vertical and began an online platform called Sportzoclock which specializes in international and domestic sports news, local sports tournaments, podcasts, special features and quizzes.
Despite the ups and downs that Arjun faced in his five year long journey of building Kragbuzz Sports, one of the biggest challenges was setting up the factory, procuring raw materials, managing both skilled and unskilled labour in one place and training them as per business requirements. This was a major hurdle to overcome, but with determination, hard work and his father's support, Arjun was able to establish a thriving business.
The company's focus on customization and quality control has also been a key factor in its success. All customised products go through 8 processes, and there are quality checks at every step to ensure that the end product meets the customer's expectations. This level of attention to detail and quality has earned Kragbuzz Sports a reputation for producing high-quality products that are tailored to the specific needs of its clients.
Arjun's father has been invaluable support throughout the journey of building Kragbuzz Sports. Not only did he provide funding, but he also brought a wealth of expertise to the table.
What the future holds
Up until now, Kragbuzz Sports has mostly focused on manufacturing and other processes, but in the future, the company will focus more on building the brand and creating brand value. This includes getting into the retail and e-commerce business, and in September 2022, the company established its presence in e-commerce spaces like Amazon, Flipkart and Meesho. Additionally, by March 2023, Kragbuzz Sports will open a retail store in Noida, which is going to be one of the biggest sports stores in India, housing both equipment and clothing.
The store will be a one-stop destination for sports enthusiasts, with a wide range of sports clothing and equipment, including custom-made jerseys, sports shoes, and other gear. The company's goal is to make the store a destination for sports enthusiasts, and they are planning to offer special deals, discounts and other promotions to attract customers.
Overall, the company's focus on building the brand, creating brand value and expanding the retail and e-commerce business is a clear indication of the company's ambitious growth strategy and the confidence that the company has in its ability to meet the demands of its customers.
Message for the readers from the man himself
Arjun has a message for young entrepreneurs: keep going, even when faced with challenges. He believes that as entrepreneurs, we will encounter many obstacles along the way, but it is important to stay the course and fight through them. He also emphasizes the importance of being patient, as time can be the biggest healer and teaches us a lot of valuable lessons.
Arjun also stresses the importance of learning and growing as an entrepreneur. He encourages young entrepreneurs to take one step at a time and to have a plan for each day, with the goal of doing things better every day. He believes that by staying focused and constantly looking for ways to improve, young entrepreneurs will be able to build successful businesses.
Arjun's words of wisdom and encouragement are a reminder that building a successful business is not easy, but with the right mindset and approach, it is possible to overcome obstacles and achieve one's goals.