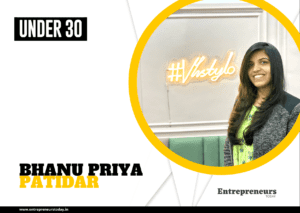 Semblance is a small, family-owned skincare company. Born amid the pine and eucalyptus trees of Northern California, the team at Semblance shares a deep commitment to caring for the world and protecting what matters most. Founded by pharmacists with decades of experience, they design products made from natural ingredients specifically for your skin type. They believe in being eco-friendly, so all their products are carefully crafted and curated from luxurious but responsibly-sourced botanical extracts and oils.
Launched in 2022, Semblance offers a distinctive selection of lusciously fragranced bath, body, and skincare products. Their products are skillfully formulated with skin-friendly formulas, vegan ingredients, and luxury in mind. As a result, the products are a reflection of their commitment to thoughtful skincare and responsible luxury.
About the Director
Bhanu Priya Patidar, currently the Director of Semblance, is an MBA graduate who recently set out on a new venture in the Beauty and skincare industry. In an exclusive discussion with Entrepreneurs Today, she discusses the special features of their products, such as the fact that they are sulphate and paraben free and manufactured from natural components like orange and aloe vera while taking safety precautions into account.
Currently, their product line ranges from providing face mists, face cream, lip balm and face wash, and all their products cost under Rs 399 at the moment. Generally, the products are suitable for all skin types and the shelf life of their products is two years from manufacturing. None of their products is tested on animals. They are certified 100% Cruelty-Free.
She talks about her origins, adding that she comes from a business-class family and went to school in Udaipur. When asked how she got the inspiration to start this particular firm, she cites the fact that men continue to run the majority of enterprises in India when compared to women.
Challenges still prevalent
Female entrepreneurship is especially important for India since it encourages women to join the labour market at a time when the country's FLFPR is at an all-time low, having dropped to 17.5% in 2017–18. In India, only 7% of women of working age are now employed.
According to a November 2020 report from the Initiative for What Works to Advance Women and Girls in the Economy, a gender research and advocacy organization, only seven out of every 100 entrepreneurs in India are women, and nearly half of them (49.9%) start their businesses out of necessity rather than ambition.
Given the situation for women entrepreneurs in India, being introverted and managing her baby and the family on top of that has been very challenging for Bhanu Priya. Semblance is currently bootstrapped, however, they will be looking for external funding once their business grows more.
Despite all the challenges she has faced till now, Bhanu Priya is a firm believer that if she could manage to push back to the set standards do it, any woman can. It is imperative that they stand tall and not give in to societal pressures to follow their ambitions no matter how things look unconventional.
As a female businesswoman, Bhanu Priya had challenges that are still prevalent. Even though it's depressing that women still face these barriers today, it can be inspiring for those who aspire to shatter the glass ceiling. Having a family and becoming a mother are still considered barriers for women in Indian society. Despite this, she resisted giving in, broke free from all her restrictions, and was ultimately successful in creating the name for herself that she had always envisioned.
As she stands here today, having pushed through her barriers, Bhanu Priya paves the way for other women who dare to dream as she did. She is also extremely grateful to her brother Jayant Patidar for helping her realize her dreams and supporting her throughout.