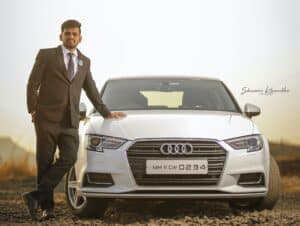 Kartik Atul Vanve, 25 Resides in Satara, MH. I have been an athlete representing Maharashtra for 200m & 400m Race at Nationals.
Edu. Qualification – Mechanical Engg & BA in International Relations, Economics
As Coming From a joint Family Was Forced to do Engg and Join the business with Cousins at our own company. But later I denied it and Started Preparing for Upsc And destined had things planned for me in a diff manner and it turned out to be great.
When you start your Entrepreneurial Journey and How?
Started It in My last year of Engg for extra income and stand out from the Traditional Work Culture.
I Was Not the one to be going into this with my choice as I Was focused on My UPSC Preparations but it happened by Chance as My Dad pushed me into the Ocean of the Direct Selling Industry or say Affiliate Marketing. All Thanks to Him.
What strikes in your mind to start this business?
There are various such things that made me start this business I would like to mention them sequentially.
a)

Exposure to the world

which I would have never got if I would have worked in our Home Company as I would have been the boss and would have never known of ground reality.

b)

Time Freedom

– Here I'm not bound with anyone bossing me for work. Its me and Me. Anytime I can make Time For Anything I Prioritize In My Life.

C) Fi

nancial Freedom

– This is the most important aspect I chose this industry as it has immense potential for wealth building.

d)

Respect

– Irrespective of your Age People Respect you for your work

e)

Social  Service

–  Being an Upsc Aspirant I always had that thought of giving back to society and I had this beautiful chance of creating business opportunity for everyone passively with Any work, job, or any field they are into.
Specific service of your business.
My business is about Creating Wellth (Wealth + Health)
As We Deal Into Network Industry, This business is all about making leaders by taking an initiative to change the shop for products we use daily and that decision of a person for ownself helps us to build leaders by working with them for their money.
Here we work for Income of Our Associate Team Members so that they earn well and so do we.
Products we work in Are Health Supplements, Agriculture based, Home Care &  Home Hygiene, Personal Care, Oral care, Personal Hygiene for Male & Female, Cosmetics and Automotive Additives for Engine oils, etc.
Read More: Prajakta Koli 's 'Mostly Sane' Life
Your state of mind before starting the business.
This is a frequently asked question to me.
 I have been always in a thought process of patriotism and working directly for the govt whether in the executive or in the administrative dept of GOI  As I Did my Jr. CLg from India's 1st Military School i.e Bhonsala Military School, Nashik. Later I got into UPSC Preps For IFS/IAS Post.
So I was totally into Govt Jobs preparation.
What are your achievements in your field or business?
Networking With 54000 People & guiding them to Complete their Dreams associating With Vestige Mkt Pvt Ltd. 
Designation Achieved – Double Crown Director (2nd Highest Designation In-Company)
Audi A3 Achiever from the Company's Car Fund.
Was Interviewed And Awarded with Youngistan Award, 2022 by Millionaire Worldwide( My Mentor Organization  Founded By Dipal & Nilesh Patrawala) in Presence of International Audience and Much More
The most difficult and inspiring time in your journey.
Life Has Always been tough to its strongest warriors and I'm One among them. A Year Back I lost My Father  Due to Covid-19 and that affected me as well as my family along with my team in business as he was the backbone for all of us.
The team started getting disturbed and all things started breaking up. Within that time, a Very close associate who has been working with us for the year happened to mislead people and make a huge loss in business whereas business went down by nearly 72% in a span of 3months and that was the worst downfall or say a nightmare any businessman could ever think of and I had to face that with my emotional breakdown as I had recently lost my dad too.
But one thing which always kept me going was  54000 People are associated with me & are dependent on me And I need to stand with them for their dreams. Cause my business is all about leadership and dreams with a deadline that is GOALS. I Have been a devotee of Lord Krishna & Hanuman since my childhood and they have always fought back with situation and helped me get through my hard times and rise back like a phoenix.
How will you see your company after 5-10 years?
Vision is the most important thing which is needed to run a business and I Have set a Vision of 40 Luxury Cars from Car fund as well as 600 Foreign Trip Achievers & 70 House fund Achievers. Here Money is By-product; as you help people grow their network and team automatically their dreams will be completed and your dreams will also be fulfilled.
Any message you like to convey to the country.
Direct selling/ Network Marketing is the future of the Nation. It has Huge potential for wealth building. I would just advise everyone to start networking passively with their routine work as Networking will help you earn money even when you sleep and party. 
Think For 10 Years Ahead And start Building Your Network.
Lage Rahoo Lagan se Lagataar.
Read More: Founder of Curated by Elysian – Devika Kaushal's Success Journey
Disclaimer: The views, suggestions and opinions expressed here are the sole responsibility of the experts. No Entrepreneurs Today journalist was involved in the writing and production of this article.